MLB.com Columnist
Roger Schlueter
MLB Notebook: Giancarlo churning out RBIs
Slugger notches one vs. Padres to extend stretch to Marlins' first seven games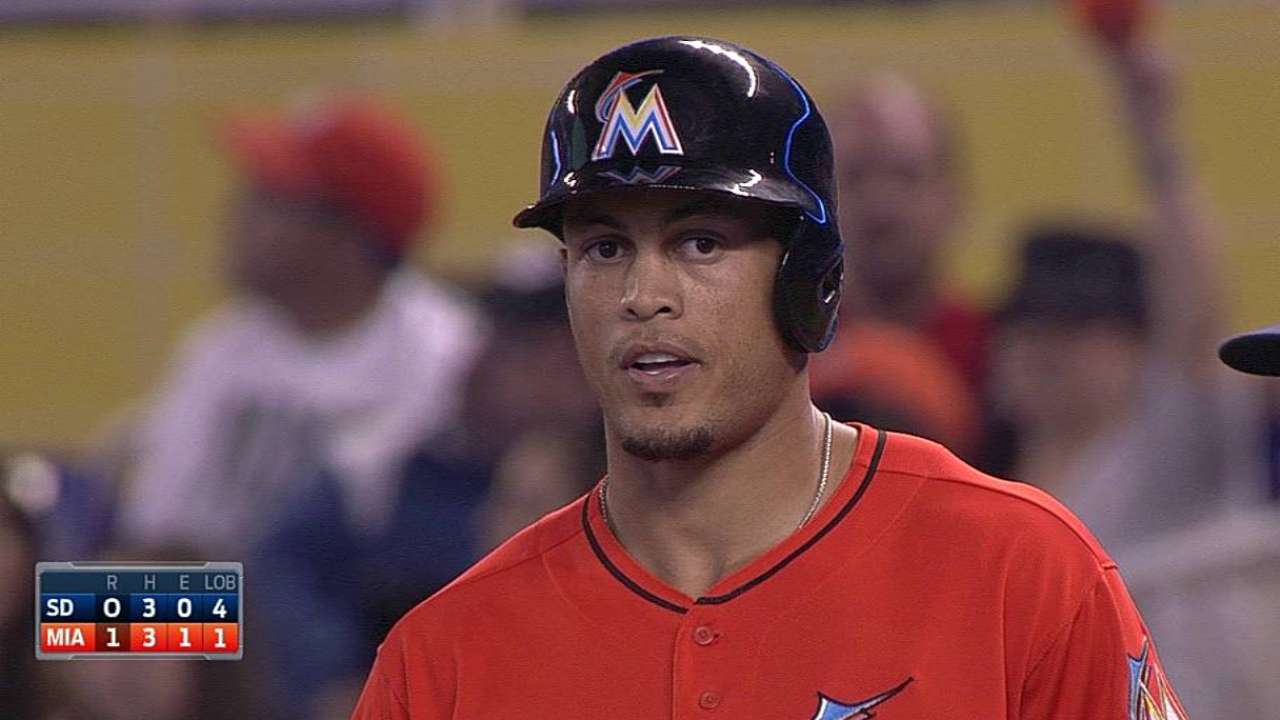 Of the 20 players in the past 101 seasons to have at least one RBI in each of their team's first seven games, Phillies outfielder Pat Burrell owns the highest total. In 2005, Burrell opened up the season with a two-RBI game, and he matched that total in the second and third games as well. After a single RBI in the Phils' fourth contest, Burrell had himself a rather big day on April 9, driving in five against the Cardinals. The next two games brought three and two RBIs, respectively, and then an 8-2 loss on April 12 to the Marlins stopped Burrell's streak, but that day still saw him sitting atop the Major League RBI leaderboard with 17.
The Marlins dropped a 4-2 decision to the Padres on Sunday, but outfielder Giancarlo Stanton did drive in a run, giving him RBIs in each of the team's first seven games. Stanton is the 20th player since 1914 to open the year with such a stretch, and he is one of three Marlins among the 20, joining Cliff Floyd in 2001 and Jorge Cantu in '10. Paul Konerko in 2011 had been the most recent player to collect at least one RBI in each of his team's first seven contests. The rest of the list includes: Sherry Magee (1914), Clyde Engle ('15 in Federal League), George Kelly ('21), Dale Alexander ('29), Vern Stephens ('50), Gene Baker ('54), Carl Furillo ('57), Bob Allison ('60), Willie McCovey ('69), Tony Oliva ('70), Ron Cey ('77), Bobby Murcer ('77), Keith Hernandez ('81), Dale Murphy ('85) and Juan Gonzalez ('98).
Amarista, it's your birthday; Happy birthday, Amarista
In the Padres' win, San Diego got on the board when Alexi Amarista delivered a pinch-hit three-run home run in the seventh. With the homer, Amarista joined Greg Vaughn (July 3, 1997) as the only Padres players to hit a pinch-hit homer on their birthday; Amarista turned 25.
Gallardo helps Brew a shutout
Yovani Gallardo (6 2/3 inning, seven hits) and two Brewers relievers combined on a nine-hit shutout of the Red Sox to finish off a three-game sweep in Boston.
The shutout was the first for Milwaukee at Fenway since Sept. 9, 1996 (there had been 15 games in Boston for the Brewers in between), and gave Milwaukee its first series sweep of at least three games in Boston since early October 1993.
Gallardo improved to 2-0 with a 0.00 ERA in 12 2/3 innings (two starts). The right-hander is the fourth Brewers pitcher to open the year with back-to-back starts of at least six innings and no runs allowed:
• Jim Slaton, 1976: 2-0, two shutouts
• Ben Sheets, 2008: 1-0, 15 1/3 innings (one shutout)
• Chris Narveson, 2011: 1-0, 13 innings
• Gallardo, 2014: 2-0, 12 2/3 innings.
Last season through his first two starts, Gallardo was 0-0 with a 5.73 ERA.
Jeter passes Molitor
In a Yankees win, Derek Jeter collected two singles to tie and then move past Paul Molitor on the all-time hits list. At 3,320 knocks, Jeter is eighth on Elias' list, and he is 99 hits below the next rung occupied by Carl Yastrzemski. The multihit game gives him 976 of those in his career -- the fourth most since 1914, behind Pete Rose (1,225), Stan Musial (1,059) and Hank Aaron (1,046).
Colabello on a roll
Minnesota defeated Cleveland, 10-7, with Chris Colabello driving in four runs and collecting his fourth double of the year. Colabello -- who made his Major League debut in 2013 at the age of 29 years and 210 days -- leads the American League in RBIs and is the first Twins player to have as many as 11 through the team's first six games since Bobby Darwin in 1972.
O's first to tame Tigers
The Orioles defeated the Tigers, 3-1, handing Detroit its first loss of the season. It was the second win of the year for Baltimore, which has won both of Chris Tillman's starts. In his two outings, Tillman is 1-0 with a 1.35 ERA in 13 1/3 innings.
Nats cruising down K street
Washington defeated Atlanta, 2-1, getting 6 1/3 innings of one-run ball from Taylor Jordan. Jordan and three relievers combined to strike out seven Braves, giving the club 69 K's through its first six games. Since 1914, the previous high mark was the 1966 Indians' total of 67.
Hey, Yu!
Entering his 2014 debut with 498 strikeouts in 401 career innings, Rangers right-hander Yu Darvish struck out the first two batters he faced. Darvish's 401 2/3 innings as a starter are the fewest needed to reach the 500-strikeout milestone. Kerry Wood (500 strikeouts in 404 2/3 innings) and Mark Prior (500 in 421 2/3 innings) had the top two marks before Darvish. Darvish, who struck out six Rays in seven scoreless innings and picked up the win, entered the 2014 season with a strikeout percentage of 30.05 -- the highest for any pitcher through his first two seasons (minimum 300 innings).
Sale's unlikely spring bloom
White Sox left-hander Chris Sale worked eight innings of four-hit ball and picked up the win as Chicago topped Kansas City, 5-1. Sale is 2-0 with a 1.76 ERA in two starts, and he has allowed nine hits and two walks in 15 1/3 innings while striking out 14. Entering this season, Sale held a career 4.00 ERA in March/April, his worst mark for any monthly split. March/April also held his second worst WHIP, second worst strikeout rate, and his worst strikeout to walk ratio.
Great Scott
Like Sale, Scott Feldman improved to 2-0 this season, as the Astros right-hander issued seven innings of three-hit, one-run ball and Houston topped Anaheim, 7-4. Feldman, who has allowed one run and five hits in 13 2/3 innings, is the first Astros pitcher since Roger Clemens in 2004 to open the season by allowing no more than three hits and throwing at least six innings in each of his first two appearances.
Trumbo on the Mark
Mark Trumbo homered for the fourth straight game (tying a team record) and the D-backs snapped their four-game losing streak with a 5-3 win over the Rockies. Trumbo has five homers on the season, making him the fourth player in D-backs history to have at least five through the team's first nine games. In 2001, Luis Gonzalez had seven, while Jay Bell (1999) and Mark Reynolds (2008) each hit five.
Rivals blasting
Matt Kemp and Hanley Ramirez each homered twice, sending the Dodgers to a 6-2 win over the Giants. It was the first time since April 18, 2009 (Andre Ethier and Manny Ramirez) the Dodgers have had two players enjoy a multihomer game in the same contest, and only the second time since both franchises moved west that they have done it against the Giants. On Aug. 5, 1990, Eddie Murray and Kirk Gibson each hit two, and L.A. defeated the Giants in San Francisco, 12-6.
Meanwhile, Brandon Belt hit his fourth homer of the season, making him the 15th Giants player since 1914 to have at least four through the club's first seven games. The top mark (six) is held by Willie Mays in 1964.
Roger Schlueter is senior researcher for MLB Productions. This story was not subject to the approval of Major League Baseball or its clubs.