What's Next: Storied teams lead more home openers
While Yanks bring back 'Core Four,' Cards open Hall of Fame and raise another flag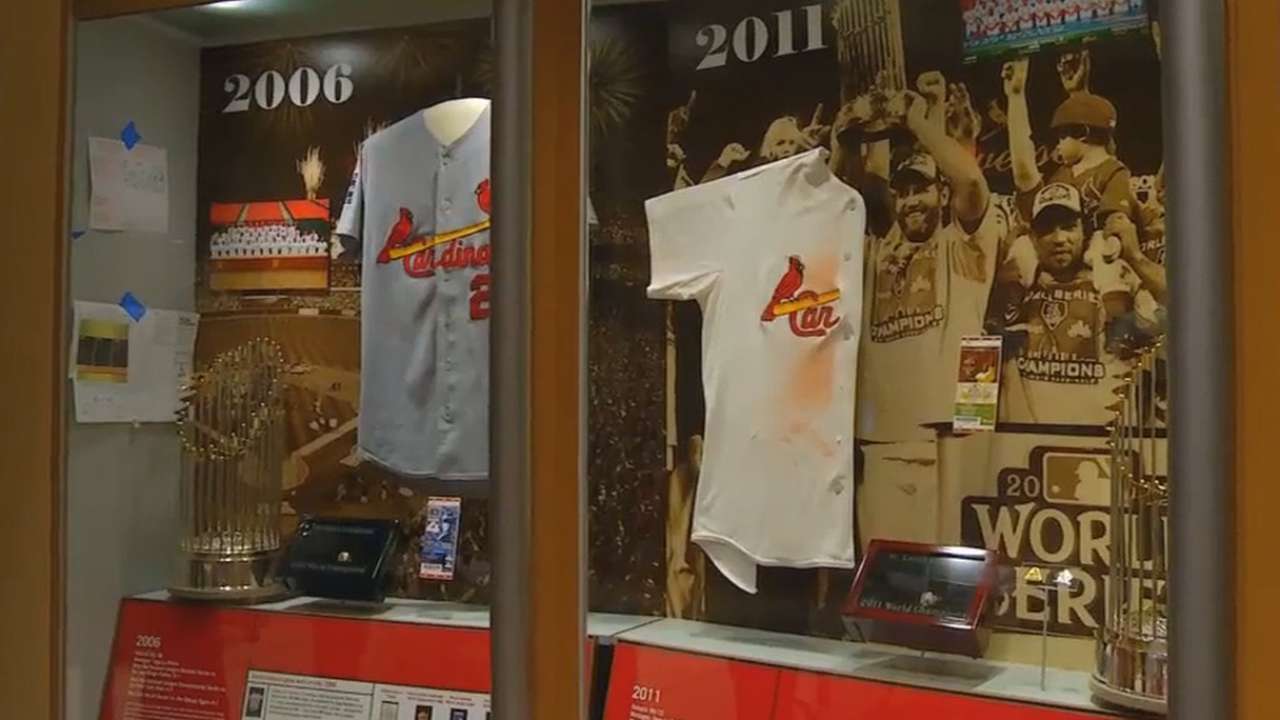 The first week is in the books, but the fanfare of the 2014 Major League Baseball season is still in full swing.
As the new week dawned and the players and managers and front offices and fan bases of the American and National Leagues steamed ahead into the second seven-day segment of the championship season, there was a lot to talk about regarding What's Next.
First on tap are the remaining home openers, and there are quite a few, each with their own intriguing story lines to follow.
In New York, shortstop Derek Jeter, also known as The Captain, also known as No. 2, and also known as the future Hall of Famer who plans to retire at the end of the season, will play his final home opener at Yankee Stadium today.
It's safe to say the moment will provide some drama, with the AL East-rival Orioles in the Bronx, a 12:30 p.m. ET start for the pregame festivities, Jeter's parents in attendance, a sellout crowd expected, and a reunion of the "Core Four" of the Yankees who won five World Series together. Jeter and Jorge Posada will catch ceremonial first pitches from Andy Pettitte and Mariano Rivera, and there might be a few emotional moments.
"It almost doesn't feel like the season is underway until you get to your home opener," Jeter said. "Especially missing last year, I'm looking forward to this one."
Other teams are looking forward to playing their first games in front of their home crowds, too.
The defending NL-champion Cardinals, for example, will lift the lid on their 81-game Busch Stadium slate today when they host one of their division rivals, the Cincinnati Reds, at 4:15 ET. The game will be preceded by an unveiling of the 2013 NL championship flag and the opening of the Cardinals' Hall of Fame and Museum.
Inside the ballpark, the Budweiser Clydesdales will circle the stadium and be followed by a motorcade in which the Cardinals Hall of Famers, including former skipper Tony La Russa, and members of the current team will be introduced. Chris Carpenter, the former Cards pitcher who is now a member of the front office, will throw the ceremonial first pitch.
More home-opener fun and pageantry will be seen and heard today when the Twins play the Oakland A's at Target Field, and on Tuesday, when the Braves, Mariners, Giants and Phillies all host games at their home ballparks for the first time in 2014.
The Phillies were supposed to open today, but they postponed the game against the Brewers until Tuesday at 4:05 p.m. ET because of a forecast of "considerable rain."
"It makes sense to me, with the clean weather after that," Phils manager Ryne Sandberg said. "Especially Opening Day. That's always a big deal. To have that misfire and not be a big deal would be disappointing to everybody. I think it's smart, very smart. I'm totally on board with it."
The Marlins and Mariners would be on board with another week like the ones they just experienced, during which they surprisingly jumped right into first place in their divisions.
And one player who will be happy to keep the good vibes going is Arizona left fielder Mark Trumbo, who has hit home runs in four consecutive games and can extend his streak -- and set a club record -- by blasting one in San Francisco in the Giants' home opener on Tuesday.
"He's played well for us," D-backs manager Kirk Gibson said. "He's a very formidable bat and a smart hitter."
Elsewhere, pitchers will get top billing this week.
On Wednesday, Josh Beckett could be on the mound for the first time this season for the Dodgers after experiencing numerous injuries last year and finger and ankle issues this spring.
Also that day, veteran right-hander Ervin Santana will make his season debut for the Braves, who signed him in mid-March after elbow injuries to starters Kris Medlen and Brandon Beachy depleted Atlanta's starting rotation.
Doug Miller is a reporter for MLB.com. Follow him on Twitter @DougMillerMLB. This story was not subject to the approval of Major League Baseball or its clubs.