Greinke, Kemp, Hanley showcase power stuff in win
Righty strikes out eight, outfielder and shortstop each homer twice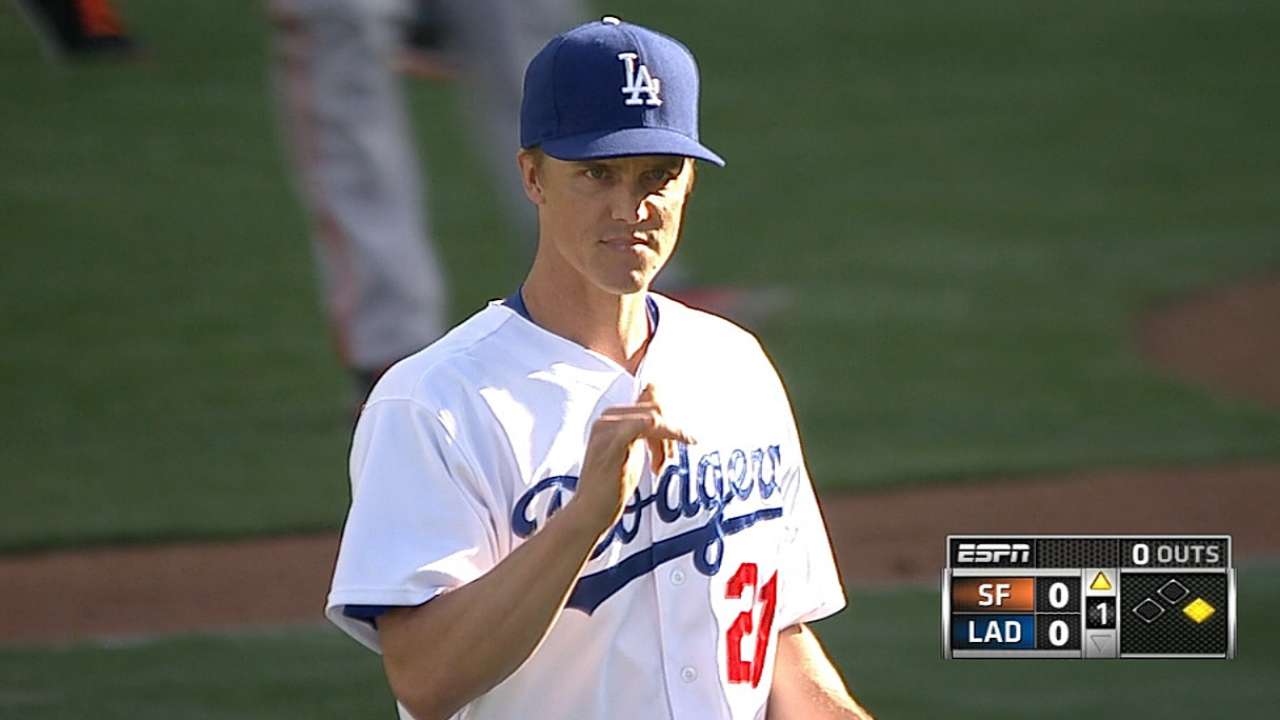 LOS ANGELES --- Zack Greinke said he knew he was going to be out there for a while Sunday night, whether the results, as well as his stuff, were good or bad.
The Dodgers' bullpen had been forced into heavy workloads by short starts in the first two games of the series against the San Francisco Giants.
"I know from the past experience of those situations, you can't go out there and worry about conserving pitches," Greinke said after striking out eight Giants in six innings of a 6-2 Dodgers victory at Dodger Stadium. "I've tried that before, and been hurt by it."
So Greinke attacked from the outset, and it helped that he had a better fastball than he had April 1 in San Diego, although that start he emerged the winner as well.
"It was definitely better," Greinke (2-0) said.
"We thought he was good in San Diego with his offspeed stuff," manager Don Mattingly said. "Tonight, he was more confident in his fastball, and used it more.
"I thought he was really good tonight. He still felt he had another inning in him when we took him out."
The bullpen had to get just nine outs, and eight of them were strikeouts for a staff single-game season-high 16 punchouts.
With Matt Kemp and Hanley Ramirez each homering twice for the Dodgers, it was a night of power from the offensive end as well.
Mattingly was especially pleased to see Kemp, who returned from the DL on Friday, break out his power stroke for his first multi-homer game since 2012.
"We saw it early in batting practice in the spring. His BP was different," said Mattingly. "He had that high finish [again], and we saw the carry on the ball. It's good to be able to see him do that here, and in the big leagues."
The win was a big turnaround by the Dodgers, who saw the Giants roll to 8-4 and 7-2 wins to open the three-game set.
"They're aggressive, so you have to be smart when you go in the strike zone," Greinke said of the Giants, who finally touched him for two runs, on homers by Brandon Belt and Hunter Pence, in the sixth inning. "You have to throw them something pretty good."
The Dodgers are used to getting both innings and results from Greinke. They are 24-6 in Greinke's 30 starts over two seasons, and he's 17-4. It was his 14th consecutive game pitching at least five innings while allowing two earned runs or fewer.
"He spoils us all the time," Mattingly said. "Zack's one of those guys who's as-billed. For me, it's fun to see it [here]. I saw it when he was in Kansas City. If his stuff is not as good as it can be, he finds a way to get through."
Mattingly visited Greinke after Pence's homer, but he left the right-hander out there to retire Michael Morse on a groundout with his 94th pitch.
"I don't know what he was doing out there," Greinke said. "It's usually [pitching coach] Rick [Honeycutt]."
Reliever Chris Withrow came on in the seventh to strike out the side on 10 pitches.
"That was huge," Mattingly said. "At that point, anything can happen. [Withrow] just slammed the door. His stuff is outstanding, and it's all power stuff."
Relievers J.P. Howell and Chris Perez added a strikeout apiece in the eighth, and Kenley Jansen fanned three in the ninth to seal the victory.
Ramirez finished with three hits, adding a double, and scored three runs.
Earl Bloom is a contributor to MLB.com. This story was not subject to the approval of Major League Baseball or its clubs.