Homers trouble Cain as Giants drop finale to Dodgers
Righty goes six innings, allows three homers to remain winless in 2014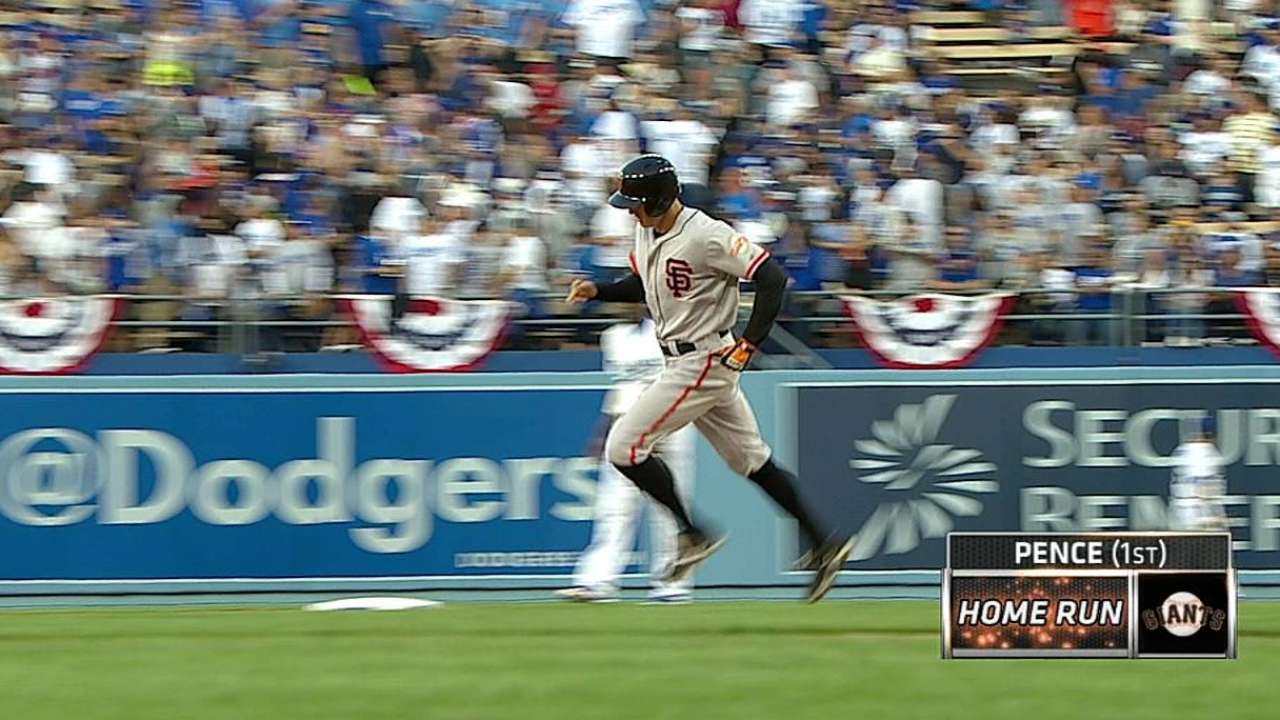 LOS ANGELES -- Though the Giants took two of three games from the Dodgers this weekend, they probably left Los Angeles just a trifle wary, particularly after losing Sunday night to L.A., 6-2.
Los Angeles didn't just beat the Giants. The Dodgers dominated, with Matt Kemp and Hanley Ramirez each homering twice and starter Zack Greinke combining with four relievers to strike out 16 Giants.
After Brandon Belt and Hunter Pence homered in the sixth inning to trim the Giants' deficit to 4-2, the Dodgers simply pulled away. Ramirez doubled and scored in their half of the sixth before adding his second homer in the eighth.
Sunday's performance, combined with the 7 1/3 no-hit innings and 10 strikeouts recorded by their bullpen in Friday's loss to the Giants, illustrated the Dodgers' potential for overwhelming opponents. They gave the Giants plenty to ponder during this series.
"You know they're going to be good," Giants right-hander Matt Cain said of the Dodgers. "It's going to be a tough one every time we face them."
Cain became particularly aware of this before a Dodger Stadium crowd of 48,367 and a national television audience watching on ESPN2. He surrendered three homers, including both of Kemp's.
The Giants derived plenty of satisfaction from finishing 5-2 on their season-opening trip. But they tried to stifle any concern about Cain, whose vulnerability to the long ball revived unpleasant memories of 2013.
An All-Star in three of the previous four seasons, Cain yielded 13 homers in his first nine starts last season. He allowed three home runs in three of those games. Despite a strong second half, Cain finished 8-10 with a 4.00 ERA. The Giants expect improvement from him this season, and must receive it to fend off Los Angeles. Because the Dodgers, reigning National League West champions, demonstrated that they'll again be competitive.
Asked if he worried whether any sort of phobia for allowing home runs might nag at Cain, who lasted six innings, Giants manager Bruce Bochy replied, "That's a good point, and I hope it doesn't.
"I like the way he attacked the zone today," Bochy continued. "He pitched very efficiently. He had good stuff. He didn't get away with some mistakes. Sure, it happened last year at the early part of the season. That being said, I don't want him to get that in his head. If he goes out there with that stuff, he'll be just fine."
Bochy also observed that this was an unusual night at Chavez Ravine.
"The ball was carrying a lot better than I've ever seen it here," he said. "Still, it's fair to say [Cain] made a couple of mistakes tonight."
Even in some of his best years, Cain allowed a sizable number of home runs. He gave up 22 in 2009, when he went 14-8, and 22 again in 2010 (13-11). He coughed up 21 homers in 2012, when he finished a career-best 16-5 and pitched a perfect game against Houston.
Cain admitted that he can be susceptible to yielding homers.
"I don't want to nibble, and I don't want to go away from the strike zone. I want to try to attack guys," he said. "Obviously you want to keep the ball in the park, but I've always been a guy who can elevate the ball, and sometimes, when it's elevated to certain guys in certain areas, it's prone to go out."
It went out for the Giants, too. Belt's homer was his fourth, second in the NL to Arizona's Mark Trumbo, who has five. Pence's was his first of the season and continued his emergence from a 1-for-20 start. He doubled twice on Saturday.
"I've had rough starts before," Pence said. "I understand how long the season is. I've been through it before."
That's the kind of perspective Cain must maintain until his next start.
Chris Haft is a reporter for MLB.com. Read his blog, Haft-Baked Ideas, and follow him on Twitter at @sfgiantsbeat. This story was not subject to the approval of Major League Baseball or its clubs.