A's settle down to end homestand with win
Three-run blast by Moss backs Gray, who limits damage over six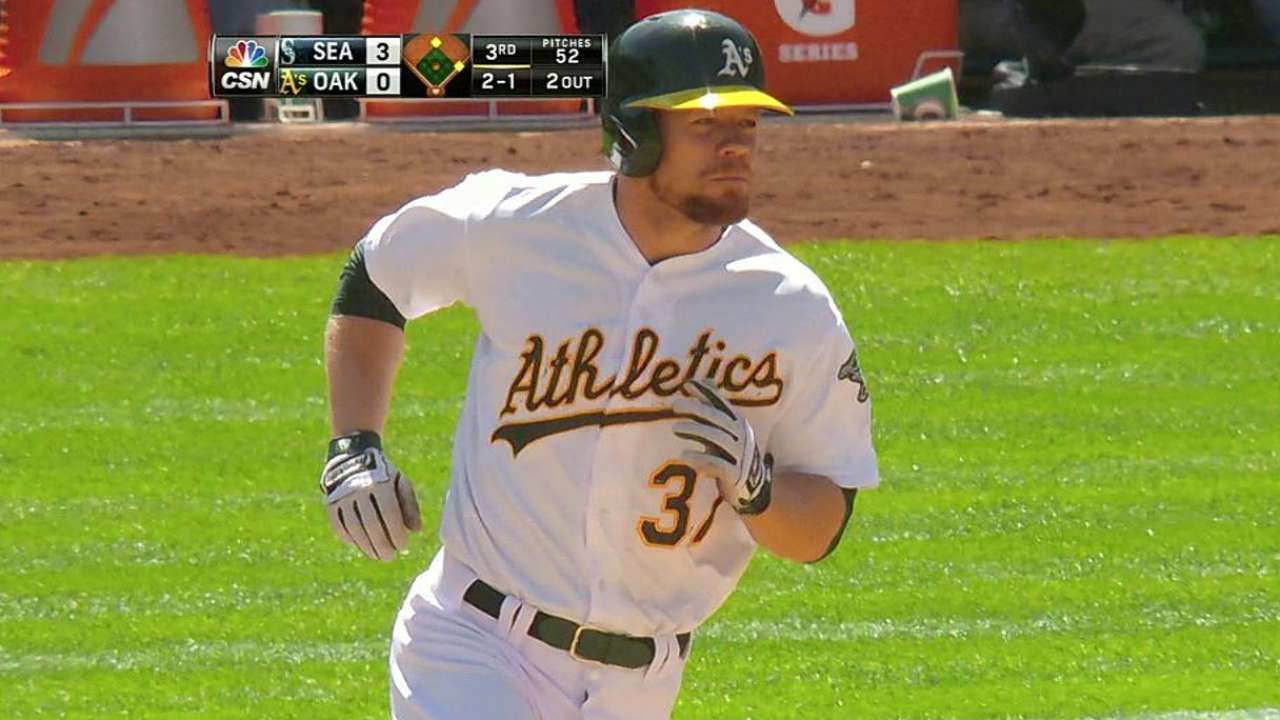 OAKLAND -- As he stepped into the news conference room following his team's 6-3 victory over the Seattle Mariners on Sunday afternoon, Bob Melvin could not help but look up at the TV attached to the wall.
Drawing the gaze of the A's manager were highlights of his team's strong finish to close out its first homestand of 2014.
"Should we wait 'til this is over?" Melvin said with a smile.
There were plenty of bright spots for Melvin to choose from on Sunday, whether hitting, pitching or fielding.
But that was not to say that things were pretty early. Starter Sonny Gray struggled out of the gate with his command, and his defense wasn't much help behind him.
Seattle was able to score two runs in the second inning, but they were both unearned after Daric Barton had a slipup at first base on a possible double-play ball. The Mariners tacked on another in the third, thanks to some lackadaisical play in the field.
Seattle slugger Robinson Cano hit a sharp base hit to center field, but Coco Crisp did not show much urgency fielding it, and Cano wound up on second with a double. A completely missed passed ball by catcher John Jaso then allowed Cano to go to third; he scored on a single by Justin Smoak.
At that point, Melvin was none too happy with the way his squad was playing.
"We were really sloppy, all the way around, really," Melvin said. "We don't typically play like that."
The A's needed a pick-me-up, and they got it in the bottom of the third, when Brandon Moss unloaded for a three-run homer to right field, tying the game at 3.
"When Moss hit that three-run home run, it really helped get me back going," Gray said. "It really got me jump-started into hopefully going deeper into the game."
Gray certainly calmed down after his rough start, telling reporters that the first and second innings had been "giving me fits" so far in the young season. But after meeting with Jaso and pitching coach Curt Young before the third inning, Gray said he was able to make adjustments that allowed him to finish on a high note.
The young Oakland ace retired the final seven batters he faced and 10 of the last 11, settling down nicely after his rocky start. In all, he went six innings, allowing three runs, one earned, on six hits and two walks while striking out three.
Melvin seemed impressed above all with the way Gray was able to bounce back.
"He's a battler," Melvin said. "For a young guy, that's something you don't see often. It's easy to kind of throw in the towel and say it's not your day."
Once the A's got past their early blunders, they did not allow a run to score the rest of the afternoon.
Meanwhile, the Oakland offense put together a go-ahead rally in the fifth inning. Slugging third baseman Josh Donaldson ended a career-high slump at 0-for-20 by legging out an infield single, scoring Eric Sogard from third base.
The next batter, Jed Lowrie, then delivered a sacrifice fly to center field to score Crisp. Seattle center fielder Abraham Almonte caught the ball but then dropped it just a moment later, and a confused Donaldson was caught between first and second base before being ruled out by forceout at second, as he did not see umpire Fieldin Culbreth rule that the ball was caught.
Still, Crisp scored from third and gave the A's a 5-3 lead, with all five earned runs being charged to Seattle starter Erasmo Ramirez, who struggled with his command all day.
"I was fighting trying to throw strikes," Ramirez said. "My strength is putting the ball in play, just throwing the ball in the strike zone and make the hitter swing the bat. But today, I don't know. I didn't feel it. I didn't feel like the strike thrower I am."
The two-run advantage was extended in the bottom of the eighth when Yoenis Cespedes hit an opposite-field shot to right, his first homer of the year.
That all set the stage for new A's closer Jim Johnson in the ninth inning. Though he allowed two baserunners, Johnson secured his first save as a member of the A's. In the process, he sent the Oakland fans home happy after he was twice booed at the beginning of this homestand for giving up some late leads.
"I'll enjoy it for a brief second," Johnson said. "Obviously, it took a while -- a lot longer than I wanted it to."
Other A's chipped in as well. Sogard collected his fourth career three-hit day while flashing some fancy glovework, while outfielder Sam Fuld capped off his first week in Oakland with a start in right field that featured a couple of highlight plays.
First came his laser-like throw in the second inning, when he delivered a strike from right field to nab Almonte at third base and end the frame. Then in the eighth, he went completely horizontal while making a stellar diving grab to rob Logan Morrison and end the inning.
Going 1-for-4 on Sunday, Fuld has hit .308 (4-for-13) through three games as he tries to hold on to his roster spot with the impending return of fellow outfielder Craig Gentry (back) from the 15-day disabled list.
For now, Fuld said he was happy with both his offensive and defensive contributions thus far.
"A little bit of both," Fuld said. "I try to impact the games in multiple ways. It was nice to get some good hits early on, but obviously I do take pride in my defense. … Just trying to make the most of any opportunity that I get."
Alex Espinoza is a contributor to MLB.com. This story was not subject to the approval of Major League Baseball or its clubs.