Phils unable to overcome Burnett's wild start
Starter spots Cubs early lead, issuing three walks in four-run first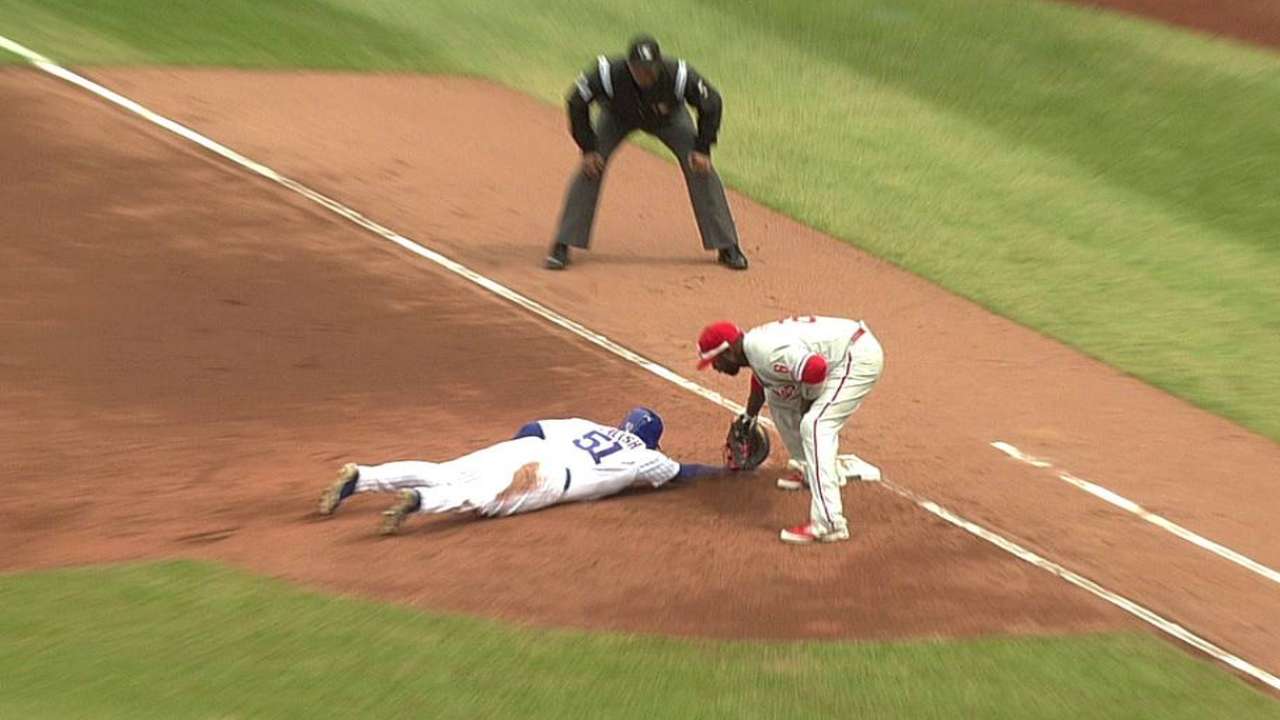 CHICAGO -- It is the first week and just six games, but until Sunday at Wrigley Field, the Phillies held a lead in each one.
They never had a chance in an 8-3 loss to the Cubs, but they returned to Philadelphia feeling fine following a 3-3 road trip, despite two ninth-inning losses last week in Texas. They hope to keep the good vibes flowing beginning Tuesday at Citizens Bank Park, where they open a 10-game homestand.
"It's time to get back home," Jimmy Rollins said. "Open up, get it going there, put some wins together. Get the fans back in the seats. Get it back to the baseball that we know and they know. Walking away 9-1 would be the way I'd like to do it."
Is that a prediction?
"I say walking away 9-1 is the way I'd like to do it," he said.
OK, so Rollins stopped short of calling it a prediction. The team's struggles the previous two seasons would make a 9-1 homestand an especially bold one, maybe more so than his infamous "We're the team to beat" proclamation in 2007. But the Phillies saw some things they liked in their first week, including that they trailed in just six of their first 45 innings, before things got out of hand Sunday.
Phillies right-hander A.J. Burnett could not find the strike zone in the first inning, and when he put a pitch over the plate, he elevated it. He walked three batters and allowed a double and a triple as the Cubs took a 4-0 lead.
The Phillies never recovered.
"I just didn't get it done, bottom line," Burnett said. "I was pitching behind. That was embarrassing. I don't care who you are or who you play against, that's unacceptable. We have work to do."
Burnett settled for a spell. He faced the minimum number of batters following Starlin Castro's one-out double in the first until he walked Ryan Kalish with two outs in the fifth. He left the bases loaded in the fifth, but Ben Revere's error on a one-out line drive from Ryan Sweeney in the sixth led to four unearned runs. Revere appeared to have a line on the ball, but it deflected off his glove and rolled to the wall in left-center field, allowing Sweeney to advance to third.
"It was a Tim Wakefield knuckleball," Revere said. "It dropped. Oh my gosh. That thing just dropped. It had me cross-legged."
Burnett nearly worked around the error. The Cubs had runners on first and second with two outs when Emilio Bonifacio hit a ball back up the middle. The ball deflected off Burnett's glove, and Rollins picked it up in front of second base. He appeared to have time to touch second for the force, but he looked to throw to first before ultimately holding onto the ball as Sweeney crossed the plate.
"When I got the ball, I was even with the bag, but I was going so fast, and I saw the bag and at the same time I'm thinking, 'I can step on this bag if I can stop,'" Rollins said. "But I couldn't stop. When I looked up at Bonifacio, he was maybe a step from the bag. And I was like, you know what, [I have to hold the ball]."
The Phillies could not chip away at the early deficit, despite several chances against Cubs right-hander Carlos Villanueva.
They entered the afternoon hitting .304 (14-for-46) with three doubles, two home runs and 18 RBIs with runners in scoring position but went just 1-for-15 in those situations Sunday. They had runners on first and second with one out in the first and had the bases loaded with one out in the fourth, but could not score either time. They scored just once in the fifth, despite having runners on second and third with nobody out.
The inning included the Phillies' first challenge via instant replay. They thought Chase Utley beat a throw to first from Castro, but the out call was confirmed upon review. Ryan Howard followed and had a line drive snared by a leaping Bonifacio in shallow right field, which surprised Rollins, who was on second. Bonifacio threw to second to double up Rollins and end the inning.
"That was messed up," Rollins said. "It's a ball coming off the bat with top spin, unfortunately, and it came back to him."
"It's tough with the shift," Phillies manager Ryne Sandberg said. "It's so normal to have that look like a hit. I call that a tough read."
If the Phillies won just one of those ninth-inning losses in Texas, they would have returned to Philly at 4-2, but that's an easy game to play. They also avoided Rangers ace Yu Darvish on the trip, so maybe things evened out.
Either way, they saw reasons to be encouraged.
"It could have easily been 4-2, or even 5-1," Rollins said. "Not a bad week, not a bad week, but it could have been better."
"We had a chance to win more games than we did," Sandberg said. "We set the tone early in games for wins, jumping out ahead. Our bullpen pitched well in this series overall. There were some bright spots. Never satisfied, but the fact that we had a chance to win more games than we did, that's a positive thing we leave with."
Todd Zolecki is a reporter for MLB.com. This story was not subject to the approval of Major League Baseball or its clubs.