Rockies miss out on sweep against D-backs
Anderson gives up five runs in six innings in Coors Field debut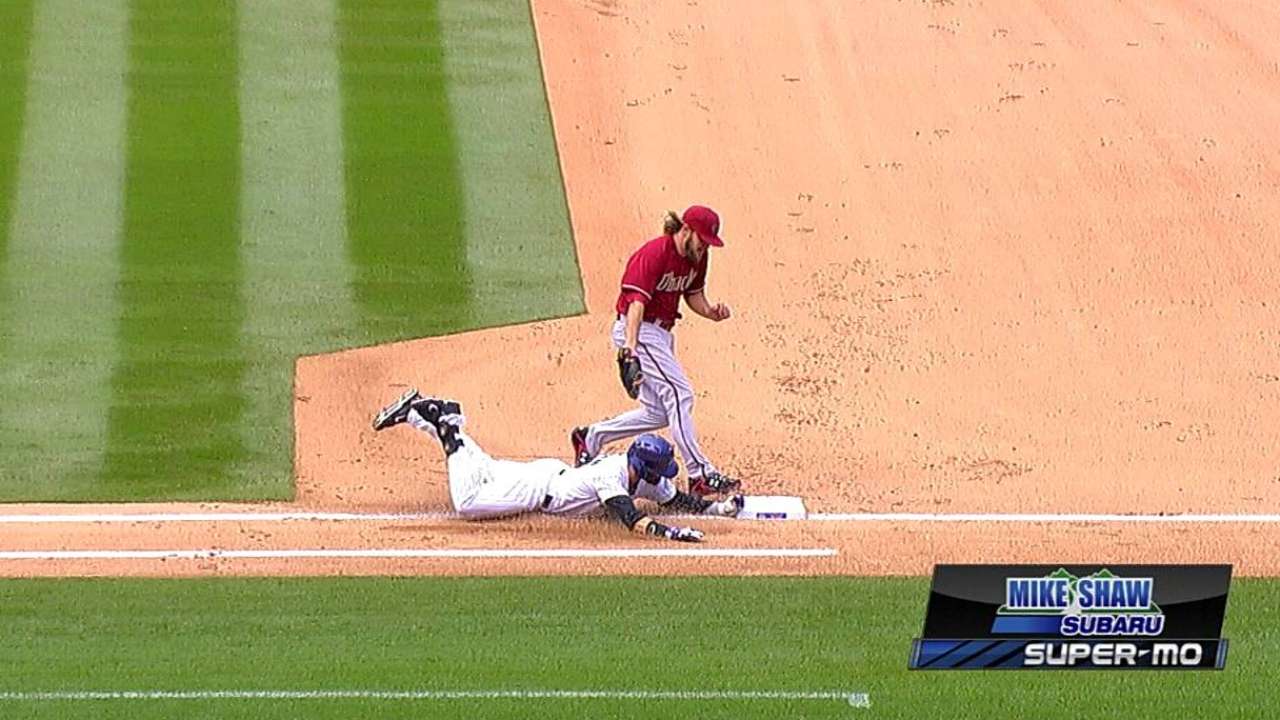 DENVER -- The Rockies were looking for a replay of the first two games of the series and a sweep against the D-backs on Sunday. They settled for winning their first replay challenge at Coors Field while taking their first home loss as the offense fizzled in a 5-3 setback.
Colorado had outscored the National League West-rival D-backs, 21-6, in the first two games of the series, but momentum in baseball is only as good as the next day's starting pitcher, and Arizona's Wade Miley grounded the high-flying Rockies offense with 19 ground balls in eight innings, four of which led to rally-killing double plays.
"He pitched really well," said Carlos Gonzalez, who was 0-for-3 against Miley before leading off the ninth with a single against closer Addison Reed. "That's what they were looking for. He threw eight really good innings. We were not able to get any rally going. He's got a good combination of breaking balls and fastballs. He kept us a little off time, a little off our foot. He pitched really quick. He likes to work pitch after pitch and keep you off balance."
Rockies starter Brett Anderson was fairly efficient in his home debut, going six innings and giving up five runs, though only three were earned. He gave up 10 hits and three walks, twice pitching himself out of bases-loaded jams, but he wasn't as sharp as Colorado hoped for.
"I've had two average starts, by league standings, my first two starts, and I think I'm a better pitcher than that," Anderson said. "We lost the game and I got outpitched both times, so you can't really say I pitched too well. I was still fairly efficient, even though I walked a couple of guys and didn't put away too many guys my first two outings. But I think I've competed well. If this is my C, D stuff, I like where I'm at going forward."
Anderson held the D-backs scoreless through the first two frames, but the second time through the lineup they started reaching him. A.J. Pollock and Aaron Hill led off the third with singles, then an error by third baseman Nolan Arenado brought both runners home.
A leadoff double from Chris Owings caused more trouble in the fourth, and Miley drove him home with the first of his career-best three hits.
The D-backs added two more runs to Anderson's line when Martin Prado singled to center with one out in the fifth and Mark Trumbo homered in his fourth consecutive game to make it 5-0.
"I thought Brett did a great job," manager Walt Weiss said. "Six innings, three earned runs. The Trumbo homer was the one that hurt a little bit, but I thought Brett did a great job. I have a lot of confidence when he's on the mound. He's got the ability to navigate a lineup and execute a game plan. I feel real comfortable when he's on the mound."
Colorado finally got on the board in the fifth inning. Wilin Rosario led off with a double to right, advanced to third on a wild pitch from Miley, and scored on a sacrifice fly to right from Drew Stubbs.
If the double-play grounder was the Rockies' nemesis, the sacrifice fly was their best friend. After Troy Tulowitzki led off the seventh with a single to right and Rosario laced his second double into center, Arenado drove a ball to deep center to plate Tulowitzki and put the Rockies within three.
"I was just trying to keep the ball down," Miley said of his approach against the Rockies. "Down is good against this team. They're an aggressive team. That's a really, really good lineup over there. You don't want to make mistakes to those guys. Fortunately today they were hitting them on the ground, and our guys were there."
Colorado's bullpen kept up its strong string of innings since returning to Coors Field for the weekend series. Wilton Lopez threw a pair of shutout innings to follow Anderson, and Matt Belisle pitched a scoreless ninth to give the Rockies' bullpen 9 2/3 innings of one-run ball over the weekend.
With a quality start from Anderson and another shutdown performance from the 'pen, all the Rockies needed was for their 21-run offense from the first two games to show up.
The Rockies scored their final run on Rosario's double-play grounder -- their fifth on the day -- scoring Gonzalez, who stole second after his leadoff single and advanced to third on a throwing error from catcher Miguel Montero.
"It was nice to see that righty and try to get a rally going," Gonzalez said. "Wilin hit the ball hard down third base. There's nothing you can do. He put a good swing to the ball. That's a double play, and we just ended up scoring one run. It was not enough."
Owen Perkins is a contributor to MLB.com. This story was not subject to the approval of Major League Baseball or its clubs.