Resilient Tanaka wins big league debut
Righty fans eight Jays, capitalizes on Yanks' successful challenge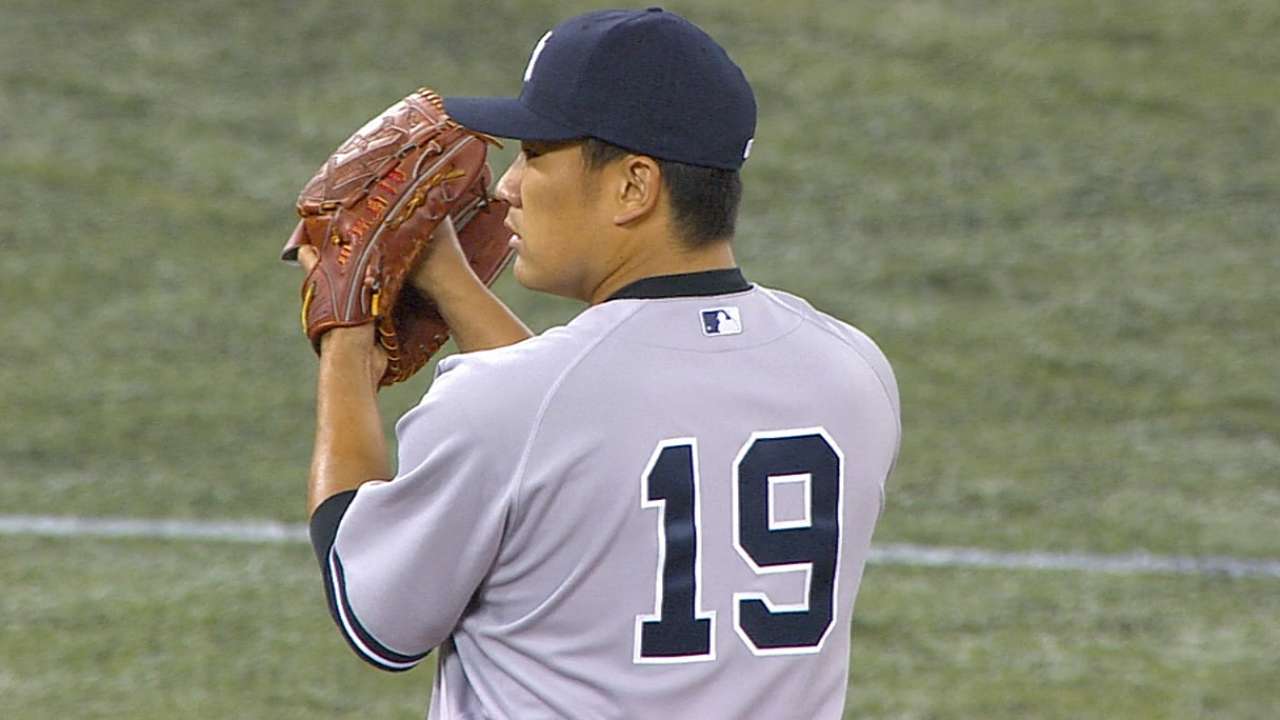 TORONTO -- The third pitch of Masahiro Tanaka's career in the Major Leagues came to rest somewhere behind the 375-foot marker painted on the right-center-field wall at Rogers Centre, and the debuting rookie placed his right hand on his hip, kicking at the mound.
He was nervous, Tanaka would admit later, sensing something like what he felt while preparing for last year's Japan Series. And as he did then, Tanaka was able to settle those emotions and give his new team a winning outing on Friday, pitching the Yankees to a 7-3 victory over the Blue Jays.
Tanaka, the Yankees' $155 million prize, bounced back from serving up Melky Cabrera's leadoff homer and a pair of second-inning runs to retire 16 of the last 18 batters he faced in a seven-inning performance, striking out eight without a walk.
"I was missing some spots earlier in the game, but as the game progressed, I think I was getting better out there," Tanaka said through an interpreter. "Obviously I'm happy. I think No. 1 is that I'm relieved."
The expectations and scrutiny are sky high for Tanaka, 25, who spun last year's 24-0 record and 1.27 ERA for the Tohoku Rakuten Golden Eagles into a seven-year contract with the Bombers.
Yankees manager Joe Girardi was peppered with questions about Tanaka since the first moments of the exhibition season, and with Friday's game being beamed to a worldwide audience, Girardi believes Tanaka is handling the blinding spotlight with aplomb.
"I think it's really impressive," Girardi said. "You think about what he's had to deal with all Spring Training, the attention that's been on him. The covers of magazines. Everywhere he goes, people want to know when's he pitching. That started Feb. 14. I think he's handled it great."
Jacoby Ellsbury paced the Yankees' offense with three hits, two runs scored, a walk and a pair of stolen bases, as New York thumped Toronto right-hander Dustin McGowan for four runs and eight hits in 2 2/3 innings.
Carlos Beltran and Mark Teixeira knocked first-inning RBI singles to provide Tanaka with instant support. That lead was halved when Tanaka hung an 83-mph splitter over the plate to Cabrera.
"It was my mistake," Tanaka said. "I thought that Cabrera took a really good swing at it."
Toronto claimed a 3-2 lead in the second inning, a frame prolonged by first baseman Teixeira's throwing error on a Ryan Goins grounder and set up Jonathan Diaz's two-run single on a hard ground ball to left field.
The Yankees lost Teixeira's services in the second inning to a strained right hamstring, putting a damper on the occasion, but they were encouraged when Tanaka struck out the final two batters in the inning and returned as a different pitcher.
From that point, Tanaka limited Toronto to two hits -- including Edwin Encarnacion's generous infield single in the sixth, which could have been ruled an error after it smacked off the glove of third baseman Yangervis Solarte.
"It was good that I increased the numbers of fastballs after two innings," Tanaka said. "I think that was good for me."
Yankees pitching coach Larry Rothschild said that Tanaka's breaking pitches were not as consistent as they were at times this spring, but Tanaka showed the ability to battle. The hanging splitter to Cabrera was a wake-up call, Rothschild said.
"It wasn't a great pitch, but in the long run it probably helped because he got going right away, got the concentration going," Rothschild said. "It's not really the initiation you want, but he did great anyway."
Girardi said that he viewed Tanaka's ability to recover as a sign of maturity, and Blue Jays manager John Gibbons said that he was sold on the hype that had flowed out of Yankees camp all spring.
"He's the real deal," Gibbons said. "He made a few mistakes and we capitalized on them, and those are the balls you have to hit. But he's strong, he stayed in the game, and when they gave him the lead back he kicked it in pretty good."
With Tanaka spinning zeros, New York pulled ahead in the third inning when Girardi challenged a call at first base. The overturned call allowed Ichiro to remain on the basepaths with two outs and Brian Roberts at third; Solarte followed with a two-run double that put the Yankees ahead to stay.
By that time, the Blue Jays were chatting in their dugout about the possibility that McGowan was tipping his pitches. McGowan acknowledged that he was setting in different spots on different pitches.
"I have to fix that tipping thing for sure," McGowan said, "because even I noticed after the first inning they were putting good swings on every pitch I threw. I knew something was wrong from the get-go."
Brian McCann added a fourth-inning RBI single off Aaron Loup and Brett Gardner punched a RBI single in the eighth off Brett Cecil, padding the Yankees' advantage and allowing Tanaka to feel more confident about his chances of a victory.
Tanaka's first big league win also marked another milestone; his 100th victory in professional ball, having gone 99-35 in the Japanese Pacific League. Tanaka has now won 29 consecutive decisions dating back to 2012, and he said that his ability to settle down stems from his surroundings.
"I think it comes from what I've experienced as a baseball player throughout the years," Tanaka said. "My teammates really backed me up today."
Bryan Hoch is a reporter for MLB.com. Follow him on Twitter @bryanhoch and read his MLBlog, Bombers Beat. This story was not subject to the approval of Major League Baseball or its clubs.