Oklahoma high school powers to play this weekend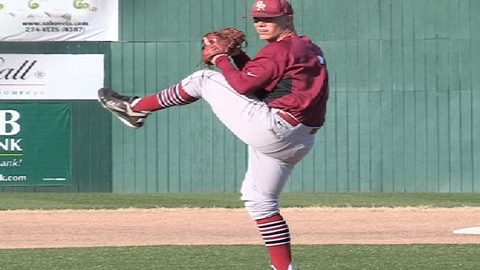 Two of Oklahoma's premier high school programs will meet this weekend when Owasso and Jenks play a home-and-home series, beginning Friday at Jenks at 7 p.m., and continuing Saturday at Owasso at 7 p.m. Owasso is the defending state champion and Jenks enters the weekend undefeated and ranked No. 8 in the country in the latest Baseball America Top 25.
The two schools are also known for producing professional prospects. Orioles right-hander Dylan Bundy and Cardinals infielder Pete Kozma both graduated from Owasso, while Padres right-hander Josh Johnson is a Jenks alumnus. The two schools produced three players selected in last year's First-Year Player Draft, led by Jenks third baseman Trey Michalczewski, whom the White Sox picked in the third round.
There will once again be plenty of talent on the field this weekend. The two teams have a combined seven seniors who are committed to Division I schools, including all four starting pitchers. Owasso will start right-hander Braden Webb (South Carolina) and left-hander Jeb Bargfeldt (Wichita State). Jenks will counter with right-handers Cale Tims (Oral Roberts) and Allan Beer (Bradley). The other players headed to Division I next fall are Jenks right-hander Bryce Ward (Kansas State) and outfielder Cadon Owens (Oral Roberts), as well as Owasso first baseman Mason O'Brien. The Oklahoma State recruit won't be in action, however, as he continues to recover from a torn left ACL he suffered in February.
Scouts consider Webb to be the best prospect of the bunch. His fastball has reached 93 mph this spring and his curveball and changeup both show promise. Webb has the kind of strong, projectable frame scouts look for in high school pitchers. He began the season in peak form, throwing no-hitters in his first two starts.
Teddy Cahill is a reporter for MLB.com. Follow him on Twitter at @tedcahill. This story was not subject to the approval of Major League Baseball or its clubs.