Rockies hold off Marlins after three-run first
Colorado strings together six hits early, including Gonzalez's RBI double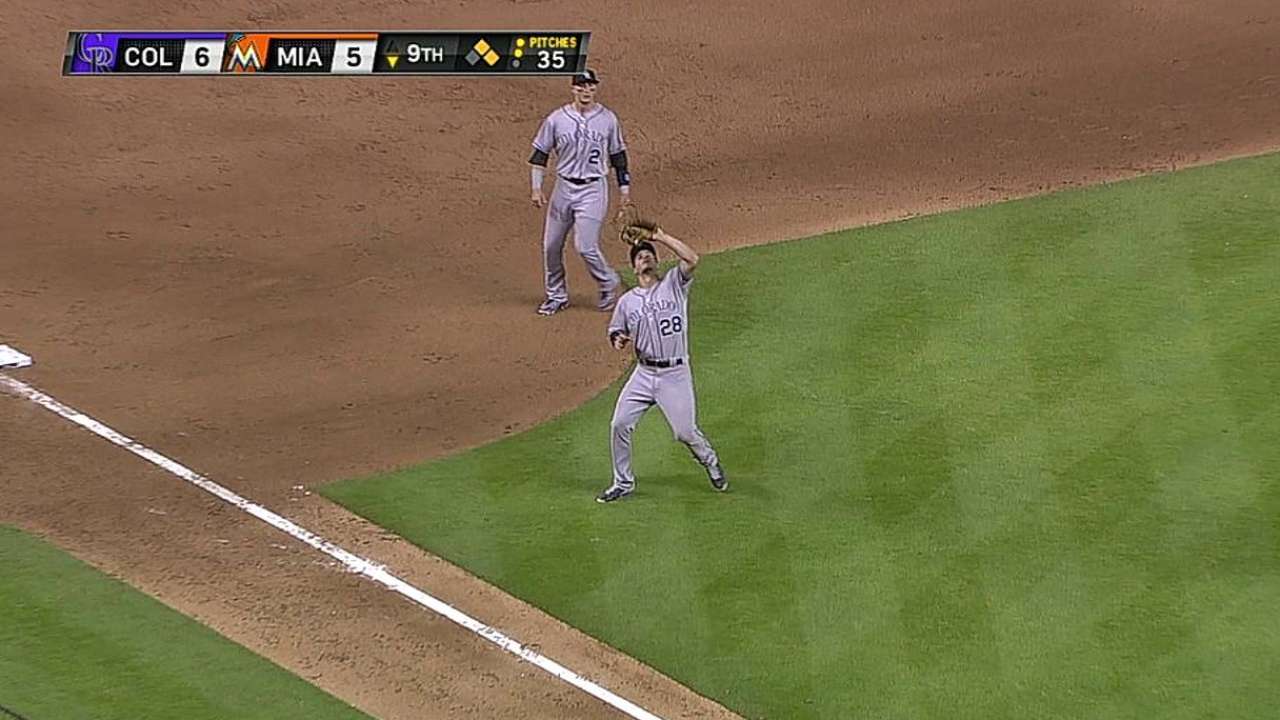 MIAMI -- The schedule asked the Rockies to fly across the country from Spring Training in Arizona to Miami to begin the year. It's not the most convenient slate. But LaTroy Hawkins, the team's 41-year-old closer, felt renewed, rather than jetlagged.
"I felt better than I did all spring," Hawkins said. "I think the humidity and everything … when I got off the plane, I was like, 'Thank you.'"
That feeling of renewal was just what Hawkins needed Wednesday night, in his first appearance this year. He had to throw 36 pitches in a seat-of-the-pants ninth inning. And although he gave up a run, he forced Garrett Jones into an infield popup to put to bed a 6-5 victory over the Marlins at Marlins Park in front of 15,866.
Hawkins most recently threw 36 on May 11 for the Mets against the Pirates, but that was a two-inning mop-up in an 11-2 loss. This one gave the Rockies their first 2014 victory and a chance, should they win Thursday, to earn a split of the season-opening, four-game series. And this one was Hawkins' 944th career game, which tied Hall of Famer Rollie Fingers for 19th all-time.
It wasn't as if Hawkins was spraying the ball all over the place. Twenty-four of the pitches were strikes, but the Marlins were simply tough outs. That was especially true of Christian Yelich, who ran up 11 pitches -- seven of which he fouled off -- before grounding out for the second out with a runner at second.
"That was a great at-bat -- he fought off everything," Hawkins said.
The Marlins' Giancarlo Stanton, who homered for two runs off winning pitcher Jordan Lyles (1-0) in the sixth, cracked a ball to left field in the ninth that sounded to Hawkins "different than anything I've ever heard … but I knew it was foul." Stanton nevertheless was able to single in a run before Hawkins forced the Jones out.
And after all the pitches, even at his age, he was fine.
"Now when we get into the season and I've thrown a couple days in a row, 36 pitches?" Hawkins said. "Oh.
"The first thing 'Doogie' [head athletic trainer Keith Dugger] said, when I went in and he had the ice and everything laid out, was, 'Time to rebuild you.'"
It was a nail-biter, but not for Hawkins. Rockies catcher Jordan Pacheco, who went 3-for-4 with an RBI, went to the mound at one point but said, "he calmed me down." Manager Walt Weiss made a mound visit as well, but simply to let Hawkins rest a little.
"'Hawk' grinded through the inning and got it done," Weiss said.
The Rockies were patient enough offensively for 12 hits, just one for extra bases, to take a 6-1 lead by the end of the fourth. The bullpen, which the Rockies tweaked with the signing of Hawkins during the offseason, held the lead, but not without drama.
Adam Ottavino replaced Lyles in the sixth and struck out Jarrod Saltalamacchia, Marcell Ozuna and Adeiny Hechavarria with runners at second and third to hold the game at 6-4.
"'Otto' was huge, coming in and getting through that inning," Weiss said.
Matt Belisle threw a perfect seventh. Rex Brothers, moved from closer to the eighth inning with the Hawkins signing, survived his two walks to force a Saltalamacchia popup; he struck out Ozuna to end the eighth. Hawkins survived a run on two hits and a walk. He struck out one.
The Rockies had scattered unfruitful production the first two nights. On Wednesday, half of their hits came during a three-run first inning. Following Pacheco's three hits, leadoff hitter Charlie Blackmon and No. 2 hitter Michael Cuddyer scratched two hits apiece.
Colorado's only extra-base hit was a first-inning RBI double by Carlos Gonzalez, who would leave in the bottom of the sixth as a precaution because of dizziness that he attributed to dehydration. The double was Gonzalez's third extra-base hit in as many games.
After Gonzalez's double, which came off Marlins starter Henderson Alvarez (0-1), Troy Tulowitzki, Justin Morneau, Nolan Arenado and Pacheco all singled, with Morneau and Pacheco driving in runs.
Colorado's other big inning, a three-run fourth, featured the Rockies taking advantage of poor defense and Alvarez's wildness.
Shortstop Hechavarria's throwing error let Arenado reach to lead off the inning. After Pacheco's single, Marlins second baseman Derek Dietrich made a poor throw to second after fielding DJ LeMahieu's grounder to load the bases. With Lyles batting, Alvarez (three-plus innings, seven hits, six runs, three earned) issued a wild pitch, then loaded the bases by walking the pitcher.
Marlins reliever Kevin Slowey walked Blackmon to force in a run for a 6-1 advantage, but he struck out five and gave up three hits in four innings to keep his team close.
Lyles, called up because of a left hamstring injury to right-hander Tyler Chatwood, gave up four runs on five hits and struck out five. He hit Dietrich before Stanton's homer and walked Jones afterward.
"We located the fastball pretty well, and working with 'Checo,' for the most part we threw the ball over the plate," Lyles said.
Thomas Harding is a reporter for MLB.com. Follow him on Twitter @harding_at_mlb. This story was not subject to the approval of Major League Baseball or its clubs.