Thrilled to be back, Price cruises in season opener
Given early support, Rays ace limits Jays to two runs in 7 1/3 innings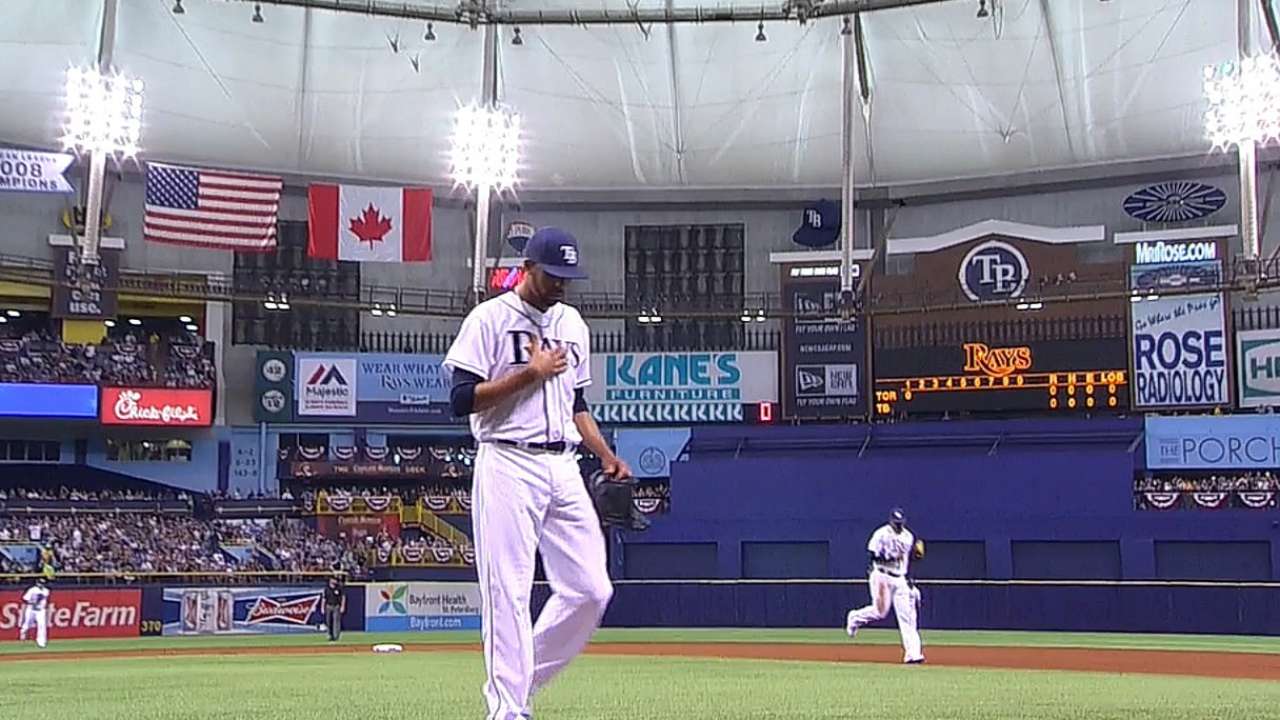 ST. PETERSBURG -- David Price is back, and he couldn't have been much better in the Rays' 9-2 Opening Day win over the Blue Jays on Monday afternoon at Tropicana Field.
When the Rays bowed out of the 2013 postseason, Price felt as though his days with the Rays were numbered. However, the club did not trade its ace as expected, so he made his third career Opening Day start and was loving life on the mound.
"It feels good to be back here," Price said. "Everybody in the clubhouse knows that. They know I want to be here. They know that. And I know these guys in this clubhouse want me here. It's great to be back. It's great to contribute to this team. This is the definition of a team right here."
No doubt the Blue Jays did not like seeing Price given their lack of success against him. In 17 career starts against Toronto, Price had carved a 13-2 mark with a 2.45 ERA. Make that 14 wins against the Blue Jays for No. 14.
Price, who did not pick up his first win of 2013 until his sixth start, got in gear early. With 31,042 watching, he retired the Blue Jays in order in the first, getting some assistance from center fielder Desmond Jennings, who made a diving catch of Jose Reyes' looping line drive for the game's first out.
"The way he got to that ball was outstanding," Rays manager Joe Maddon said. "That ball falls and it could be an entirely different game."
Price set the Jays down in order in the second before effectively navigating choppy waters in the third and fourth.
Colby Rasmus drew a walk to start the third and Maicer Izturis followed with a single. But Josh Thole grounded into a 5-4-3 double play, then Ryan Goins grounded out to first to end the inning.
Price again got tough in the fourth when the Blue Jays had runners at the corners with two outs. This time the Rays left-hander fought Brett Lawrie in a 10-pitch at-bat that ended with Lawrie swinging at strike three.
The 2012 American League Cy Young Award winner got more efficient as the game progressed, using just six pitches in the sixth and seven in the seventh to hold the Blue Jays at bay.
Pinch-hitter Erik Kratz finally broke Price's spell with a two-run homer in the eighth that cut the Rays' lead to 6-2.
"I was counting the pitches," Maddon said. "He went from 77 to 83, and that was a big moment right there. Then 83 to 90 and then I thought he might actually get eight done. But long inning on our part [in the bottom of the seventh] … pinch-hit homer, and I could see that it just wasn't going to be right. So we got him out quickly, but outstanding performance."
Tampa Bay's offense gave its ace plenty of support from the beginning.
Wil Myers, who entered the game 0-for-7 with two strikeouts against Toronto starter R.A. Dickey, doubled to center with one out in the first. One out later, Evan Longoria singled through the middle to give the Rays a 1-0 lead.
Myers came through again in the second with a two-run single for a 3-0 lead.
"With Dickey, [Myers has] not had a lot of good passes at him," Maddon said. "So to do what he did is probably going to accelerate his confidence a bit today and especially the next time he sees him. But that was really good to watch because that's something, we're going to see this guy a lot, we're going to see this team a lot. It's good for him to feel better about himself when we face him."
Myers finished with three hits in five trips to the plate and felt good about the day.
"It was awesome just to be able to start the season off strong, that's the biggest thing, get your season started off on a good note and especially to be able to come out and win our first game of the year, I think that's huge," he said.
Matt Joyce contributed a sacrifice fly in the third, which blew more wind behind Price's sails.
"[The offense] made my job a lot easier tonight, putting up four runs against an extremely tough R.A. Dickey in the first three innings," said Price, who allowed two runs on six hits and a walk while striking out six in 7 1/3 innings. "When you can get that type of offense in the first few innings, it makes you go out there and throw strikes and play defense."
The Rays finished with 11 hits, five of them coming against Dickey, who surrendered six runs while taking the loss.
"I just lost the feel of it there for a little bit," Dickey said of his knuckleball. "I was struggling to find a release point and I just did a poor, poor job of making the in-game adjustments that I needed to make. … I just didn't have the finish on it today and that's part of accepting what the pitch is, it doesn't always cooperate, but at the same time I expect a lot more out of myself than that. That was completely my loss."
Bill Chastain is a reporter for MLB.com. This story was not subject to the approval of Major League Baseball or its clubs.