Adjusted pitching mechanics can change career
Lopez and Collins find success after re-working delivery on the mound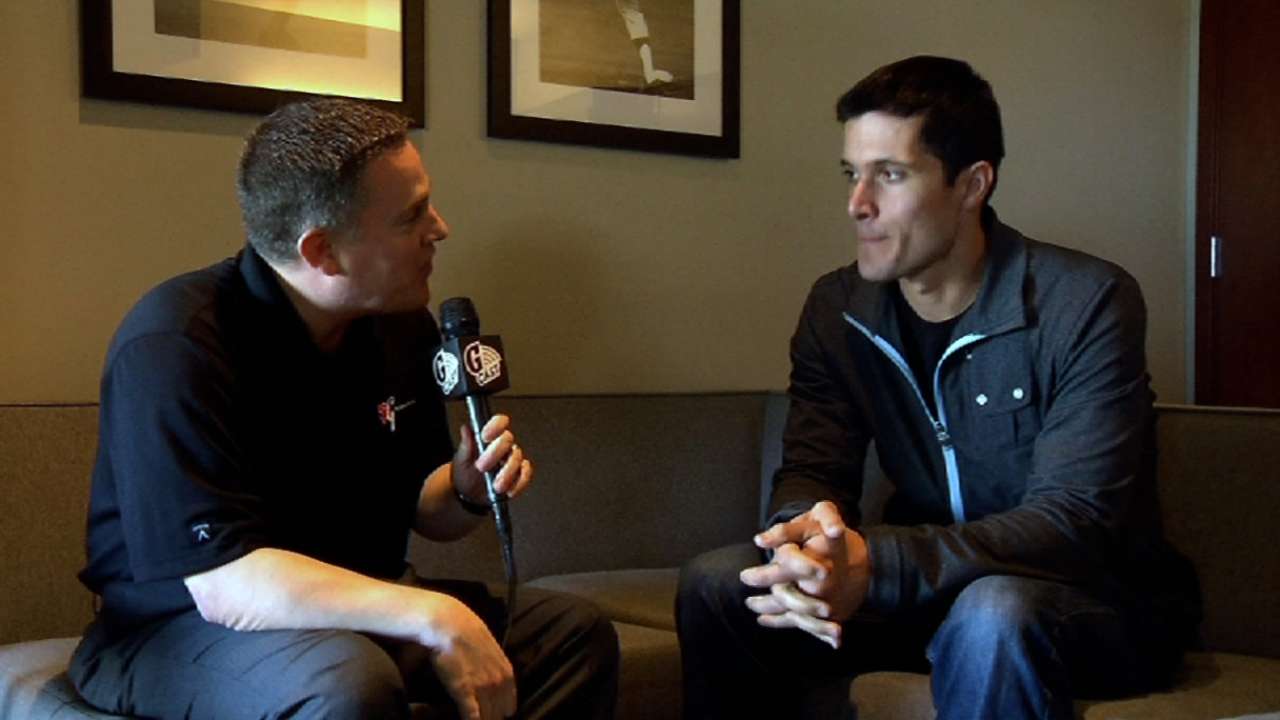 The traditional over-the-top pitching approach didn't work for Giants' reliever Javier Lopez. With his career in limbo, Lopez switched to an unconventional low side-arm throwing motion in 2002. Lopez, 36, believes his ability to survive and thrive in Major League Baseball traces back to his unusual delivery.
"I think [the side-arm motion] let me continue my career and chase the dream here. I am thankful for making the change." Lopez said.
Lopez was the D-backs fourth-round selection in the 1998 First-Year Player Draft, coming out of the University of Virginia. The D-backs drafted Lopez to be a starter, but he became a reliever shortly after because he lacked a reliable off-speed pitch. The same problem happened in the bullpen, forcing Lopez to make adjustments mechanically.
"I felt that I reached a point of my career if I wanted to get to where I wanted to get to, I needed to make some changes," Lopez said. "I decided dropping [my arm] down was probably the best idea because I could still throw with pretty good control from the side."
While Lopez secured his spot in baseball by adopting the nontraditional, Royals' reliever Tim Collins went the other way, embracing the conventional to save his future in the game. Collins, 24, used to sport one of the highest leg kicks in the game. Three years ago Collins abandoned the leg kick and turned to a more typical pitching technique, and he believes it gave him consistency.
With the leg kick in 2007, Collins tallied a 4.50 ERA in seven games for the Class A Wilmington Blue Rocks. In his big league career with the Royals, Collins owns a solid 3.51 ERA without using the leg kick.
Collins said the extra effort on each pitch was hard to repeat, especially after outings on three or four days in a row. With the help of Royals pitching coach Dave Eiland, Collins figured out an ideal solution.
"Even my first year I had that delivery, I didn't want to change, but I knew I had to," Collins said. "Me and Dave came to the conclusion that we had to simplify things as much as possible, and that's what we did. It worked from there."
Lopez, now a Giants reliever, turned to the D-backs staff at the time for guidance also. Well-known side-arm guys Mike Myers and Byung-Hyun Kim taught Lopez the basics of the craft. Following Spring Training in 2002, Lopez went down to the D-backs' then-Double-A affiliate in Tulsa and learned under the guidance of Mark Davis, who won the Cy Young Award in 1989.
"[Davis] and I would practice almost every single day coming up with some random pitches and trying different grips and see what it can do," Lopez said. "That's kind of how I came up with some of the pitches I throw now."
Few lefty relievers are better at their job than Lopez. Since 2010, Lopez's highest ERA was 2.72. He posted the lowest ERA of his career last season at 1.83. Lopez dominated left-handed hitters in 2013, holding them to a minuscule .156 batting average.
"In the bullpen, you need two or three guys that you build around all the time and have a lot a trust in. [Lopez] is one of those guys. It's huge." Giants pitching coach Dave Righetti said.
Compared to others who deploy a side-arm style, Lopez has some differences that make his delivery stand out.
"Some guys come up a little bit lower than [Lopez] does, occasionally he goes way under," Righetti, 55, said. "For the most part, he is low side arm. A lot of guys don't do that."
The deception Lopez brings to the mound causes problems for opposing hitters. Lopez knows he can't overwhelm anyone with blazing fastballs, so he relies on being crafty.
Collins, one the Royals' late-inning relievers, is at a disadvantage in part because of his small 5-foot-7 frame. From the Little Leagues through the Minors, Collins notched solid statistics, so he did not feel any need to change his leg kick. Once Collins results declined, he knew something had to be done.
"I didn't really notice I had a high leg kick until somebody told me in my first or second year in the Minor Leagues," Collins said. "I was just trying to get everything out of my body. Being smaller than everyone else, [I had] to get all the momentum going."
Lopez went from being lost on the mound to becoming a hot commodity. The decision to implement a side-arm delivery paid huge dividends for him.
"I feel like I have been pretty consistent the past five years or so, and been able to do what I want to do with the ball. And it's a source of pride I have," Lopez said. "I feel like the longer I stick around the better I have been getting at [my delivery]."
Ben Haber is a student at Arizona State University. This story is part of a Cactus League partnership between MLB.com and Arizona State University's Walter Cronkite School of Journalism and Mass Communication. This story was not subject to the approval of Major League Baseball or its clubs.