Rituals peek into big leaguer behind the talent
Some players' routines are meaningful, some fun and others simply habit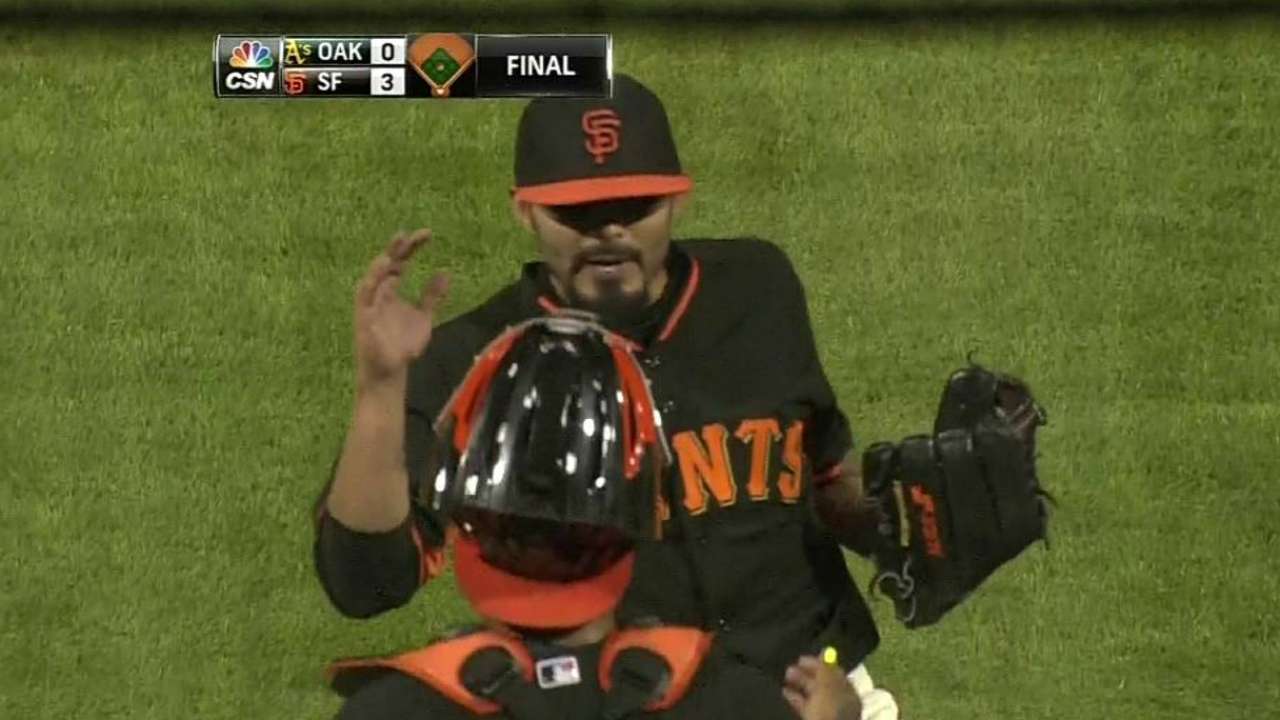 PHOENIX -- Sergio Romo, closer for the San Francisco Giants, raises his fist with a pointed finger towards the sky before he takes the mound every time he pitches -- a ritual he said means more to him than most people probably know.
"When I point up and shoot at the sky, I'm saying 'Thank you,'" Romo said. "But it's more than just a thank you. It's an excited bang, and it's me crossing the line to show thanks for being healthy and showing my appreciation."
Romo said this ritual and his routine is not solely for him.
"Being Catholic, I do the sign of the cross three times to ask for strength for me and all my family members," Romo said.
Major League players can be creatures of habit and bring bits of their personality into their game by rituals and routines. While some appear light-hearted, these rituals can be extremely meaningful and personal.
Los Angeles Angels ace Jered Weaver said he has a noticeable ritual that he has performed since college: he draws initials of people he wishes to remember in the back of the mound.
"It used to be my grandparents' initials, and since Nick Adenhart passed away, I've been writing his initials in the back of the mound," Weaver said.
Adenhart was drafted by the Angels in 2004 and pitched three Major League games in '08. Shortly after his first start in 2009, he was killed in a tragic car accident in Fullerton, Calif.
Weaver said he etches Adenhart's initials to honor his memory.
"It's kind of a support thing and knowing that he's there, watching and pitching through me. It's a nice little remembrance," Weaver said.
Romo said lots of players have rituals to help them before the game as well. The California-born pitcher said some of his rituals are just plain fun, like his video game habits.
"I play a lot of video games," Romo said. "Right before games, I mess around: PlayStation Vita, handheld games or little games on my phone.
"Right now, I'm playing MLB The Show and NBA2K14."
Romo said players' routines are not always as strange as people assume. But he said for every fun, unassuming ritual, he cannot deny his quirky game-time ones.
"There's a certain way I enter the field every time," Romo said. "I got this little side shuffle -- like, hop-hop -- always with the left side first.
"It's kind of hard to explain," he said.
Weaver said it is difficult to explain some superstitions, because they develop from a desire for consistency.
"If I'm throwing well, I like to wear the same things as far as socks or pants from that day to keep it rolling," Weaver said. "If I have a bad day, I'll throw those ones away and get some new ones going."
According to both Romo and Weaver, the unexplainable rituals are the ones that have no purpose.
"I never step on the foul line. I've done that since college and I don't know why," Weaver said. "Don't ask me why -- I just always have."
Morgan Chan is a mass communications graduate student at Arizona State University. This story is part of a Cactus League partnership between MLB.com and Arizona State University's Walter Cronkite School of Journalism and Mass Communication. This story was not subject to the approval of Major League Baseball or its clubs.