MLB.com Columnist
Jonathan Mayo
Mayo: Toussaint headlines top NHSI prospects
Electric right-hander followed on list by Davidson, considered best pure hitter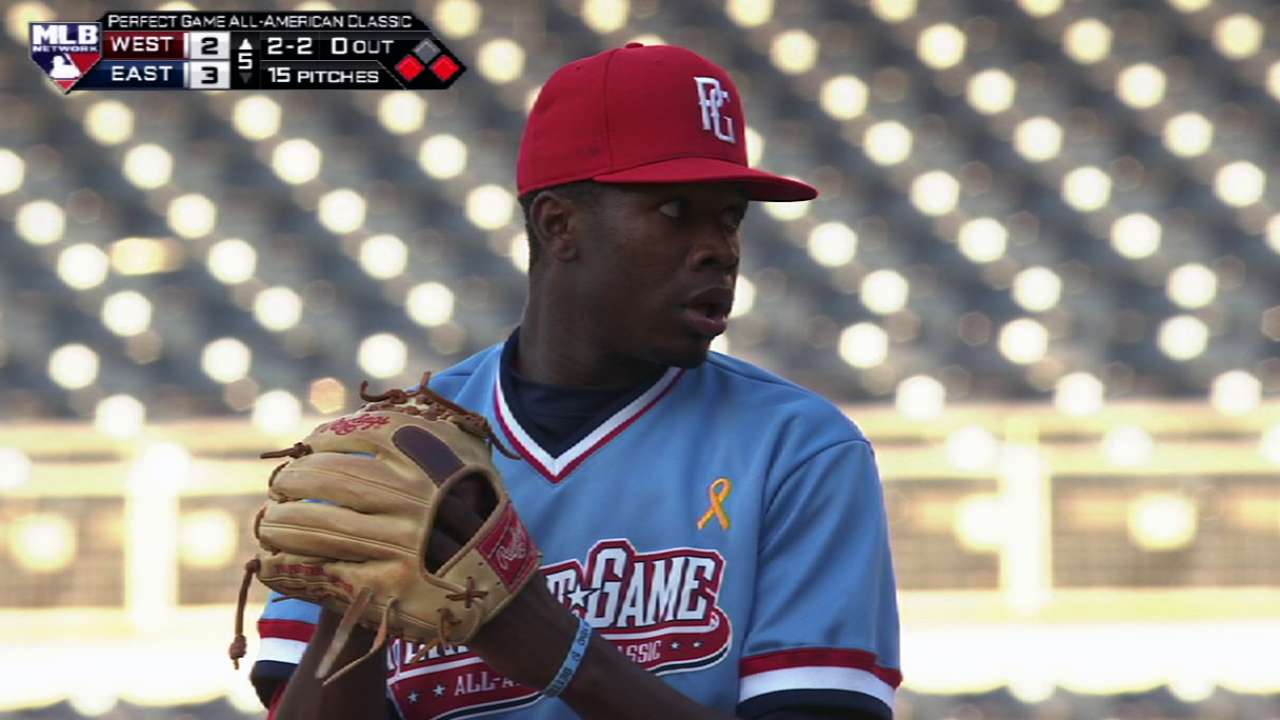 CARY, N.C. -- With weather threatening to put a damper on Saturday's scheduled Day 4 of the 2014 National High School Invitational (NHSI), USA Baseball moved quickly to alter the schedule and try to get in four games over three days for every team.
The result was a championship game -- won by Florida's The First Academy -- on Friday morning and all games completed by Friday evening. Four games won't make or break a Draft prospect, especially not in March, but the NHSI gives the scouting industry an invaluable long look at players who might get drafted come June.
There were some very good performances at the tournament, now in its third year, particularly on the mound, and there were some not-as-stellar showings, though it doesn't appear that anyone either greatly improved or severely damaged their stock this week.
Still, some prospects did fare better than others, and the list of top NHSI prospects below reflects that. Talking to some of the multitude of scouts on hand at USA Baseball's National Training Complex, this list strikes a balance between prospect status and performance specific to the tournament. Only 2014 potential draftees were considered, though 2015 Draft prospect Kyle Molnar certainly belongs on the list, with a dominant mound performance for Aliso Niguel HS in California. Stash him away for next year's lists.
1. Touki Toussaint, Coral Springs Christian Academy (Fla.): The athletic right-hander was electric, striking out 12 while pitching into the seventh on Day 1. He touched 94 mph and struck out six looking, mostly with a devastating curve. He mixed in some good changeups as well and seems to be moving in the right direction command-wise.
2. Braxton Davidson, 1B/OF, T.C. Roberson HS (N.C.): Davidson further cemented his reputation as perhaps the best pure bat among high school hitters. The left-handed hitter went 4-for-12 in four games. He also drew five walks and struck out just once, showing an advanced knowledge of the strike zone throughout the event.
3. Jacob Gatewood, SS, Clovis HS (Calif.): Gatewood would move ahead of Davidson in a straight Draft ranking, but Davidson got the nod because of his performance. The NoCal slugger wasn't able to put his plus raw power on display, though he did go 4-for-14, all singles, with an RBI. The tools, especially that power, will keep scouts coming back to evaluate him all spring.
4. Mac Marshall, LHP, Parkview HS (Ga.): One of the better prep lefties in the class, Marshall was masterful in shutting out Venice (Fla.). Hitting up to about 91 mph, Mashall mixed his changeup and improved breaking ball extremely well, walking just one and striking out six.
5. Michael Gettys, OF, Gainesville HS (Ga.): As with Gatewood, scouts wanted to get the multiple looks at Gettys the NHSI affords to try to learn more about his hitting ability. Gettys didn't help in that regard, going 1-for-11 and striking out three times. He did throw a complete game for a victory, but most teams see him as an outfielder. The tools and athleticism will keep teams interested up until Draft day.
6. Foster Griffin, LHP/OF, The First Academy (Fla.): The First Academy won the NHSI and Griffin was a big reason why. On the mound, he shut out Milton, battling through cold temperatures for a complete-game, eight-strikeout performance. At the plate, he went 6-for-12 with two doubles and two RBIs.
7. Josh Morgan, SS, Orange Lutheran HS (Calif.): Another toolsy shortstop from California, Morgan might have a better chance to play short than Gatewood. He scuffled at the plate, though, going 1-for-9 with three walks and getting hit three times.
8. Cole Tucker, SS, Mountain Pointe HS (Ariz.): Yep, another athletic shortstop on display. Tucker may have helped himself as much as any prospect at the NHSI, going 6-for-16 with two doubles, a triple, three RBIs and four runs scored, walking twice and not striking out. A notch behind the other shortstops, he may play himself into earlier-round contention.
9. Isiah Gilliam, 1B/OF, Parkview HS (Ga.): The most intriguing story at the NHSI, Gilliam wasn't declared eligible for this year's Draft until just recently, so scouts were scrambling to learn about him here. A powerful switch-hitter, Gilliam went 4-for-9 over Parkview's first three games, with scouts giving him good early marks on his compact stroke and ability to make hard contact.
Others to watch: Adam Haseley, LHP/OF, The First Academy (Fla.); Benito Santiago Jr., C, Coral Springs Christian Academy (Fla.); Brody Westmoreland, SS, ThunderRidge HS (Col.); Garrett King, RHP, Orange Lutheran HS (Calif.); Dalton Guthrie, SS, Venice HS (Fla.); Alan Crowley, C, Clovis HS (Calif.); Max George, SS, Regis Jesuit HS (Col.)
Jonathan Mayo is a reporter for MLB.com and writes a blog, B3. Follow @JonathanMayoB3 on Twitter. This story was not subject to the approval of Major League Baseball or its clubs.