Bochy grateful for infield depth behind Scutaro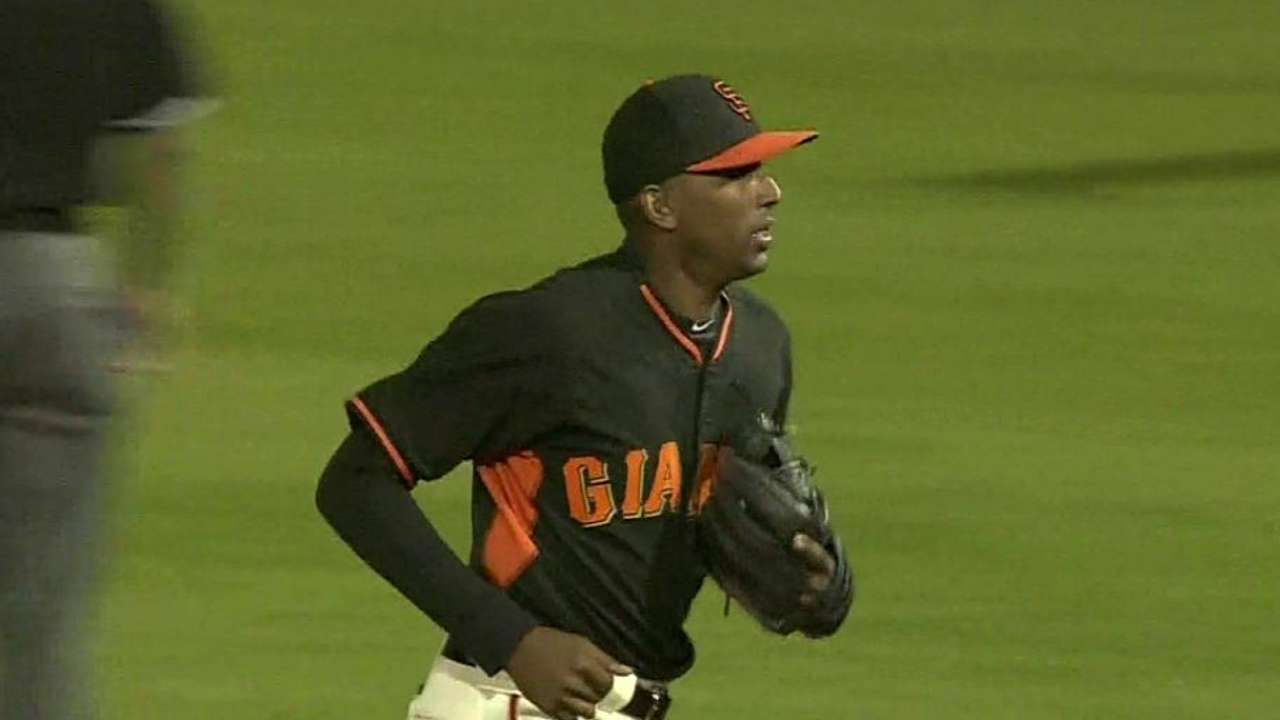 SAN FRANCISCO -- No official moves have been announced, but Giants manager Bruce Bochy reiterated Thursday that starting second baseman Marco Scutaro (back) and lefty reliever Jeremy Affeldt (knee) will start the season on the 15-day disabled list.
Both moves will have trickle-down effects on the rest of the team, leaving the door open for some lesser-known players to make the Opening Day roster. Joaquin Arias was penciled in as the starting second baseman Thursday, something he could be doing regularly as Scutaro tries to get his back right.
"I'll mix it up and try to match it up as well as I can," Bochy said. "I think with Joaquin's experience and the defense that he gives you, he'll get the lion's share of the playing time."
Rookie Ehire Adrianza and non-roster invitee Brandon Hicks -- who had a "tremendous" spring, according to Bochy -- are also poised to make the team as backup infielders and could see time at second base.
As for Scutaro, Bochy didn't sound optimistic that he would have the second baseman back on the field April 4 when he's eligible to return. The plan is to have Scutaro join his teammates in San Francisco on Friday, run through baseball activities and go from there.
"We've been spending six or seven weeks on this," Bochy said of Scutaro's attempt to get healthy. "It's been a slow process, frustrating for him. But what's important is that we get him right because it is so early in the season. If it takes another couple weeks, I'll take him for five months."
Scutaro, 38, is in the second season of a three-year, $20 million deal he signed following the 2012 campaign, when he played a big role in the team's World Series run. But his back has given him lingering problems since midseason last year, and it limited him to just one Cactus League contest this spring.
Adrianza played in nine games as a September callup in 2013 and is known for his solid work with the glove. While he played almost exclusively at shortstop as a Minor Leaguer, Brandon Crawford figures to be entrenched as San Francisco's starter for years to come. Thus, Adrianza has been working hard to prove to the coaching staff he can also handle second and eventually third base.
"I want to show them that I can play wherever they want me to play," Adrianza said. "First, third, second, whatever. I just want to be here and help the team win."
Adrianza said he feels natural at second base, because it's where he played before he was signed as a free agent out of Venezuela in 2006. The 24-year-old said he's been relying on the advice of his countryman Scutaro as he tries to make a lasting impression on the Giants' front office.
"I feel bad for Scutaro, because he's one of the best players in the big leagues, for me," Adrianza said. "It's an opportunity. I want to be here because of my work. I don't want to be here because he's hurt. For me, it's keep working hard and see what happens in these few days."
As Bochy noted, the team also has MLB-tested Nick Noonan in Triple-A Fresno to call on if needed.
"It's nice to have this depth to call on," Bochy said. "[They're] probably all going to play a part in our season."
Alex Espinoza is a contributor to MLB.com. This story was not subject to the approval of Major League Baseball or its clubs.