Gatewood, Gettys take stage in quarterfinal action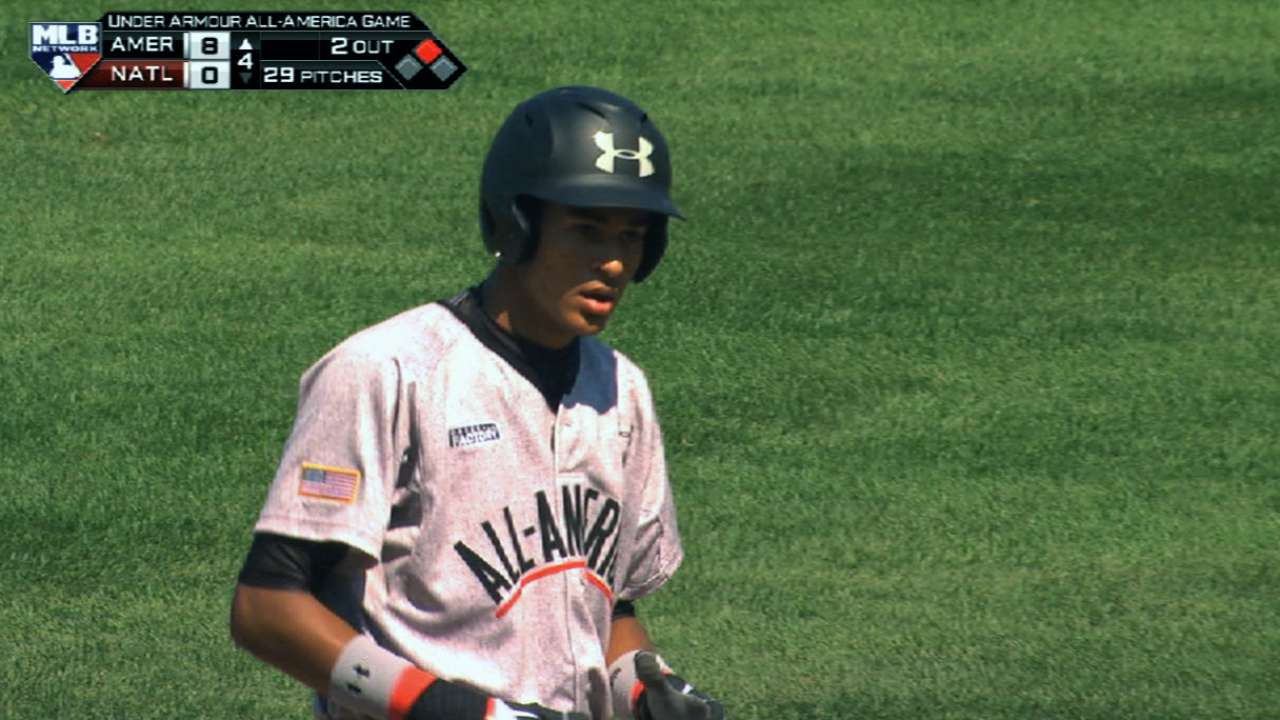 CARY, N.C. -- Both are full of tools and "look the part." Both have tremendous upside and potential. And both have questions about their ability to hit.
Clovis High School (Calif.) shortstop Jacob Gatewood and Gainesville High School (Ga.) outfielder Michael Gettys created most of the buzz on the back fields on Thursday afternoon as the two teams faced each other in NHSI quarterfinal action.
Clovis won the contest, 1-0, before then beating Coral Springs Academy, 6-4, to advance to the championship game against The First Academy from Florida, moved up to Friday to hopefully avoid impending weather.
Neither Gatewood nor Gettys did much to impact the game, both going 1-for-3 in the quarterfinal. Gatewood picked up a hit in the semifinal as well, but it sounded like questions still lingered for both toolsy prepsters. One cross-checker felt Gatewood had more upside and felt less confident in Gettys' ability to hit long term, though that opinion has been formed over multiple viewings and not just from Thursday afternoon.
Orange Lutheran (Calif.) shortstop Josh Morgan is another toolsy hitter scouts were eager to see, but he has scuffled in this tournament. Morgan has gone 1-for-8 in his team's three games, all losses. While few, if any, scouts feel Gatewood can stick at shortstop, though, there are some who would at least send Morgan out at the position after he worked hard on his conditioning to show he could stay there.
One high school hitter who did perform well on Thursday was T.C. Roberson's (N.C.) Braxton Davidson. After an uneventful Day 1, Davidson showed well in a pair of games on Day 2, going 2-for-5 with an RBI in early action. Even though he went 0-for-2 with a walk in his nightcap, scouts were impressed with how he swung the bat and his knowledge of the strike zone, living up to his billing as one of the more advanced high school hitters in the class.
Finally, a nod to 2015. Take the name Kyle Molnar and stash it away for a while. The junior Aliso Niguel (Calif.) right-hander already has a UCLA commitment in hand. But since he's already being talked about as being talented enough to be picked in the top of the first round, that might not matter. His outing on Thursday certainly didn't hurt as Molnar pitched Aliso Niguel to its lone victory in the tournament thus far, allowing just one run on two hits and two walks while striking out nine in 6 1/3 innings.
Jonathan Mayo is a reporter for MLB.com and writes a blog, B3. Follow Share This