Marshall dazzles with four-hit shutout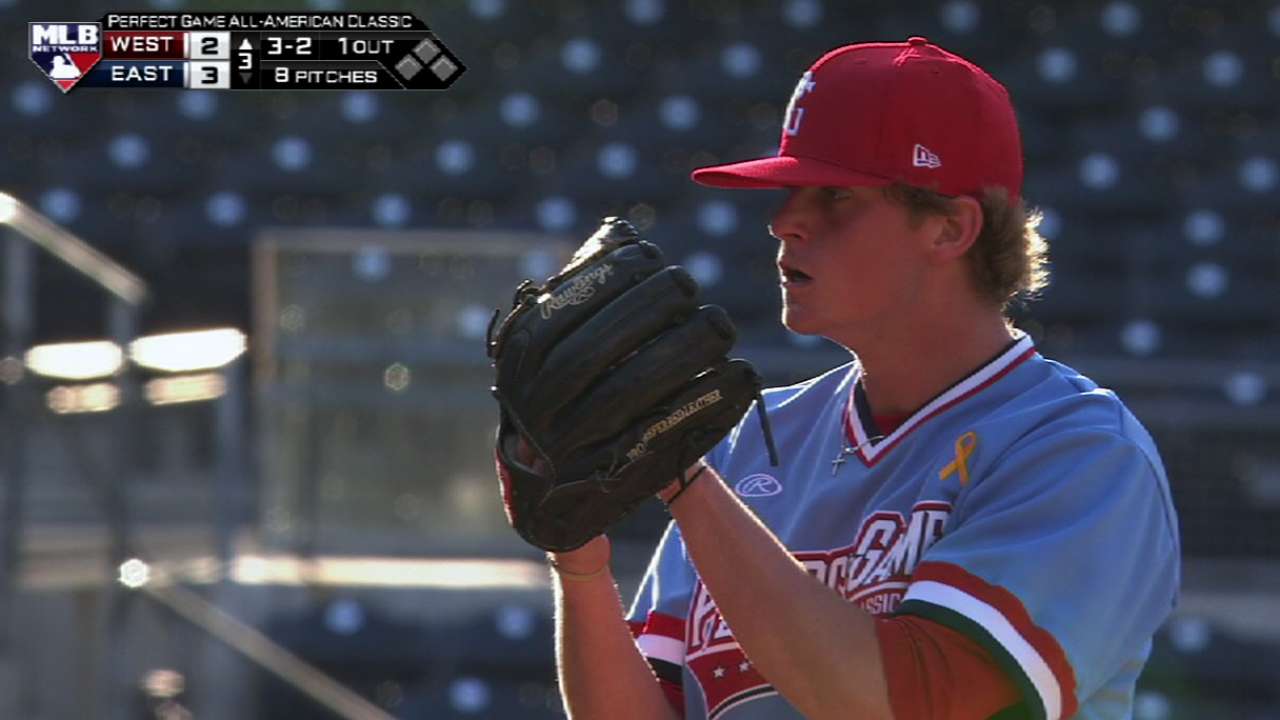 CARY, N.C. -- Mac Marshall entered the 2014 National High School Invitational as one of the top high school left-handers in this year's Draft class. After his start against Florida's Venice High School, he certainly didn't hurt that status.
The Parkview High School left-hander tossed a complete-game shutout on Thursday afternoon, helping the Georgia team get past a tough first-round loss on Wednesday. In front of a slew of scouts, Marshall tossed a crisp four-hitter, walking just one and striking out six. He allowed just one runner to reach scoring position, needing 88 pitches to finish off Venice.
"We took a tough loss yesterday, it was a big game to come back and win, make a statement and move forward in the tournament," Marshall said. "It was big for us."
Marshall, who, along with Brady Aiken in Southern California and perhaps Kodi Medeiros in Hawaii are thought to be the top prep lefties in the class, has been throwing well throughout the early stages of the spring. Leading a young team, with the Draft spotlight shining brightly on him, Marshall has gone out and looked like one of the more complete pitchers, at least on the high school level. He's being talked about as a potential first-round pick, though some scouts feel his pure stuff is a bit short and puts him closer to the second round at this point.
"Where we are in the season and where we are as a team, we're still trying to take baby steps with a young team," Parkview coach Chan Brown said. "Having a leader on the hill today was a huge thing for us. Obviously, he came and did his thing and when he's on, he's tough to hit. We feel we have a real chance to win every ball game when he's on the mound."
Marshall was right where he's tended to be velocity-wise, 89-91 mph, with the ability to reach back for more with his four-seam fastball. His changeup has always been a go-to pitch, and he had it tumbling early and effectively on Thursday. Marshall's breaking ball has been considered his third pitch, though many scouts have thought his curve would eventually be an above-average offering. If his outing against Venice is any indication, it's already getting there.
"I used my changeup a lot more this summer, getting guys out facing great competition," said Marshall, who played for Team USA's 18-and-under squad, which won a gold medal at 2013 IBAF Junior 18U World Cup in Taiwan. "In the offseason, it was more getting them both where they needed to be, making the breaking ball a little sharper instead of just a loopy pitch."
Marshall has also worked to improve his delivery. Once guilty of consistently falling off to the third-base side, he's cut that down to a minimum, using a big league southpaw for guidance.
"I definitely worked on my delivery and being square," Marshall said. "I idolize Jon Lester and he's always square going to the plate. I really worked on trying to emulate him. That helped a lot. I still sometimes fall off a little bit, from habit, but I'm still working on it."
Before Marshall starts thinking about the Draft and what lies ahead for him personally, he does have some goals beyond his place in the early round landscape.
"Win a state championship and put ourselves in the best situation to win a national championship," Marshall said of his checklist. "End with a bang, that's the biggest thing."
Jonathan Mayo is a reporter for MLB.com and writes a blog, B3. Follow Share This