Ryno, Amaro pleased with camp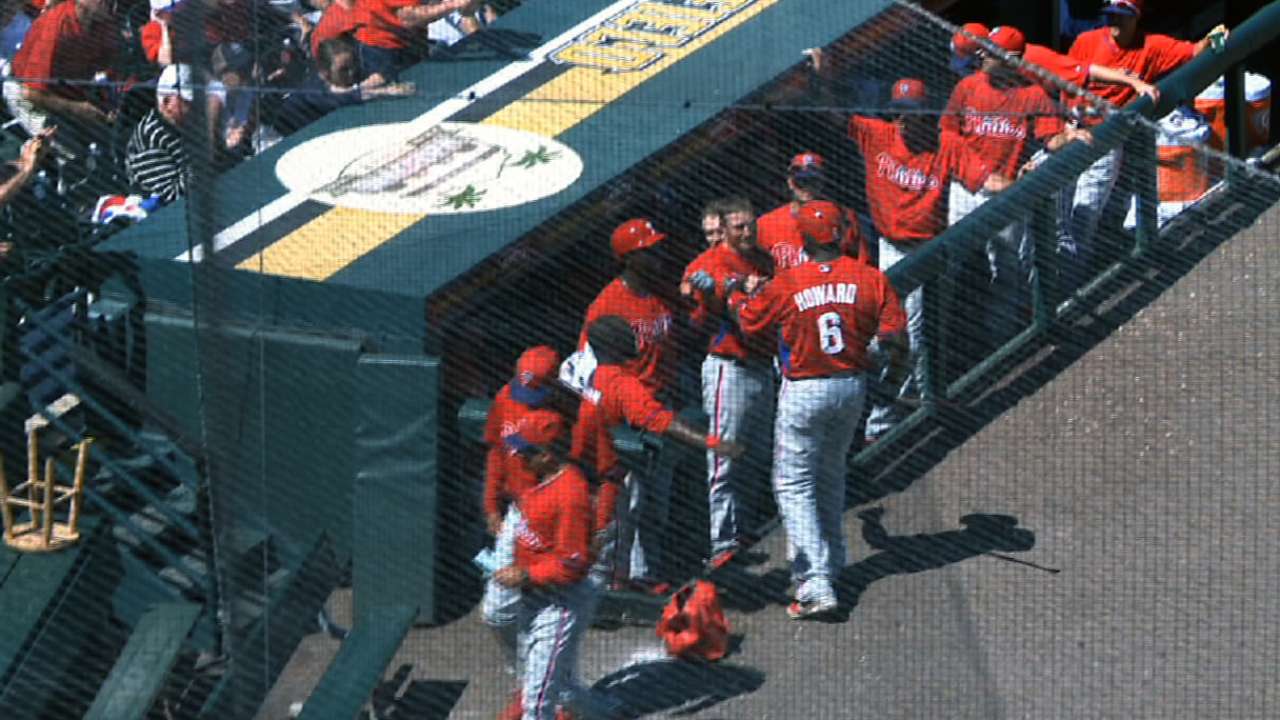 CLEARWATER, Fla. -- It wasn't always pretty, but the Phillies say they were pleased with their first Spring Training under manager Ryne Sandberg.
The Phillies broke camp on Thursday night to return to Philadelphia, where they will play two exhibition games against the Pirates at Citizens Bank Park before Opening Day on Monday in Texas. While the Phils struggled with their bats this spring, Sandberg emphasized fundamentals -- starting pitching, defense, base-running, situational hitting -- from the start of camp, and general manager Ruben Amaro Jr. said he has been encouraged by the results.
"The things that are important for us to win baseball games have really improved," Amaro said on Thursday. "We've done some fundamental things. I can't commend the coaching staff enough for not just talking about implementing things, but actually doing them. The players are buying into it. It's really designed to put ourselves in position to win games. If we play fundamentally sound baseball, that'll put us in a much better situation to win."
Sandberg believes if his club is fundamentally sound, "it equates to winning baseball and being in games. Our veteran guys will be asked to do their parts, being key guys in the lineup. To give ourselves a chance to win every day, it starts with pitching and defense."
Still, the Phillies went 9-17 in the Grapefruit League and managed just three hits in their final two games combined.
"Offensively, we're not clicking on all cylinders," Amaro said. "Hopefully, that's a work in progress for us still."
The Phillies are counting on Ryan Howard and Chase Utley to bounce back in 2014. But they are off to a slow start. Howard hit .238 this spring, while Utley carries a .175 average back to Philadelphia. Amaro believes the duo can turn things around, though.
"I have to be concerned about it, but I am not concerned to the point where I don't think it's going to happen," Amaro said. "I have seen some progress with both those guys too. With Utley it is more of a timing issue. With Ryan it is reps and getting his feet underneath him. I think it is more mechanics than anything else, and I think they will get it going."
Austin Laymance is a reporter for MLB.com. Follow him on Twitter at @jalaymance. Adam Berry is a reporter for MLB.com. Follow him on Twitter at @adamdberry. This story was not subject to the approval of Major League Baseball or its clubs.