Marlins finalize rotation for start of '14 season
Right-hander Koehler wins battle for club's No. 5 spot over southpaw Hand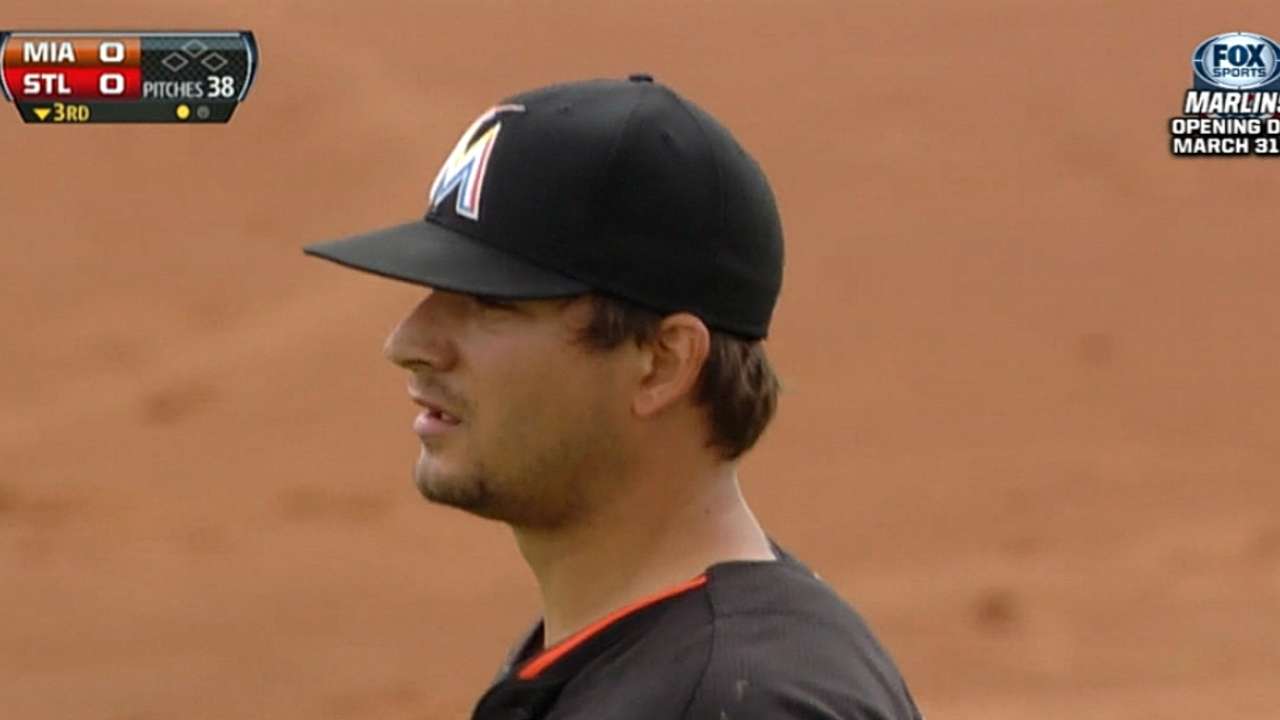 JUPITER, Fla. -- Everything fell in line this spring regarding the Marlins' rotation, and there are no surprises with the final outcome.
The way manager Mike Redmond and pitching coach Chuck Hernandez set the order the first week of Spring Training games is how they will stack up when the season starts on Monday against the Rockies at Marlins Park.
As previously announced, Jose Fernandez will start on Opening Day. The 21-year-old sensation is the reigning National League Rookie of the Year, and he already has achieved All-Star status.
Following Fernandez will be Nathan Eovaldi, Henderson Alvarez, Jacob Turner and Tom Koehler.
All five are right-handers, and Koehler won the spot over lefty Brad Hand, who will make the team as a long reliever.
"I'm excited," Redmond said. "Jose, obviously, is our main guy and our Opening Day starting pitcher. For me, all the other guys are young guys with good arms. I know everybody makes a big deal about where they fall in line. But after Opening Day, it doesn't really matter.
"It's the guys' jobs to go out there and give us a chance to win ballgames. They always talk about battles for rotations' spots, or fourth or fifth spots. For me, it's more of a battle to get into the rotation. That's what we saw."
A year ago, the Marlins finished 62-100, but the team featured strong pitching. In fact, the pitching staff of 2013 set a franchise ERA mark of 3.71.
"I feel like everybody is picking up where they left off last year," Eovaldi said. "The first few games this spring, we were getting everything back. I feel like everybody is ready for the season to start. I feel like everything is the same. I really feel like we're going to pick up where we left off last year."
Hand, who is out of options, made his final spring start on Thursday, throwing four scoreless innings in Miami's 6-4 win over the Cardinals at Roger Dean Stadium.
As expected, the lefty will move to the bullpen.
"I'll do whatever they ask me to do," Hand said. "It's a lot different than starting. You just have to come in there and be ready to go right away. You don't have an inning or two to kind of get things going. You've got to get it rolling right away, and come right after people."
Koehler, 27, is the oldest on the staff. He's also shown the most improvement from a year ago. The right-hander impressed all spring, posting a 1.50 ERA in 18 innings.
"It really doesn't matter if it doesn't carry over into the season," Koehler said.
"I'm excited about this team. It's a good group of guys. We've really come together over the last six weeks. It's a talented group, and a hungry group. When you mix those three things together good stuff tends to happen. Hopefully, we'll just go out there and play hard every night, compete and hopefully things will take over and the results will be where we want."
Joe Frisaro is a reporter for MLB.com. He writes a blog, called The Fish Pond. Follow him on Twitter Share This