Sarah's Take: Kershaw injury may be blessing
More rest for 26-year-old ace could pay off in long run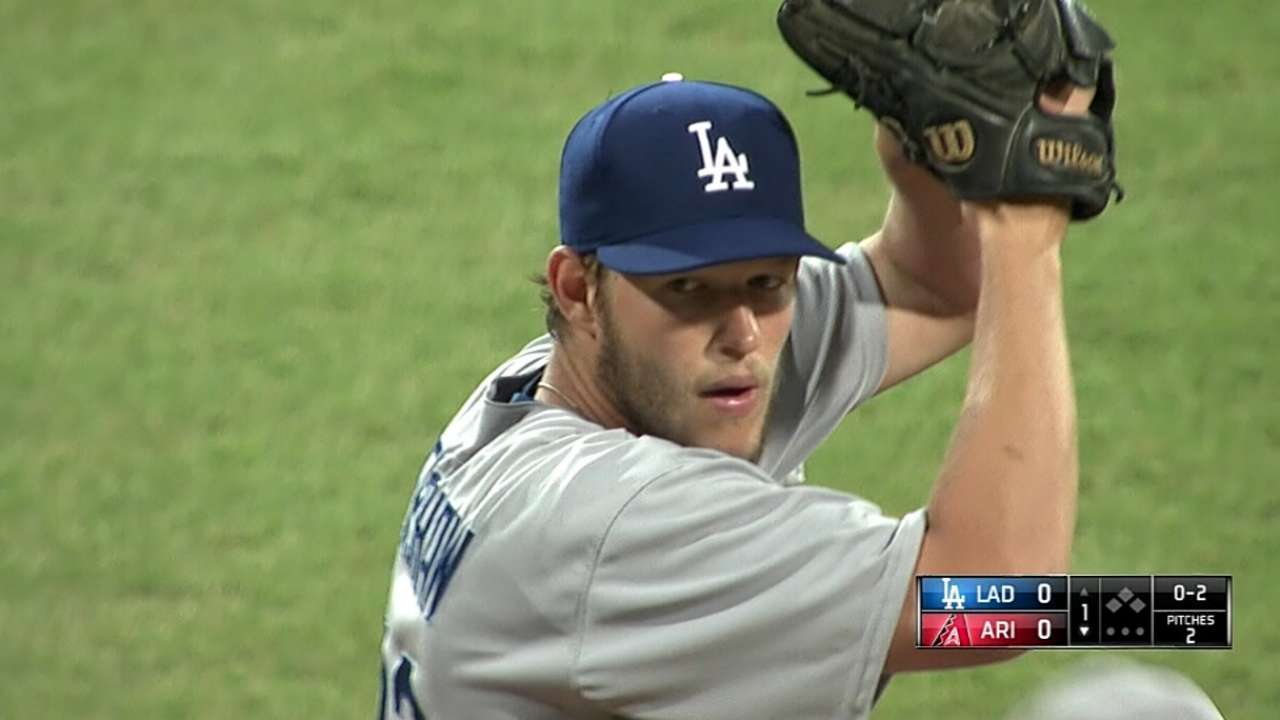 After a brilliant Opening Day performance in Australia, Clayton Kershaw can't pitch Sunday in San Diego. He has inflammation in his upper back, not an uncommon injury for pitchers.
Early in Spring Training, Don Mattingly expressed a desire for Kershaw not to start in all three Opening Days -- one in Australia, one in San Diego, and one at Dodger Stadium -- even though it was possible. This minor injury gives Mattingly the perfect excuse to rest Kershaw.
Two out of the last three years Kershaw has won the Cy Young Award. Many consider him the best pitcher in baseball, so it is difficult for the Dodgers to give Kershaw adequate rest to assure the possibility of injury is remote. In each of the past three years, he has pitched more than 200 innings.
Despite having almost flawless mechanics, Kershaw, who is barely 26, could suffer a serious injury if the Dodgers overuse him. Knowing that Kershaw probably will give his team an extraordinary pitching performance that will allow them to win, the temptation for the Dodgers to have Kershaw pitch every time he can is great. Since he's such a fierce competitor, he wants to pitch every time he can. However, not allowing him to pitch sometimes is the best thing for his career.
This offseason, Kershaw signed a record-setting contract for a pitcher, adding extra pressure to maintain his extraordinary level of performance, or get better. The game hasn't seen a better left-handed pitcher than Kershaw in some time. At 26, he's entering his prime, and neither the Dodgers nor Kershaw want the rest of his career to be marred by injury. Missing this Opening Day assignment might help prevent further injuries.
With Kershaw out, the question surrounding the Dodgers is who will start Sunday. The most logical choice is Zack Greinke, but he has spent all of Spring Training dealing with a strained calf. Mattingly has him scheduled to pitch Tuesday and said he won't be moved up. Hyun-Jin Ryu has had a wonderful spring and pitched five scoreless innings in the second game in Australia, but a toenail problem made him leave early. Although it's getting better, the Dodgers may not want to rush him back on the mound.
Dan Haren, the biggest offseason starting pitcher acquisition for the Dodgers, has had a good spring. He might be named the Opening Day starter, but his selection would mess up the rotation later in the week.
Josh Beckett isn't an option. He has recovered well from the surgery last July to remove a rib, but during the spring he sprained his thumb and currently can't throw any of his breaking pitches. He was on the disabled list for the Australian trip, and he will likely start the season on the DL. Until Beckett comes back, Paul Maholm will be the fifth starter, and the Dodgers don't need a fifth starter until the middle of April. Right now, the Dodgers need Maholm in the bullpen with Jamey Wright struggling more than they need him to start Sunday.
Personally, I would love to see Zach Lee -- a top draft pick in 2010 -- start Sunday, but he won't. He impressed me with his pitch selection and maturity on the mound. The organization has determined that Lee needs more time in the Minor Leagues to refine his skills. I understand the Dodgers don't want to rush Lee, but delaying his promotion to Los Angeles could damage his confidence in his own ability to pitch in the Major Leagues. Since the Dodgers have a veteran starting rotation, it is doubtful that Lee will have another chance to make his Major League debut until September unless injuries decimate the rotation. His Spring Training performance warrants this opportunity. The Padres aren't an offensive powerhouse, so it is a perfect situation for a young pitcher to make his debut.
Yasiel Puig had an MRI on his balky back, and it didn't show any structural damage. However, every time he swings and misses, it hurts. Although he makes mistakes out of enthusiasm for the game, he wants to improve, and the Dodgers need to keep their patience with him while he learns baseball fundamentals and adjusts to this country's culture.
Kershaw's injury is unfortunate, but it might be a blessing in disguise for the Dodgers. Fighting probable jet lag, he -- after throwing 100 pitches in his season debut following an abbreviated Spring Training -- needs a break. Skipping Opening Day in San Diego isn't a big deal for him or the Dodgers. They have many possible replacements, and it will be interesting to see who Mattingly chooses.
Sarah D. Morris can be reached at sdmorris27@outlook.com. This story was not subject to the approval of Major League Baseball or its clubs.