MLB.com Columnist
Jonathan Mayo
Draft prospect Toussaint fans 12 in Invitational opener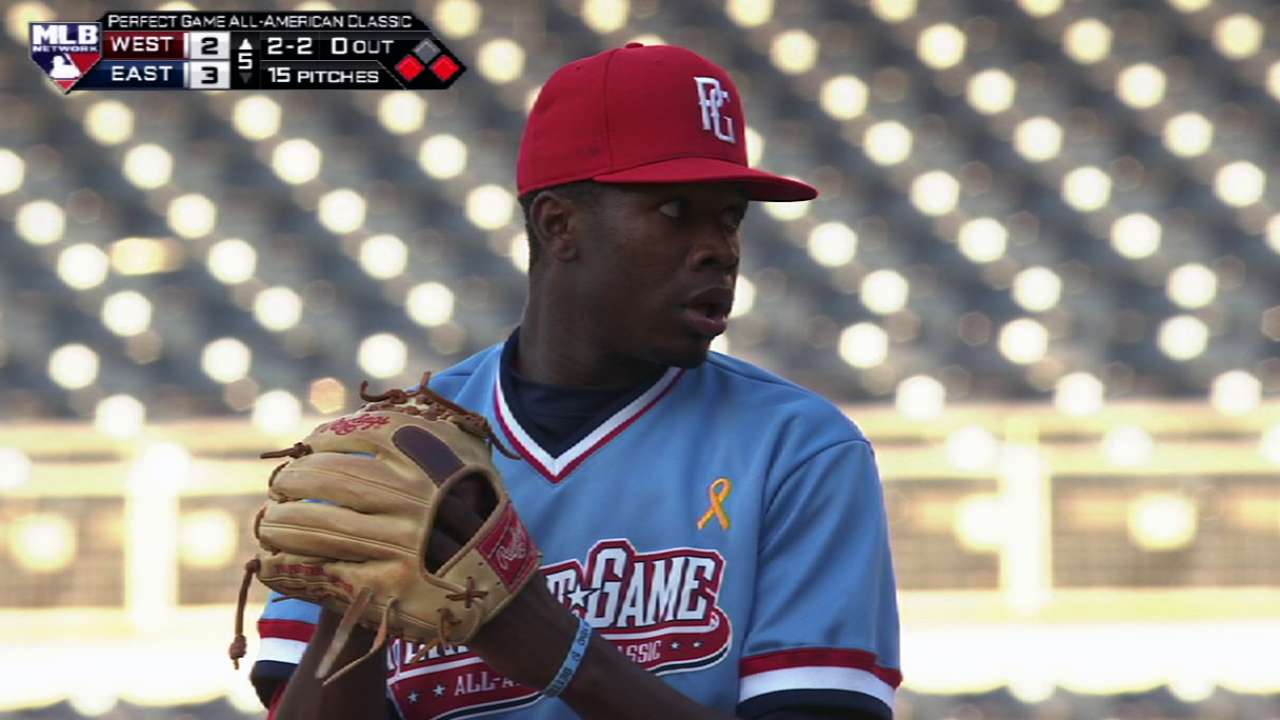 CARY, N.C. -- Touki Toussaint was the main attraction on Day 1 of the 2014 National High School Invitational on Wednesday, and he didn't disappoint.
The ace of the Coral Springs Christian team out of Florida struck out 12 and gave up just one hit while pitching into the seventh inning of a 1-0 win against Orange Lutheran from California. It was the first main stadium game of the tournament held at USA Baseball's National Training Complex.
Toussaint, ranked No. 8 on MLB.com's Draft Top 50 from the fall, brought a huge crowd of scouts behind home plate for his start, and he was getting his fastball up to 92-94 mph right out of the chute. Toussaint threw 116 pitches and was still hitting 89-92 mph in the sixth inning. As impressive as the velocity was, though, it was Toussaint's plus curve that was particularly effective, often freezing Orange Lutheran batters, racking up six called strikeouts.
top draft prospects
The following Top 50 Draft prospects are participating in this year's NHSI:
Rank
Player
School
Commitment
7
Jacob Gatewood
Clovis HS (Calif.)
USC
8
Touki Toussaint
Coral Springs Christian HS (Fla.)
Vanderbilt
10
Michael Gettys
Gainesville HS (Ga.)
Georgia
13
Braxton Davidson
T.C. Roberson HS (N.C.)
North Carolina
34
Mac Marshall
Parkview HS (Ga.)
LSU
41
Josh Morgan
Orange Lutheran HS (Calif.)
UCLA
"He threw more strikes than I've ever seen him," one cross-checker on hand said. "It probably cemented him in the top 20-30 spots in the Draft."
"The breaking ball is his out pitch, and to me, he was spotting it well," Coral Springs Christian head coach Matt Cleveland said. "That was his best pitch today, and he did a good job of keeping them off balance."
Toussaint has had on-and-off trouble with his command throughout his amateur career, and that has been the one concern as teams bear down on him as a potential first-round pick. He did walk five and hit two batters, so it would be a stretch to call him super efficient. But after a long third inning that saw him walk two and hit a batter, Toussaint was locked in, striking out seven over the next three frames. He even mixed in some effective changeups, throwing a few early, then shelving it, then telling Cleveland after the fifth that he wanted to start throwing more.
"I didn't start feeling my fingers until like the third or fourth inning," said Toussaint, who is not accustomed to throwing in the 40-degree climate that came to North Carolina. "I try to throw [my breaking ball] a lot before, and in the bullpen I got a feel for it and got acclimated to this weather. I was just on."
Jonathan Mayo is a reporter for MLB.com and writes a blog, B3. Follow Share This