Rib injury forces Giambi to DL to begin season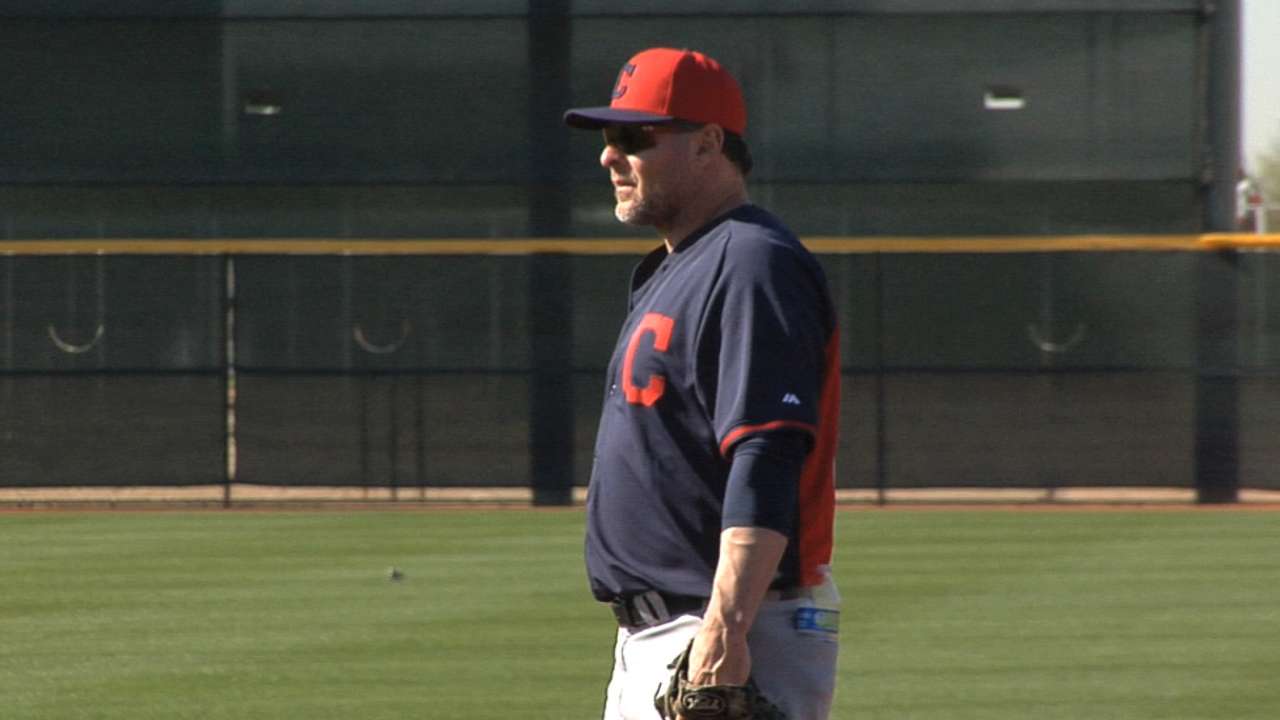 GOODYEAR, Ariz. -- Indians manager Terry Francona has never been shy about his affinity for veteran Jason Giambi. The way things are shaping up, it appears as though Giambi will once again play a role on Cleveland's bench this season.
On Tuesday, the Indians announced that the 43-year-old will begin the regular season on the 15-day disabled list (retroactive to Friday). The designated hitter is currently working through a rehab program after suffering a fractured rib in his right side earlier this spring.
"It's great. It feels really good," Giambi said. "I'm excited about where I'm at, to be honest with you. I thought it was going to be a little sore, because the doctors I talked to said it was going to be like a deep bruise after a while once you get the trauma out. But I feel really good."
Giambi, who will miss at least the first four games of the regular season, was struck on the right side by a pitch from Cubs right-hander Edwin Jackson on March 7. On Monday, Giambi resumed hitting off a tee and doing soft-toss drills to test his side. He will travel with the Indians when they break camp in preparation for the March 31 opener in Oakland.
Considering how he has felt in recent days, Giambi does not feel he will need to miss too much time in April.
"They said now the timetable is really good," said Giambi, who is entering his 20th season in the Majors. "It's just how you get it going now. The next big test will be batting practice and then, of course, the hardest thing will be catching up to velocity, timing and how that feels."
Giambi hit .183 with nine home runs and 31 RBIs in 71 games as a part-time pinch-hitter and DH last season for the Indians. Within that overall showing, Giambi launched three pinch-hit homers and posted a .271 average with runners in scoring position and a 1.181 OPS in ninth-inning at-bats.
Indians center fielder Michael Bourn (left hamstring) will join Giambi on the 15-day DL to start the season. With them out of the immediate picture, Cleveland plans on carrying a reserve group consisting of third baseman Lonnie Chisenhall, outfielder Nyjer Morgan and utility men Mike Aviles, Ryan Raburn and Elliot Johnson.
Cleveland has yet to make a decision on its final rotation spot (down to Josh Tomlin and Carlos Carrasco) or its last two bullpen jobs (Scott Atchison, Blake Wood, Tomlin and Carrasco are candidates). Francona indicated that those decisions were likely to be announced Wednesday at the earliest.
"I think there's a way to do it," Francona said. "I think we do want to meet and talk and then, when we come to the last couple [decisions], we want to definitely talk to the players. That's the most important thing. There's probably a proper time to do that."
Jordan Bastian is a reporter for MLB.com. Read his blog, Major League Bastian, and follow him on Twitter @MLBastian. This story was not subject to the approval of Major League Baseball or its clubs.