Gonzalez relishing opportunity in Detroit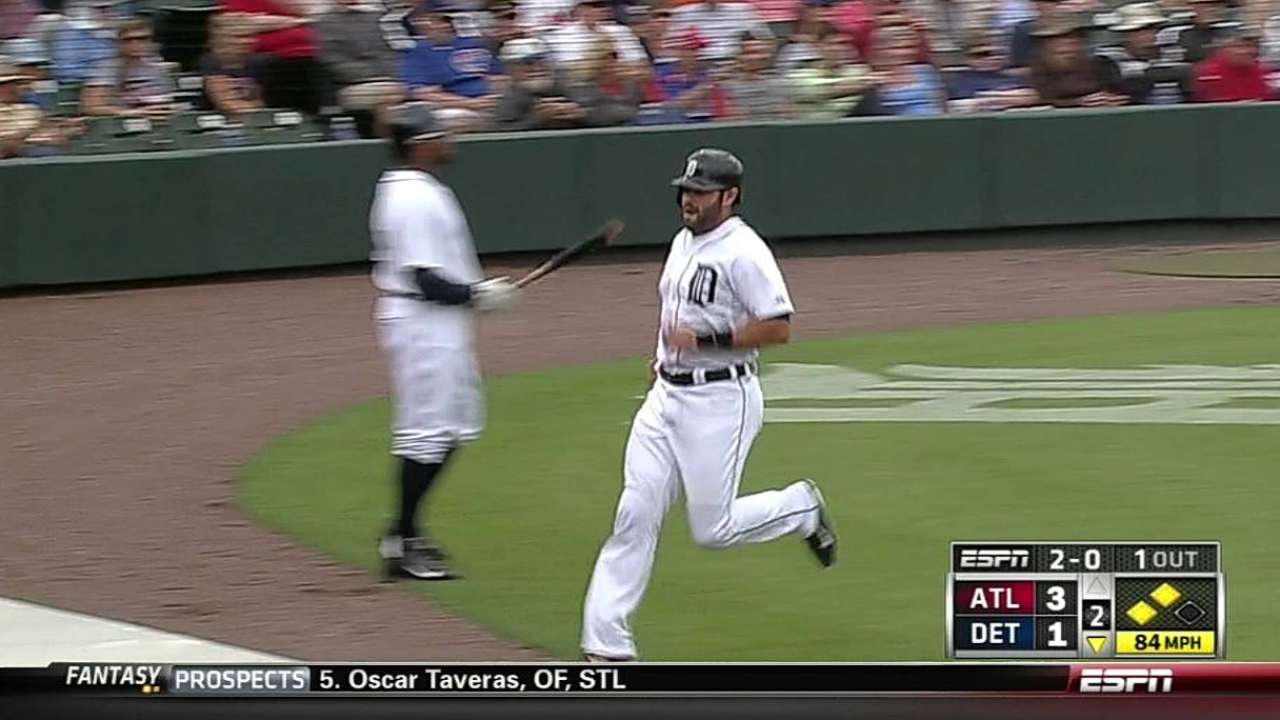 LAKELAND, Fla. -- Alex Gonzalez seemingly was nearing the end of his career when the Brewers released him last summer. He was a slick-fielding shortstop-turned-utility-infielder in his mid-30s, and he was struggling to stay healthy. But he didn't want it to end like that.
"All my career, I played shortstop," Gonzalez said. "That's what I did this for. Before I retire, I wanted to try one more shot, try to show people I can still play."
Gonzalez couldn't have counted on this. As he unpacked a bag Tuesday for a quick stop in Lakeland for the final days of Spring Training, Gonzalez was staring at a regular shortstop job again on a contending team. Moreover, he was staring at familiar faces -- from ex-teammate Miguel Cabrera across the clubhouse to former bosses Dave Dombrowski and Al Avila upstairs.
Gonzalez proved a point by getting this far, looking good enough playing winter ball in Venezuela to get an invite to Major League camp with the Orioles, then showing enough that the Tigers saw him as a potential fill-in for Jose Iglesias. When he was called into O's manager Buck Showalter's office Tuesday morning, he said he was given two pieces of news.
First, Gonzalez was informed he had earned a spot on the Orioles as an infielder to help fill in while Manny Machado works his way back from his knee injury. Second, he had lost the job because he had just been traded to Detroit.
"It's a great opportunity," he said. "Now I have to take it."
At age 37, even Gonzalez isn't going to pretend he has the range he once did; the legs that helped make him one of the best defensive shortstops in baseball during his prime. He knows his age took away steps. He believes he can use his age to get a step back by knowing hitters, playing their tendencies and positioning himself for them.
"I feel like I can get to a lot of balls," he said. "It's not the same range, but I feel like I can still catch the ball, make the play on the ball up the middle. I feel very good with my health.
"For me, it helps that I have a lot of experience. I know the hitters. I know how to play guys who like to pull, who like to hit up the middle. I've been around this league, and I know the hitters."
Gonzalez went 1-for-2 with a walk and an RBI groundout Tuesday in his first game as a Tiger. His first play in the field was a ground ball deep into the hole from Dan Uggla that he deflected but couldn't stop as Justin Upton scored from second. He had an assist on a Tyler Pastornicky groundout in the sixth.
"I know myself. I know I can still play," he said. "I wanted to give it one shot, went to Venezuela, gave it two months, felt great. When you feel like that, you have to try, see what happens, make the most of your opportunity."
Jason Beck is a reporter for MLB.com. Read Beck's Blog and follow him on Twitter @beckjason. This story was not subject to the approval of Major League Baseball or its clubs.