Skaggs makes solid case for rotation spot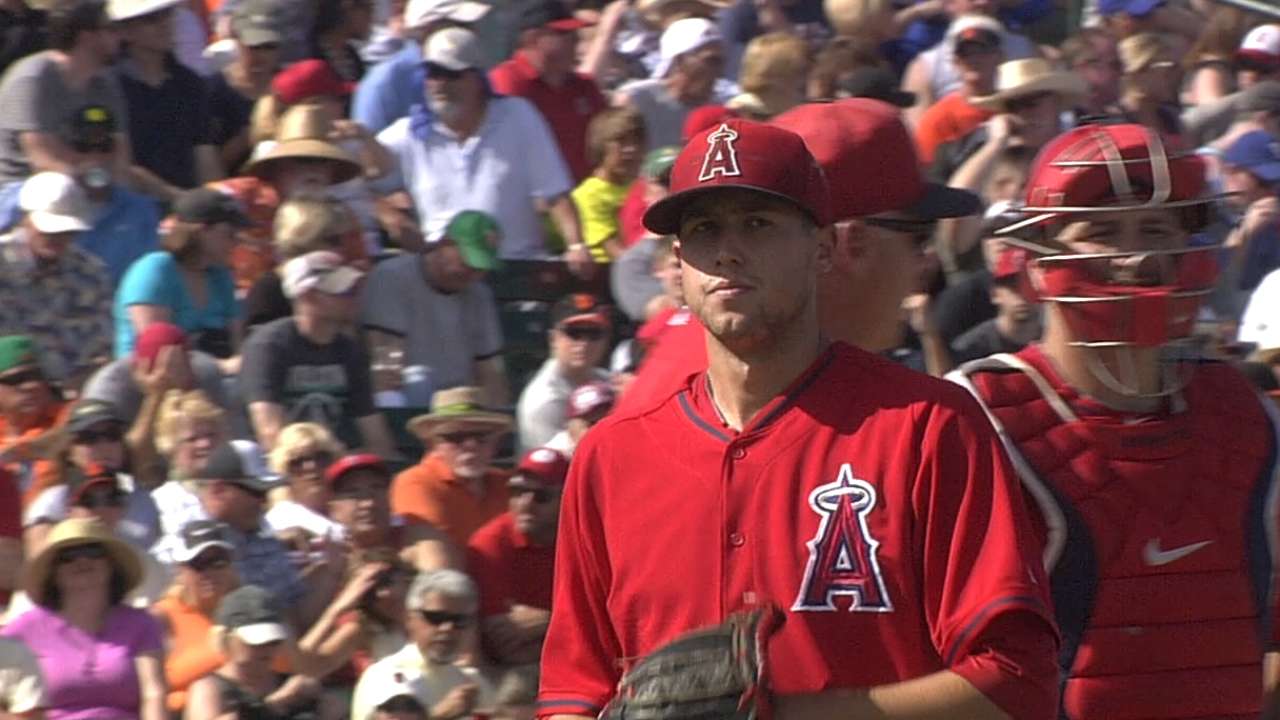 TEMPE, Ariz. -- If Tyler Skaggs is going to open up the season as the Angels' fifth starter, the 22-year-old left-hander doesn't know it yet.
"I have no clue," Skaggs said after his last Cactus League start. "No one's said anything to me."
Angels manager Mike Scioscia doesn't like to say anything definitive before it's official -- he hasn't even declared Jered Weaver the Opening Day starter yet -- but it's been quite clear from the beginning that Skaggs is the guy.
And Monday, when he worked around seven hits and three walks to give up only two runs (one earned) to the Giants, "was a huge step forward," Scioscia said.
"There were some things he had to pitch around," Scioscia added, "but he was much more consistent with all his stuff. His arm -- you see how his stuff plays."
Skaggs, acquired along with Hector Santiago in the three-team deal that sent Mark Trumbo to Arizona, had a chance to win a spot in the D-backs' rotation last spring, but gave up 16 runs (11 earned) on eight walks and 14 hits in nine innings that spanned four appearances.
He's a year older now, with a 4.95 ERA that's deceiving because the Cactus League is so tough on pitchers, and a Major League spot practically carved out for him.
But he's still wondering where he stands.
"Everybody wonders," Skaggs said. "It's my livelihood. I don't want to go back to the Minor Leagues. But wherever I'm needed -- if I'm needed to go down to the Minor Leagues to work on some things, I need to go down to work on some things. But if they feel like I'm ready, then I'm ready to go."
Alden Gonzalez is a reporter for MLB.com. Read his blog, Gonzo and "The Show", and follow him on Twitter @Alden_Gonzalez. This story was not subject to the approval of Major League Baseball or its clubs.