Brantley stars, Kluber scuffles in loss to Rockies
Outfielder's hot spring continues; righty allows seven runs on 11 hits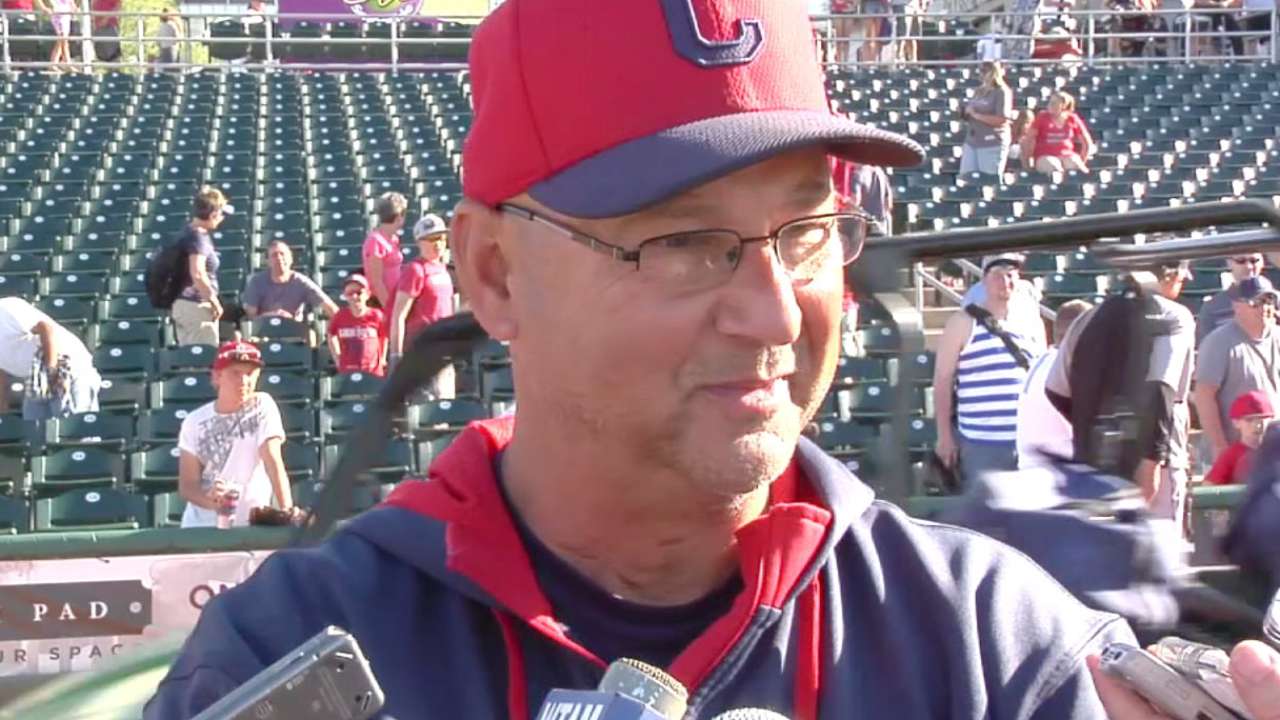 GOODYEAR, Ariz. -- Corey Kluber planned on treating Saturday's start against the split-squad Rockies like he would a regular-season outing for the Indians. The right-hander is probably happy to have another tune-up start remaining on the Spring Training schedule.
After cruising for four innings against the Rockies, Kluber surrendered seven runs in a 14-6 Colorado win over Cleveland. The Rockies pounded out five runs in the sixth inning, during which the club also lost third baseman Nolan Arenado to a left hand injury.
After consecutive singles to begin the sixth, a pitch from Kluber sailed too far inside on Arenado, who was struck on the hand. Arenado -- with a pair of doubles in the game to boost his Cactus League average to .341 in 16 contests -- was pulled from the game.
The Rockies announced at the park that Arenado has a bone contusion, and X-ray's taken later at the club's complex came back negative, leaving Arenado's status as day to day.
Justin Morneau followed with a two-run single, Josh Rutledge added a run-scoring single and Paul Janish doubled home another run to push Colorado in front, 7-6. In the fifth inning, Jordan Pacheco drilled a 1-2 pitch from Kluber deep to left field for a two-run home run for the Rockies.
Kluber, who is slated to begin the season as the Tribe's No. 2 starter, was charged with seven runs on 11 hits in six innings, ending with one strikeout and no walks in the effort.
"I think it kind of follows a pattern," said Indians manager Terry Francona. "Every time you get one more inning stretched out, it seems like that last inning has a little bit of trouble. They were early-count swinging and squaring some balls up. The first four [innings] were pretty solid. The fifth and sixth, that's probably natural. I think the progression, as [Kluber] gets stronger, you'll start to see more of the first four and less of the last couple."
For the Indians, left fielder Michael Brantley continued his offensive tear. Brantley contributed a run-scoring double in the fourth inning and added a two-run triple in the fifth, giving him nine extra-base hits and 10 RBIs in 13 games this spring.
"He's got such solid mechanics to his swing," said Francona. "Everybody goes through funks, but it's hard to imagine his being very long, just because there's not a lot of moving parts to that swing and he uses the whole field. He's fun to watch hit. He's got a nice little timing mechanism, where he bounces that bat off his shoulder, and he gets the barrel consistently in the right spot.
Rockies pitcher Jordan Lyles, who is competing for the fifth spot in Colordo's rotation, finished the afternoon with five runs allowed (two earned) on five hits in 4 2/3 innings. Lyles struck out three and walked three.
The Indians broke through for four runs in the fifth inning, during which Morneau misplayed a sharply hit grounder from Asdrubal Cabrera for an error that allowed a run to score. Nick Swisher followed with an RBI double to the wall in right-center, and then Brantley delivered his triple to give the Indians a 5-2 advantage.
In the sixth inning, utility man Mike Aviles belted a leadoff home run against Rockies reliever Adam Ottavino.
Colorado's Tim Wheeler hit his fourth homer of the spring in the eighth inning, a three-run shot off Indians lefty Josh Outman.
Up next: Zach McAllister, who is set to open the season as Cleveland's third starter, is scheduled to log six innings on Sunday, when the Indians take on the Angels at 4:05 p.m. ET in Tempe, live on MLB.TV. McAllister will be looking to bounce back from a rough outing against the Giants, who tagged the right-hander for six runs on nine hits, including three home runs, on Tuesday night. Relievers Josh Outman, Marc Rzepczynski, John Axford and C.C. Lee will also be on the trip for the Tribe.
Jordan Bastian is a reporter for MLB.com. Read his blog, Major League Bastian, and follow him on Twitter @MLBastian. This story was not subject to the approval of Major League Baseball or its clubs.