Opening G'Day, Mate: Kershaw crafts a gem
Van Slyke's homer helps Dodgers ace take down D-backs in Australia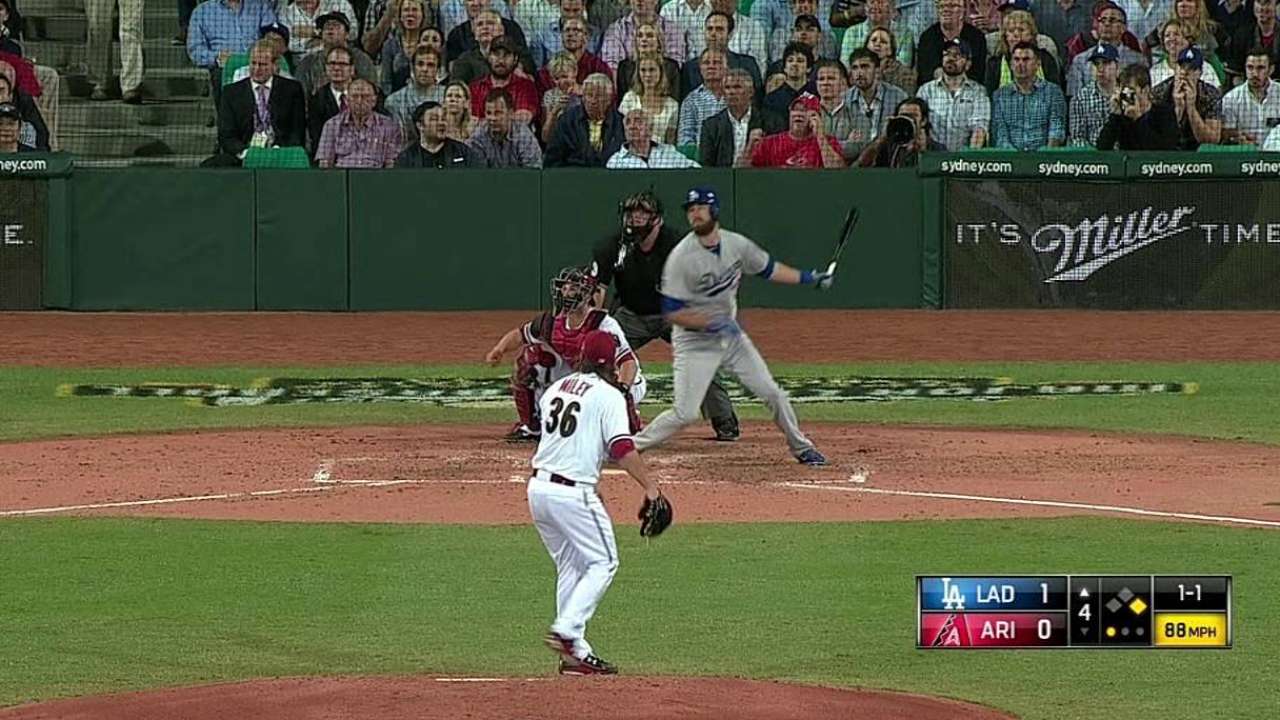 SYDNEY -- Manager Don Mattingly struggled Friday trying to explain to an Australian reporter, in baseball terms, just what makes Clayton Kershaw so special, when all he really had to say was, 'Just watch.'
Kershaw put on his typical Opening Day show for the Aussies on Saturday while fill-in left fielder Scott Van Slyke homered and doubled as the Dodgers beat the rival D-backs, 3-1, at the hallowed Sydney Cricket Ground, which held its first baseball game in 100 years to become the oldest stadium to host an MLB game.
In four Opening Day starts spread over two hemispheres, Kershaw is 3-0 with a 0.35 ERA and 26 strikeouts in 25 2/3 innings.
"If you stay with us over the course of a season, you'd understand the importance of Clayton," Mattingly said, when given another shot in the postgame news conference.
This opener was on a converted cricket pitch in front of an enthusiastic, if not baseball savvy, crowd of 38,266 that Kershaw said "really loves foul balls, I've noticed," one that Van Slyke said "had a lot more people with beer in their hands" than games back home.
A.J. Ellis conceded the game didn't have the feel of a traditional opener.
"But both teams know the games count and could be the difference of making the playoffs, and you bring your best," he said.
Although Kershaw pitched deep into October last season and this game marked the earliest start in Major League history, he stayed in the game to bat in the top of the seventh inning, singled sharply to left field, then was thrown out tentatively trying to stretch it for a double.
"My baserunning needs some work," he said. "The hesitation [around] first probably killed me."
Other than that, he was his usual Opening Day, Cy Young self, as if that 9.20 spring ERA never happened.
He made 102 pitches and allowed one run on five hits over 6 2/3 innings, striking out seven with a walk and receiving a standing ovation when Mattingly pulled him because of pitch count. Kershaw is 8-6 lifetime against the D-backs.
"He's thrown good games. He hasn't beaten us in a while, but we know they're always going to be close games, and like I said, we had a walk and a wild pitch score," said Arizona manager Kirk Gibson. "You hope those things don't happen because they can cost you against a guy like that, and he threw a great game against us."
Kershaw's biggest scare came in the third, when the wind knocked down a Paul Goldschmidt blast to center field that went from a potential two-run homer to the third out when it died in Andre Ethier's glove. Goldschmidt had two of the five hits, as Kershaw relied on his slider to keep the rest of the "super-aggressive" fastball-hitting D-backs off balance.
Chris Perez made his Dodgers debut and finished off the seventh inning, then Brian Wilson and Kenley Jansen closed it out, a "six-inning game" just the way the Dodgers drew it up over the winter when they loaded the bullpen by bringing back Wilson and acquiring Perez.
"It's a tough task for the opposing team," Ellis said of facing the back end of the Dodgers bullpen.
After a 14-minute rain delay at the start, Kershaw pitched out of a first-inning jam created when shortstop Hanley Ramirez was unable to field Aaron Hill's one-out bouncer for an infield single. After Goldschmidt singled, Kershaw got Martin Prado on a dribbler and Mark Trumbo on a grounder.
"The first inning of the first game, it felt good to get out of that and get the nerves behind you," said Kershaw.
The Dodgers rewarded him with a run in the second inning off Wade Miley, who inherited the start when Patrick Corbin was injured a week ago. Adrian Gonzalez led off with a walk and Van Slyke, filling in for Carl Crawford, launched a towering shot that would have been a home run if there hadn't been a gale blowing in from left field.
Trumbo climbed the wall hoping to rob a homer, only to find he misjudged the trajectory and the ball hit halfway up the fence 10 feet to his right for a double, with Gonzalez stopping at third before scoring on Ethier's groundout to second.
"When I hit it, I thought it was gone," Van Slyke said. "I gave Davey [Lopes, first-base coach] a high-five, then looked out and saw the ball coming back in."
Van Slyke padded the lead in the fourth. With one out, Gonzalez took advantage of the real estate between the plate and the backstop when he swung at a strike-three pitch that bounced away from catcher Miguel Montero, Gonzalez reaching first base without a throw.
Van Slyke then sent an opposite-field home run that the jet stream curled just inside the right-field foul pole for a 3-0 lead. It was his second home run in nine career at-bats against Miley.
"I thought it would be foul or caught," said Van Slyke. "I didn't think there was a chance it would go out."
"Threw two pitches to him, missed my spot both times and he made me pay," said Miley. "I actually thought the first one was a homer and the second wasn't and it flip flopped on me."
Goldschmidt doubled to open the sixth inning and took third on a wild pitch. Prado bounced out to third, Goldschmidt holding. Trumbo grounded to second to score Goldschmidt, snapping Kershaw's scoreless-inning streak on Opening Days at 24.
While Van Slyke carried the offense for the Dodgers, the Yasiel Puig leadoff experiment got off to a bad start. Puig, who hit .122 this spring, went 0-for-5 with three strikeouts and seemed to tweak his left shoulder during a seventh-inning at-bat, but he played the entire game, driving a ball to center in the ninth inning that was held up by the wind and caught.
Ken Gurnick is a reporter for MLB.com. This story was not subject to the approval of Major League Baseball or its clubs.