Unsigned free agents still playing waiting game
Morales, Drew likely to eventually ink deals; future uncertain for most others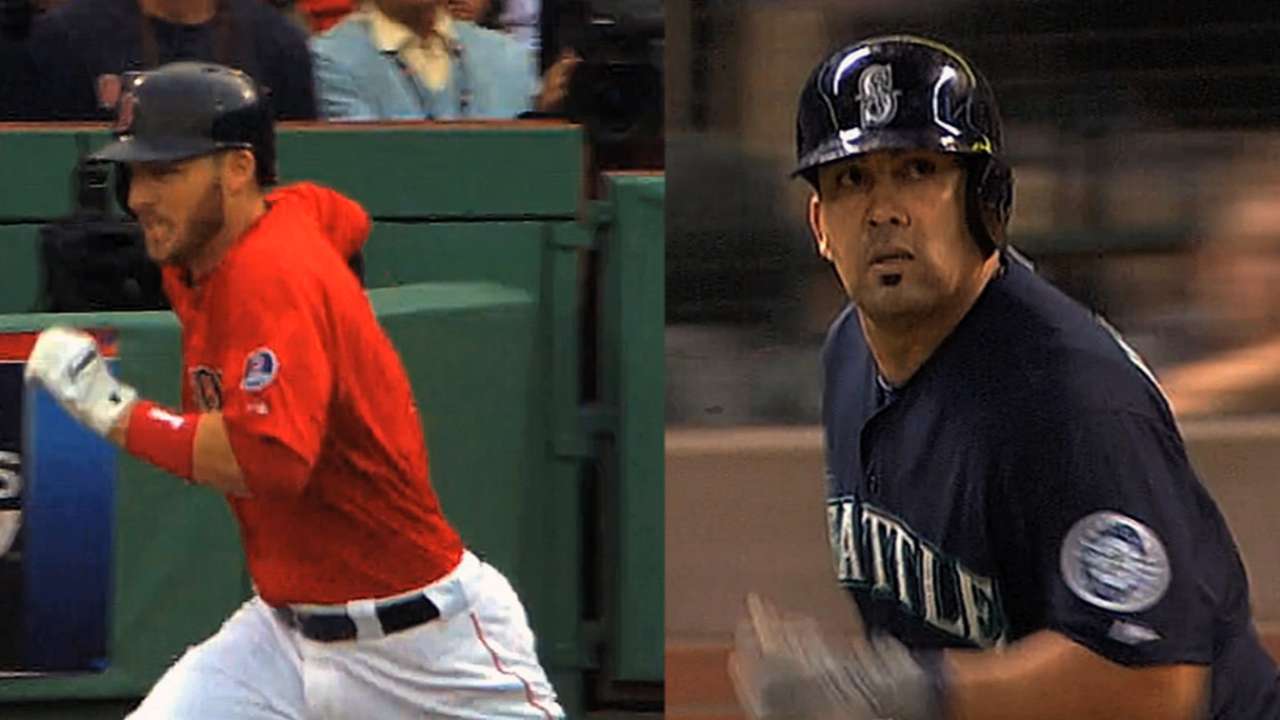 Another baseball season is on the horizon, and for most players, that represents a welcome promise. Let the games begin.
For Kendrys Morales and Stephen Drew, it's a reminder that they remain unsigned. Morales is coming off a solid season as a designated hitter/first baseman for the Mariners, having batted .277 with a .785 OPS. Drew is a slick-fielding shortstop who helped the Red Sox win the World Series.
They are the two remaining high-profile free agents, and the reason they are unemployed at this late date depends on your point of view. It is either because Scott Boras -- their renowned hardball agent -- is asking for too much money, or because each would require a first-round Draft pick as compensation (except from one of the teams with a top-10 pick this June) after turning down a one-year, $14.1 million qualifying offer. Or maybe it is a little of both.
Morales and Drew aren't, however, the only free agents still out there. In all, there are nearly two dozen players who performed in the Major Leagues last year who haven't announced their retirement or gone to Korea or Japan, and who are still unsigned.
Placido Polanco was the Marlins' regular third baseman last season. Juan Pierre was the left fielder for Miami.
Joel Hanrahan had 76 saves for the Pirates in 2011 and '12. Austin Kearns drove in 49 runs for the Indians and Yankees in '10, the same year Andres Torres was a postseason star for the World Series champion Giants.
Frank Francisco, Kelly Shoppach, Miguel Tejada, Barry Zito -- there are a lot of familiar names out there who could be had without giving up a Draft pick and, presumably, without budget-busting deals.
Most are at least in their mid-30s. Some are coming off injuries, some haven't played well in recent seasons. While Morales (30) and Drew (31) seem destined to sign somewhere at some point, the future seems more dicey for the rest of the free-agent crop, whose names aren't even being thrown around in rumors.
"We're almost at the end of Spring Training right now. We're releasing players, not signing them," pointed out one longtime American League talent evaluator. "If they haven't been signed by now, it's probably going to take an injury -- or three -- before somebody is going to be interested. And I'm talking about Minor League camp. Nobody's going to walk right into big league camp at this point.
"If any of those other guys still want to play, they probably ought to call the [independent] Atlantic League."
In the meantime, the guessing game of where Morales and Drew will land remains a popular pastime.
"It's one thing for a pitcher to wait," a veteran National League scout noted. "There are always going to be teams who think they're contenders who have pitching injuries early and feel like they have to go out and pay whatever the market is for whoever is left. It's a lot tougher for position players
"It's a little late for these guys now. They probably should have sucked it up, taken a one-year contract to try to re-establish their value."
He has a point. Among the pitchers who have signed since Spring Training opened are A.J. Burnett (Phillies), Ervin Santana (Braves) and Ubaldo Jimenez (Orioles).
At the same time, there are at least a couple teams reportedly looking for a shortstop. The Tigers are concerned about the injury to Jose Iglesias that could potentially cause him to miss the entire season. The Mets would like to upgrade from Ruben Tejada and, because their top pick is protected and their second pick was forfeited to sign Curtis Granderson, would lose only a third-round Draft pick to sign Drew. But they are said to be unwilling to go beyond one year and $10 million, and there is a belief that they might be able to make a trade to acquire Nick Franklin from Seattle.
The Pirates are rumored to be willing to take on Morales and give up their top Draft choice, but only if Morales' price comes down.
It's also not out of the question that both players could return to the team they played for last year. Multiple reports indicate that the Mariners, who currently list Corey Hart as their DH, are still monitoring Morales in case his asking price comes down.
And as much as the Red Sox like young Xander Bogaerts, they are the defending World Series champions, and they could ultimately decide that they're better off with experience at that crucial position.
Boras told ESPN that both Morales and Drew are willing to wait until June, when Draft-choice compensation would be off the table to sign. While that's certainly an option, the NL scout doubts it will come to that.
"The best thing they can do is get back on the field," he said. "Sitting out doesn't really help them in the long run. Go out, put up some numbers, try again next year. Morales is a DH, so that limits his options a little. And some teams are worried about Drew getting hurt again. But they're both good players who could help a team. Hopefully something will get done soon."
Paul Hagen is a reporter for MLB.com. This story was not subject to the approval of Major League Baseball or its clubs.