MLB.com Columnist
Jonathan Mayo
Injuries can change Draft landscape in a snap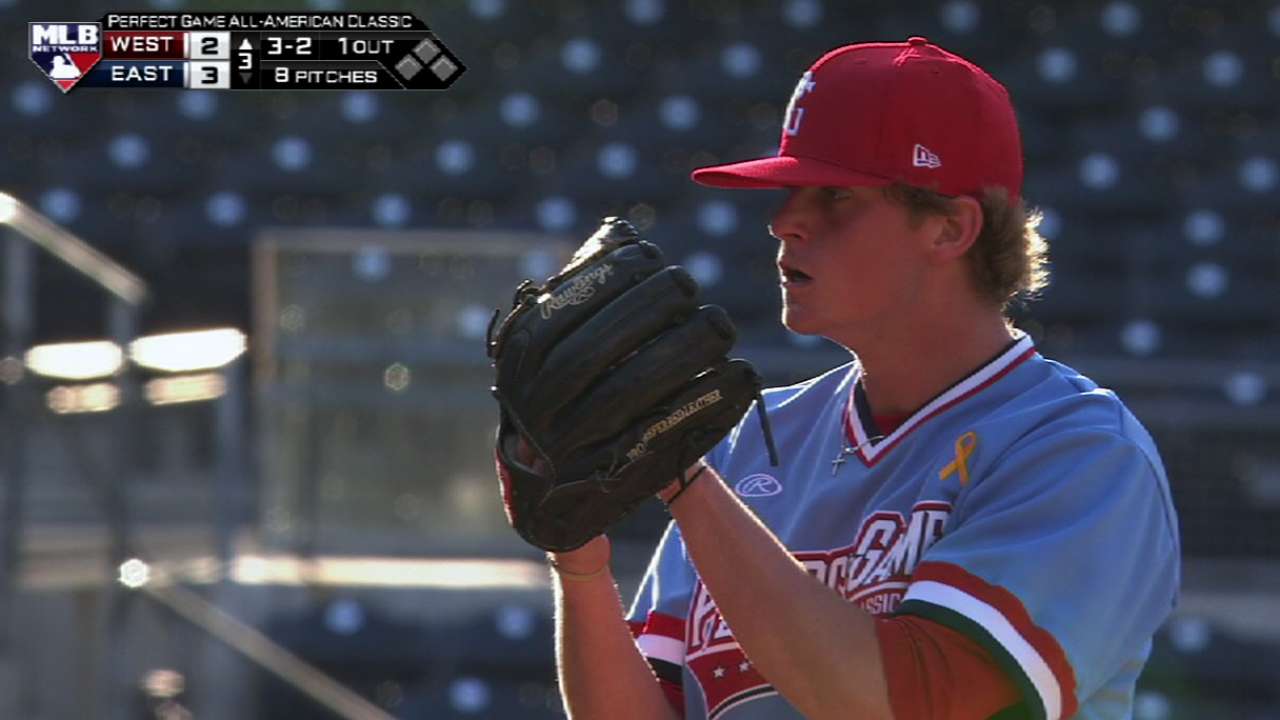 It's an unavoidable occurrence, both among potential draftees and across baseball: Best laid plans change because of injury.
This early spring is no different, with several potential Draft prospects having already landed on the shelf. There have been maladies of all different shapes and sizes. Here are updates on four intriguing Draft prospects.
Mac Marshall, ranked No. 34 on MLB.com's Top 50 Draft Prospects list put out last fall, is considered one of the better high school left-handers in the class. The Georgia high schooler was dealing with an ankle sprain early on, but even though he was pitching with a brace, that seemed to have no ill effects, as he struck out 12 two Fridays ago and 10 this past Friday with a fastball that touched 93 mph and a solid-average breaking ball.
Derek Fisher came in at No. 15 on that Top 50, the third-highest-ranked college hitter on the list. The University of Virginia outfielder is out four to six weeks after breaking the hamate bone in his right hand against Duke the weekend of March 8. Keep in mind, once Fisher is back, it often takes those with this injury a while to get their power stroke back.
"There probably have been a lot of guys who've seen him already," one cross-checker said about how this will impact Fisher, Draft-wise. "The clubs that feel really comfortable with him could see it as a bonus. Those that haven't might be chasing their tails."
Colorado high school lefty David Peterson is hoping to be back on the mound at some point pre-Draft. The nearly 6-foot-7 southpaw from Regis High School suffered a broken fibula in his right leg and had surgery to put in a stainless-steel plate and nine screws two weeks ago. Peterson is currently in a boot and is only restricted by what he can tolerate, pain-wise. He's hoping to possibly pitch in the postseason at the end of the spring, though getting healthy will be his first order of business.
Chad Sobotka, from the University of South Carolina-Upstate, will not pitch this season thanks to a fractured vertebra in his back. He'll make a full recovery, but not in time to pitch collegiate ball this spring. Upstate head coach Matt Fincher didn't sound like a guy who expected to have his ace back for another year.
"He's a professional-quality pitcher who's going to be ready to go, in my opinion, though that'll be a discussion he and his family will have," Fincher said. "Obviously, we'd love to have him back. But I'm appreciative with the way he's handled himself in this program. I want whatever he wants. He's thrown in our tightest situations the last two years, so he has good collegiate experience at this level. It might be time for him to go out and see what he can do."
Jonathan Mayo is a reporter for MLB.com and writes a blog, B3. Follow Share This