MLB.com Columnist
Jonathan Mayo
California swing offers good looks at prep talent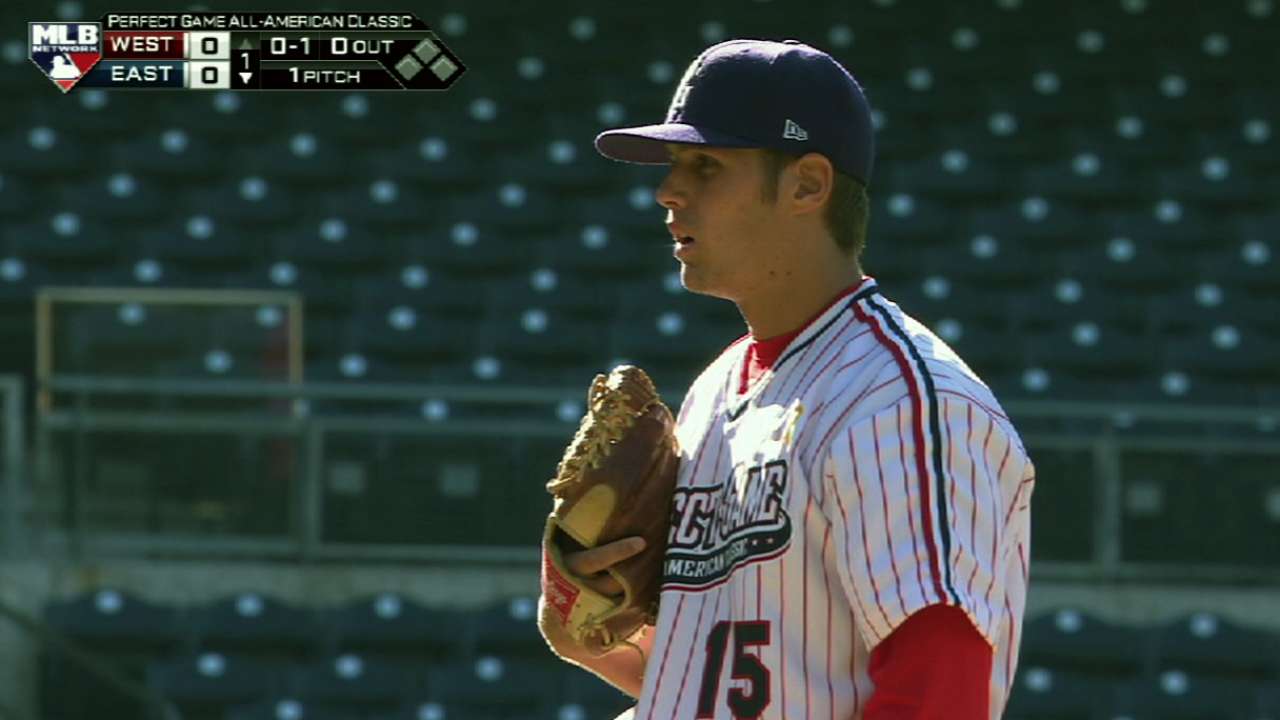 It's a trip many a scouting director will make this spring, a journey down the West Coast to see some of the best high school talent this Draft class has to offer.
Last week was a perfect example, when over the course of a few days, a scout could hustle to see Brady Aiken in Southern California on Tuesday, run up north to see Jacob Gatewood in Fresno on Wednesday, then scoot back down south to watch Alex Jackson in action on Thursday.
Aiken, No. 9 on the MLB.com Draft Top 50, has already created some early buzz by coming out of the chute throwing well, especially in terms of velocity. He's yet to get completely stretched out, starting with a short relief outing, but on Tuesday, he did get through four innings. Aiken struck out eight and allowed just one hit and one walk in the outing.
"He hasn't pitched a full game yet," a scouting director said. "But he has a plus fastball and a plus curveball. Those are two good things to start with, especially coming from a 6-foot-5 left-hander."
Aiken has been cranking it up to 96-97 mph at times in these shorter outings, though the scouting director noted that having him sit 91-93 mph with better fastball command and that plus curve over a full game might be something teams would rather see.
Many scouts went north to watch Gatewood, the prep shortstop ranked No. 7. While Gatewood has considerable raw tools, most notably his power, there have been some concerns raised about his ability to hit enough to tap into that power, which has gotten a 70 on the 20-80 scouting scale. There's also the question -- largely because of his size -- of whether he'll be able to play shortstop, but that's something one scouting director said you can get lost worrying about at this juncture.
"You could go in there and focus on whether he's a shortstop and lose perspective of what he could be at the next level," the director said. "He has big-time raw power; his BP is pretty electric. There have been guys like that in the past, and they went out and became stars. We need to see him play more."
After Gatewood's game, it was time for the trek back south to see Jackson. The No. 3 prospect on the Top 50, Jackson went 3-for-5 on Thursday with a double, triple and home run for Rancho Bernardo High School. It's no surprise that he's off to a good start with the bat. Few question Jackson's ability to be an offensive player at the next level. The question that some will want to try to answer before the Draft: Can he stay behind the plate?
"He's a good hitter," the scouting director said. "Is he a catcher? I'm still unsure."
Jonathan Mayo is a reporter for MLB.com and writes a blog, B3. Follow Share This