MLB.com Columnist
Jonathan Mayo
Big Draft names face off, draw big crowds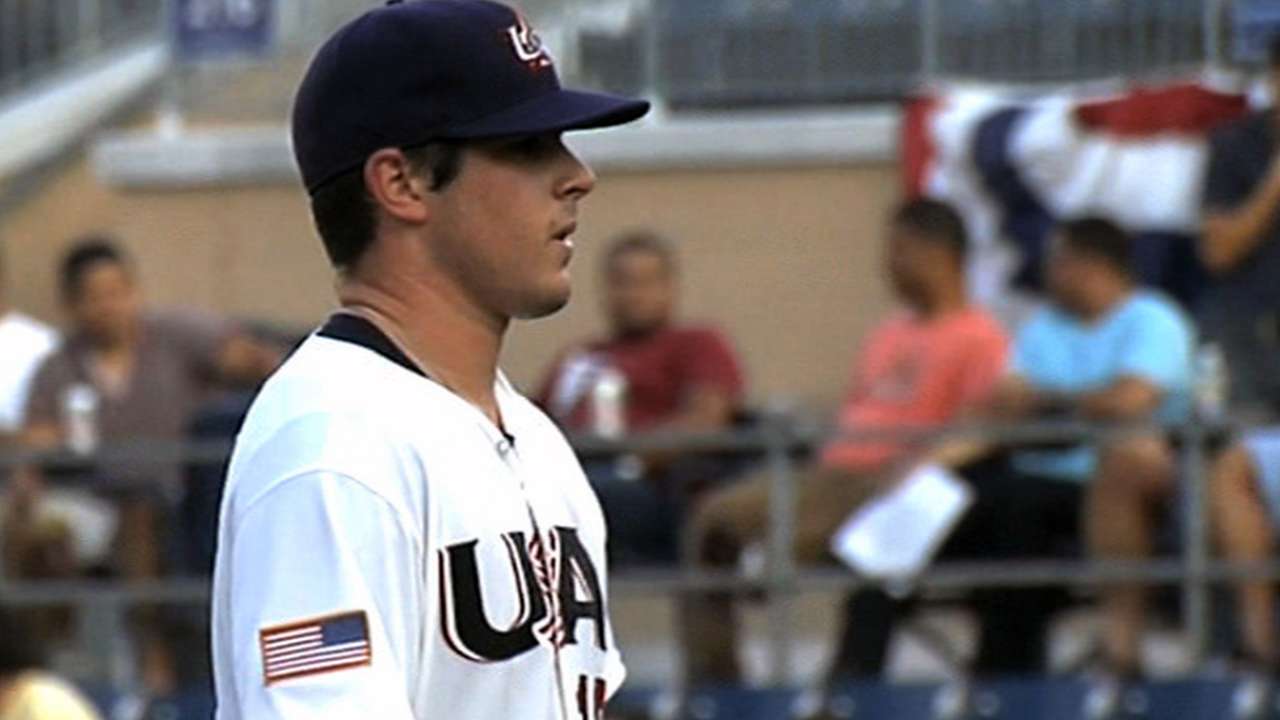 A large majority of scouts, especially directors and cross-checkers, were in one of two locations on Friday. If they weren't in Nashville, Tenn., they were in Tallahassee, Fla., thanks to two marquee pitching matchups.
Vanderbilt hosted LSU this past weekend, which for college baseball fans was more than enough. For the scouting industry, seeing Tyler Beede face Aaron Nola on Friday night was huge, and it lived up to advanced billing.
While Nola finally gave up a run, in the second inning, to end his streak of consecutive innings of not allowing an earned run at 54, he struck out 12 in 6 2/3 innings. Beede, ranked No. 6 compared to Nola's No. 10 ranking on the MLB.com Draft Top 50, wasn't exactly shaky, either. The Vandy ace went 7 1/3 innings, allowing just three hits and a walk while striking out seven. The two unearned runs he allowed, though, saddled him with the loss.
The N.C. State and Florida State series allowed for a contrast in styles, with hard-throwing No. 1 prospect Carlos Rodon taking the ball against command specialist Luke Weaver. It was Weaver, FSU's ace, who got the win, allowing a run on seven hits over 6 1/3 innings. Rodon struck out 12 in 6 2/3, but he gave up a pair of runs on five hits and four walks.
"Rodon wasn't sharp, but overpowered FSU hitters," one cross-checker said. "Weaver was the normal Weaver. His stuff was good, but his guts and pitchability were better."
Weaver, ranked No. 23, was at 90-94 mph with his fastball, and sat at 92, while mixing in his slider and changeup well, as usual. Rodon was also in the 90-94 range, though clearly struggled commanding it. As the front-runner to be the top pick in the Draft, the lefty is going to be picked apart, but while there is some quiet concern about his so-so start to the year, there haven't been alarms going off.
"I don't see panic yet, but it would be nice to see him step up some," the cross-checker said, admitting that Rodon started slowly last year and turned it on in the second half of the season, "It looks like he goes through the motions at times."
Often, scouts don't get to see pitchers in this kind of setting until later in the year, perhaps not even until conference tournament or postseason play. Getting looks at some of the top college arms in matchups like these in mid-March gives the industry an early indication of what these pitchers can bring to the table when the bright lights are on.
"I think they're great," the cross-checker said. "It shows the competitiveness they have."
Jonathan Mayo is a reporter for MLB.com and writes a blog, B3. Follow Share This