Harvey tuning out spate of Tommy John candidates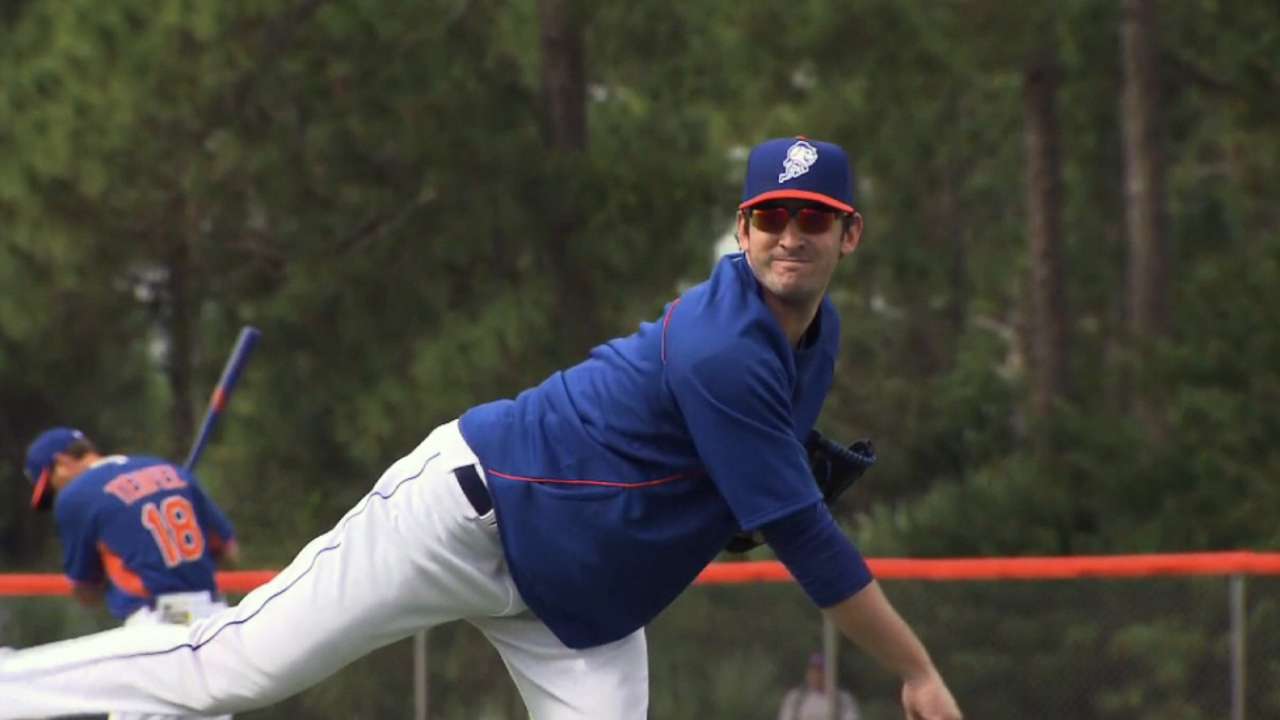 PORT ST. LUCIE, Fla. -- One after another, stories of multiple Tommy John surgeries have littered baseball's recent landscape. A's starter Jarrod Parker is the latest example, headed for a second surgery on his right elbow. Atlanta's Kris Medlen is also scheduled for his second operation, as is his teammate Brandon Beachy. San Diego's Cory Luebke is on the list as well.
Recovering from his first -- and, he hopes, only -- Tommy John surgery, Matt Harvey is doing his best to tune it out.
"I want to be on the field more than anybody, but I also know there is a process," Harvey said. "It is slow. You have to take things very carefully, and everybody's different. My mind-set is always going to be, 'Come back early, and come back and win.'"
With that in mind, Harvey has busied himself with his throwing program, making 20 tosses at 60 feet four times a week. He hopes to increase his throwing distance to 75 feet by the end of this week, keeping him on track to climb atop a mound around June. The ultimate goal remains Opening Day 2015, even if he continues holding out hope for a September return.
"Everybody's always going to be so cautious about the recovery, but as competitors, we're always going to want to get back on the field," he said. "If the doctors at that point say it's fine, my mind's always going to be on the baseball field."
Before any of that can happen, however, the Mets must determine where he will be when camp breaks next week. Though players typically rehab at their teams' Spring Training facilities, Harvey lives in New York year-round and has expressed a desire to rehab there until he is close to returning to the big leagues. MLB's Collective Bargaining Agreement is on his side, stipulating that the Mets cannot force him to train in Florida for more than 20 days without his written consent.
Ultimately, Harvey and the Mets could come to some sort of compromise, perhaps allowing him to rehab in New York when the team is at home, and in Florida when the club is on the road. Those are discussions the two sides will have over the next week.
"Obviously, I want to do what's best for the organization and best for the rehab, and I think at that point it's going to be a discussion of where the best place is at certain times to do things," Harvey said, noting that he discussed his rights with the MLB Players Association earlier this month. "I don't want to be in New York for a story. I don't want to be around [the media] all the time. I want to be there to support the team, be there to learn. And the story is the 25 guys that suit up every day to play."
Anthony DiComo is a reporter for MLB.com. Follow him on Twitter @AnthonyDicomo. This story was not subject to the approval of Major League Baseball or its clubs.