Cole preparing to let his talents shine in 2014
Right-hander has chance to develop into not just ace, but 'best of the best'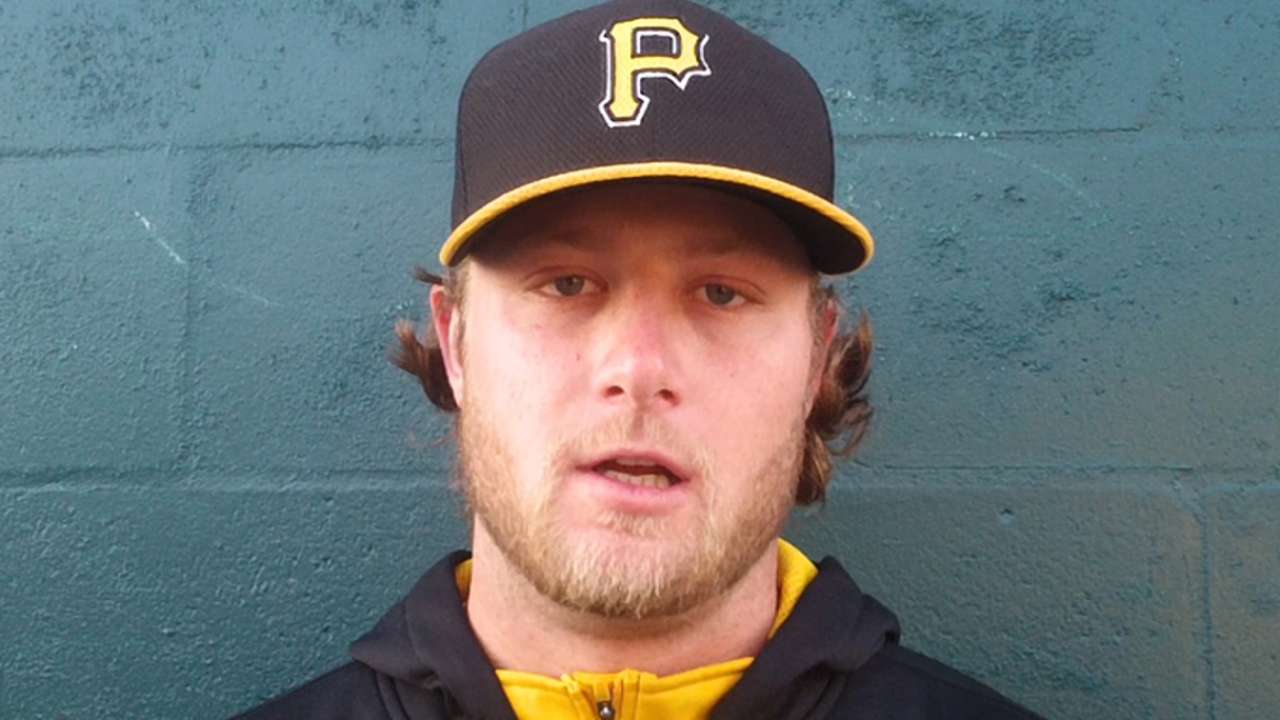 Gerrit Cole's baseball life has been hectic the past few years because he hasn't stayed in one place for very long.
In 2011, the Pirates made the big right-handed pitcher the first overall pick in the Draft following his junior season at UCLA. And although he signed his first professional contract too late to join one of Pittsburgh's Minor League clubs that year, Cole did spent time in the instructional league in Florida and the Arizona Fall League.
In 2012, Cole was 9-7 with a 2.80 ERA in 26 combined starts at three levels in the organization. He began that season with Class A Advanced Bradenton, earned a promotion to Double-A Altoona in mid-June, and then made a couple of appearances for Triple-A Indianapolis in early September.
Then in 31 combined starts for Pittsburgh and Indianapolis last year, Cole went 15-10 with a 3.11 ERA. Ten of those wins came after he arrived in the big leagues in mid-June. Cole was particularly effective in September, when he was 4-0 with a 1.69 ERA in five starts and named National League Rookie of the Month. Cole pitched as well as anyone on the Pirates' staff toward the end of the last season, and he wound up getting the ball for Game 2 and Game 5 of the NL Division Series against St. Louis.
All of that has earned Cole the opportunity to stay in one place -- Pittsburgh -- in 2014.
Will that be a welcome change for him?
"I think so, but I'm really not focused on that right now, to tell you the truth," Cole said. "I'm just trying to get through Spring Training. I'll definitely get an apartment sooner in Pittsburgh and get that kind of stuff laid out. But I'm not looking super far ahead. Right now, I'm working toward April first and gunning for that, because you have to come out with a certain degree of readiness in the big leagues or else you're going to get hammered."
Bucs catcher Russell Martin has been behind the plate for more than 1,000 Major League games since 2006 and worked with a wide array of pitchers, but he saw something from Cole last summer that he had never seen before.
"Everyone knows he has a power arm, but how much better his offspeed stuff got in a short period of time -- that's what I was impressed with," Martin said. "His in-season progression was impressive. I've never really witnessed anything like it before. He felt like he needed to get better in certain aspects, and he did. That shows you the maturity he has."
Pirates pitching coach Ray Searage recently referred to Cole -- who turned 23 last September -- as "that young bull where you have to pull the reins back every now and then." But Searage also said Cole asks very good questions and wants to keep learning, keep getting better.
"The relationship that we developed as the season went along last year, I thought was excellent," Searage said. "He studies. He watches the hitters. He was able to learn and absorb and quickly make adjustments. So it was a lot of fun."
"Working with Ray, we had a really good, open line of communication in terms of trying to improve every start, and I think that began to show toward the end of the year," Cole said. "That was when things started to come together."
With A.J. Burnett now a member of the Phillies, Cole is in line to grab a spot near the top of Pittsburgh's starting rotation along with Francisco Liriano, who was a 16-game winner for the Bucs and the NL Comeback Player of the Year in 2013.
So what does Searage expect from Cole this season?
"Gerrit is going to have his bumps. There's no doubt," Searage said. "He's going to have his learning experiences. The hitters are going to make adjustments to him, and he's going to have to make adjustments to them. That's all part of the process.
"But I challenged Gerrit. I said, 'Why don't you shoot for being the best of the best? Instead of the best in this organization, how about the best of the best?' And he looked at me and said, 'You're on.' That answer there -- with no hesitation whatsoever -- and I was thinking, 'OK, we're good.'"
Martin proved that he's seen that side of Cole, too, when he said, "His attitude is that he wants to be the guy."
And Cole has the talent to become the ace of pitching staff -- perhaps as soon as this year.
Jim Lachimia is a contributor to MLB.com. This story was not subject to the approval of Major League Baseball or its clubs.