Cards ace Wainwright works on breaking ball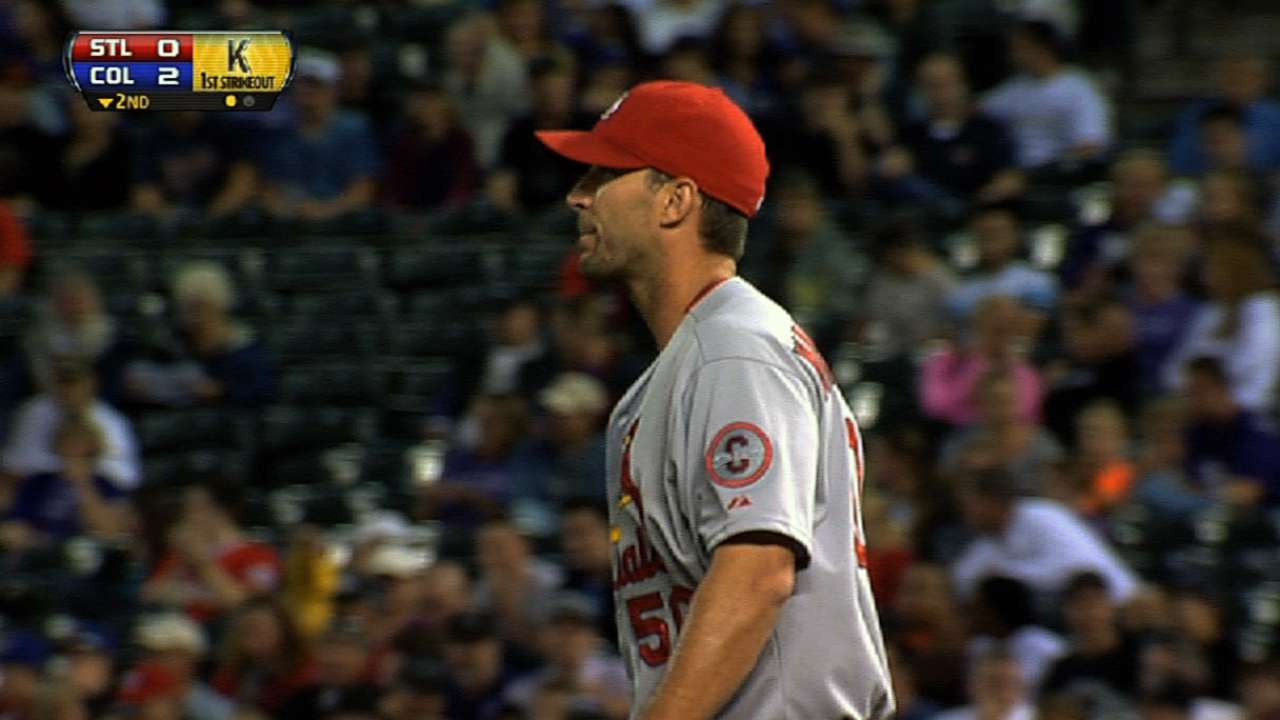 JUPITER, Fla. -- Each Spring Training start, Cardinals righty Adam Wainwright works on a different element of his repertoire in preparation for Opening Day.
The focus of his third spring start, in which he allowed three runs on seven hits with two strikeouts and no walks over 4 1/3 innings, was command of his breaking ball.
"I only threw one, maybe two for balls. Most of them were strikes," said Wainwright, who threw 74 pitches (48 strikes). "The second one, I threw a curveball [that] was in the dirt on purpose because we were up 0-2. I only threw one out of the strike zone on accident."
Wainwright believed there were 15-16 borderline pitches that could've been called strikes that swayed his pitch count. He plans on honing them an inch or two so that it doesn't happen again.
"He's still working on some things, and while he's working he's still making very good pitches," Cardinals manager Mike Matheny said. "We're seeing a little more of the curveball. Not a big deal right now to get that thing going. He knows where he needs to have it. Overall I thought it was a better day than it showed."
Last spring, Wainwright introduced his pitches in the following order: fastball, curveball, changeup and cutter. He switched things up in 2014 after getting "curveball happy" during the second half of last season.
The eight-year veteran hopes to become more versatile with what pitches he goes to in various counts after he noticed hitters waiting on his breaking ball.
"I got predictable last year," Wainwright said. "Even though it's still a very good pitch, most of the time it doesn't matter if I execute, I'm going to get an out usually. But I don't want every time I get to 0-2 for a hitter to sit there and know that a curveball's coming."
With two starts remaining before Opening Day, Wainwright will now begin to put it all together and mold them for the season.
Over three spring outings, he has given up four runs on 10 hits in 9 2/3 innings. His first start was delayed a day by a rainout. In order to stay on schedule for the season opener, he went on three days' rest against the Mets last Tuesday. Sunday marked his first appearance following a normal routine.
"If I get guys sitting on my breaking ball, I've got them where I want them," Wainwright said. "That's the one I want them to try and hit. I also don't want to have to rely just on that when I have four good pitches."
Christina De Nicola is a contributor to MLB.com. This story was not subject to the approval of Major League Baseball or its clubs.