No-no another example of Miami's pitching strength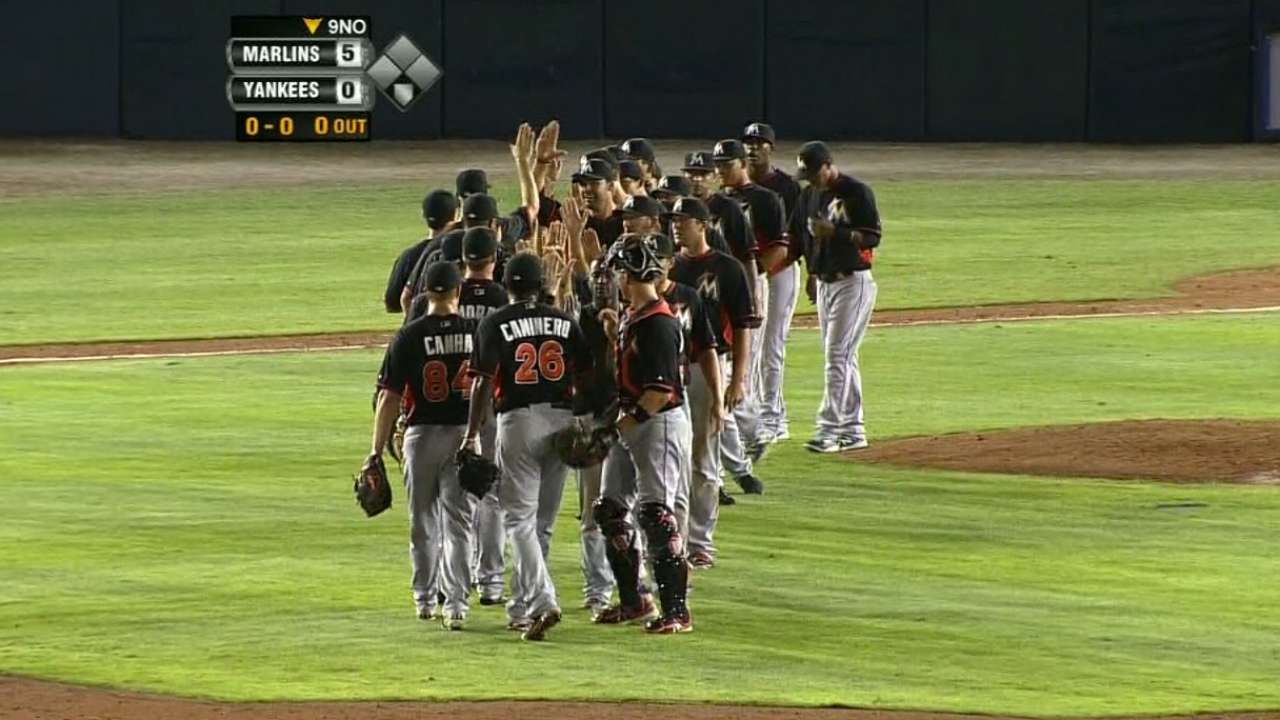 FORT MYERS, Fla. -- Bench coach Rob Leary had already gone to bed on Saturday night before the club's split squad had finished off its no-hitter against the Yankees in Panama City.
Leary, acting as manager for the Marlins' squad playing in Jupiter, Fla., on Saturday afternoon and Fort Myers on Sunday, instead learned of the accomplishment on Sunday morning via an app on his smart phone. With skipper Mike Redmond's group playing a night game in Panama City on Saturday and Leary's team playing afternoon games both Saturday and Sunday, Leary had yet to touch base with Redmond as of Sunday morning.
"I haven't talked to Mike yet, but obviously, I'm real happy for all the pitchers that were involved in it," Leary said. "It's yet another great outing by our pitching staff."
Though the no-hitter certainly stands out, the Marlins' pitching staff has turned in a number of dominating performances this spring. In fact, Miami entered Sunday with a Major League-best 2.52 team ERA -- and that's without including the no-no, which does not count toward official Grapefruit League stats.
That league-best ERA is easily ahead of Tampa Bay's second-best 3.06 mark and more than a full run ahead of the closest National League team (Colorado, 3.58).
The superb pitching is only increasing the competition for the final rotation spot and the few spots available in the bullpen. Brad Hand, who started and pitched five innings of the no-hitter, and Kevin Slowey, Sunday's starter in Fort Myers against the Twins, are two of the pitchers battling to break camp with the club.
"We're only going to take 12, and that's the beauty of where we're at right now, that we do have great competition among the pitchers," Leary said. "I think it's a real healthy thing that there is that competition right now, and we'll find out who's ready, who might not be and who rises to the top."
Regardless of who ultimately makes the final cut, Leary said, each pitcher battling for the final spots needs to be prepared to contribute when his times comes, whenever that may be.
"We know that, whoever we take, it's going to take more than 12 pitchers this year for the Miami Marlins," he said. "So that's the other thing. There will be some disappointment, but at some point we're going to need other pitchers."
Paul Casella is a reporter for MLB.com. Follow him on Twitter @paul_casella. This story was not subject to the approval of Major League Baseball or its clubs.