MLB.com Columnist
Jim Callis
Beede-Nola matchup weekend's main event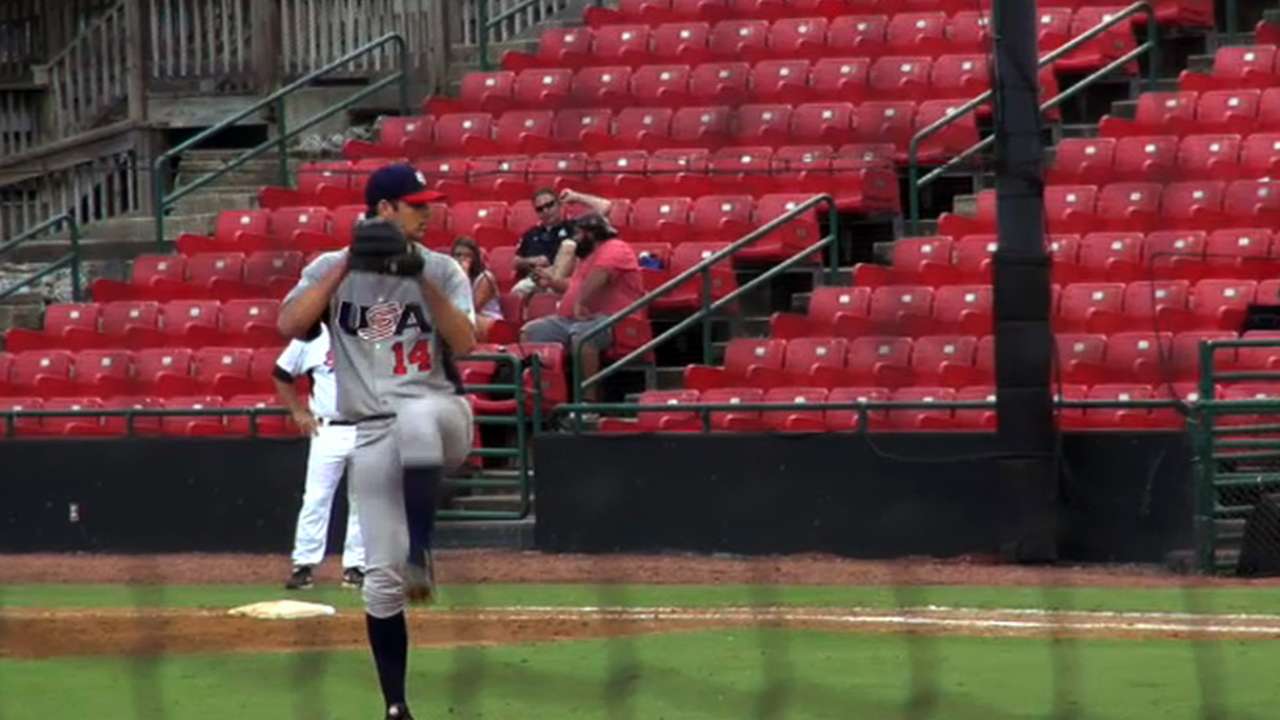 Friday is the most important day of the week for amateur scouts. That's when colleges trot out their No. 1 starting pitchers, and any game featuring two first-round arms will be a magnet for scouting directors and crosscheckers.
Two of college baseball's best and hottest pitchers will square off when No. 8 Louisiana State visits No. 7 Vanderbilt. Commodores right-hander Tyler Beede has allowed a total of just four runs (three earned) while winning each of his first four starts, but that pales in comparison to what Tigers righty Aaron Nola has done. Nola also has won all four of his starts and hasn't been scored on in 27 innings, extending his two-year streak to 53 2/3 frames without an earned run.
"Everybody that picks in the top 15 picks is going to be there," a national crosschecker said. "You could just do the Winter Meetings March 14 in Nashville. I think every single scout in the top 15 is going to be there. If Nola goes out and does that again, if he comes out of that better than Beede, you're looking at a guy who'll get top-five buzz."
Nola entered the year as a borderline top-10-overall pick and with the reputation of having maybe the best changeup and the best polish of any college pitcher available. Scouts could quibble with his lack of premium velocity, his mechanics and his 6-foot-1 frame, but he's putting those concerns to rest.
"His stuff has been a little better this year," a scouting director said. "I saw him really, really good for two innings against Yale, but LSU put up a 10-spot early and he sort of coasted through seven innings. That's why I want to see him in a more competitive game.
"I had seen 90-93 mph in the past, but for the first two innings, he was pitching more at 93-94 and touching 95. His breaking ball was a little sharper. If he carries that same stuff deeper into games, he's going to go very high. It's not a real pretty, clean delivery but it presents deception to the batter and I'm sure he'll be fast to the big leagues."
Beede started the year with top-five buzz, and he already has been selected in the first round, turning down the Blue Jays as the No. 21 overall pick out of a Massachusetts high school in 2011. He set a Vanderbilt record with 14 victories as a sophomore, displaying a fastball that hit 97 mph and a pair of quality secondary pitches but not the consistent ability to command his arsenal. He has addressed that flaw this season, cutting his walk rate to 1.8 per nine innings after averaging 5.2 a year ago.
"This will be the first time I've seen Beede this year, but our guys have been at three of his starts," the director said. "He's throwing more strikes and commanding his stuff a lot better. He's a big guy with good stuff who just needed to be more consistent. I didn't think he'd elevate himself to the top of the Draft, but he might.
"Every scouting director has to see this game. Beede and Nola could go anywhere from No. 4 to 24. I don't expect that they'll go that deep, but you still have to see them just in case. With Rodon, a lot of scouting directors don't really have to see him."
Jim Callis is a reporter for MLB.com and writes a blog, Callis' Corner. Follow @jimcallisMLB on Twitter. This story was not subject to the approval of Major League Baseball or its clubs.