MLB.com Columnist
Jim Callis
First-round talent on display in Tallahassee
N.C. State-Florida State clash features several projected top Draft picks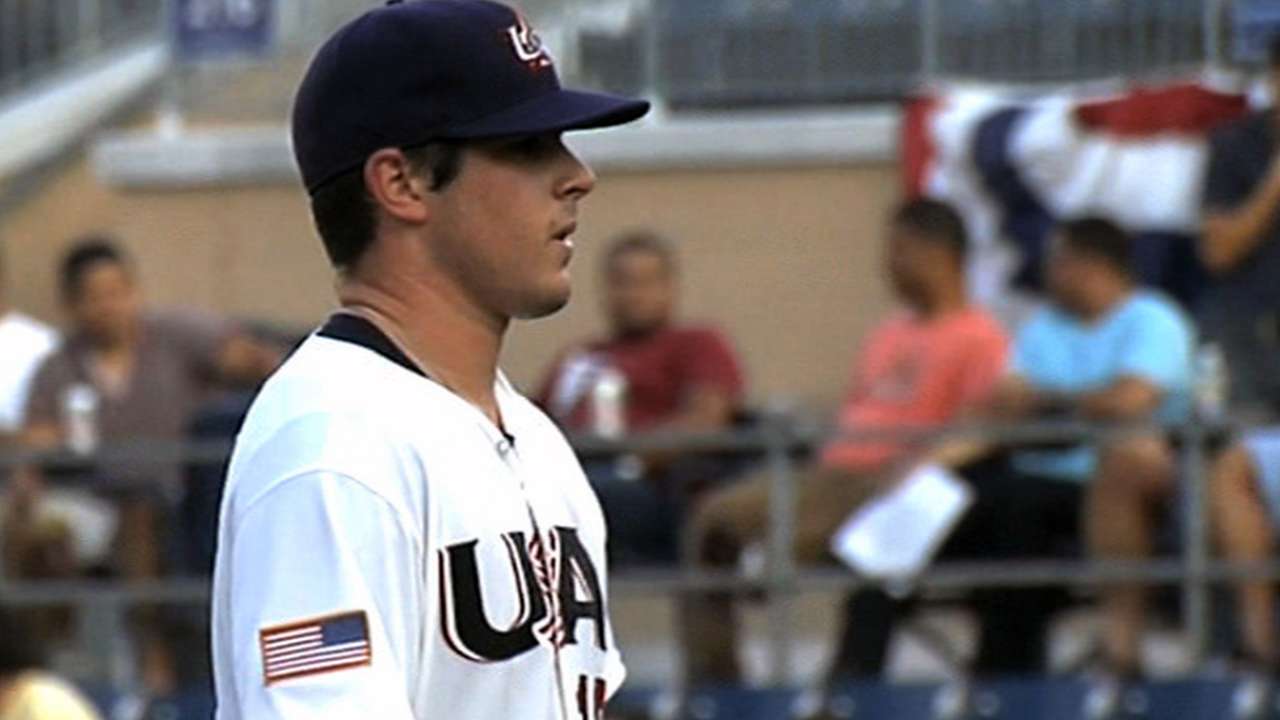 From a scout's perspective, games don't get much better than North Carolina State against Florida State on Friday night in Tallahassee, Fla.
The Wolfpack, ranked No. 5 in the nation by Baseball America, boast the presumptive No. 1 overall pick in the 2014 First-Year Player Draft -- left-hander Carlos Rodon -- and likely the first college position player who will be selected -- shortstop Trea Turner. The No. 2 Seminoles will start right-hander Luke Weaver, who projects to go in the second half of the first round.
Rodon vs. Weaver may actually take a backseat to Friday night's Vanderbilt-LSU matchup, with Tyler Beede facing Aaron Nola, but plenty of evaluators plan on flocking to Florida State. Rodon is in the mix for few teams because the Astros are expected to grab him with their third straight No. 1 overall choice, but most clubs will be in position to consider Turner and/or Weaver.
The fastest runner in the Draft, Turner has fully recovered from a high ankle sprain that bothered him last spring and summer. But while he's doing a great job of making contact, batting .350 with just two strikeouts in 73 plate appearances, he's not hitting the ball with authority. Though he has gap power and top-of-the-line speed, Turner has just one extra-base hit (a double) and is slugging .367.
"I'm actually going there to see Turner face a couple of good pitchers," one scouting director said. "I haven't seen Turner yet. We have mixed reports so far, especially on his bat. I didn't love his bat during the summer, but he also was hurt a little bit. Power isn't going to be part of his game, but he's got to hit enough to bat at the top of the order.
"He's running better than he was last summer. I've heard mixed reports on his defense, with some guys saying he'll stay at shortstop and others saying he's just average. Like a lot of guys at the top of the Draft, there are a lot of questions with Turner. But to me, the only two shortstops who could go in the first round are Turner and [Florida high schooler] Nick Gordon."
The early reports on Weaver are similar to those from his sophomore season. He has gone 3-1 with a 2.25 ERA and 24 strikeouts in as many innings, showing a 92-93-mph fastball, a quality changeup and fine command. Scouts still wish he was bigger than 6-foot-2, 170 pounds and had a sharper breaking ball.
"Luke has been pretty much the same guy," an area scout said. "He has a live arm with a good fastball, but it's straight. You want a better breaking ball but he has a nasty cutter at 86-88 that's going to be his pitch. Some guys worry about his size and strength, but he's going to be a big boy. His best years as far as weight and durability are down the road.
"This year, he's kind of paced himself. For me, he's been treating the early season like it's Spring Training. He's been getting ready for Rodon and for everyone else he's got to face in the conference."
Likewise, Rodon's stock hasn't changed as he has gone 2-2 with a 2.40 ERA and 30 strikeouts in 30 innings through four starts. His command and consistency have wavered at times, but he's still sitting around 94 mph with his fastball and snapping off some nearly unhittable sliders.
"Everybody's talking like he's Stephen Strasburg and David Price, and he's not that for me," the scouting director said. "He's good, he's probably the No. 1 pick in the Draft, but he's just a notch below those guys. He's not burying his competition yet.
"I'm interested in seeing him this week. I imagine both these guys will step it up because they're facing each other."
Jim Callis is a reporter for MLB.com and writes a blog, Callis' Corner. Follow @jimcallisMLB on Twitter. This story was not subject to the approval of Major League Baseball or its clubs.