MLB.com Columnist
Jim Callis
Chavis' bat has high school shortstop on rise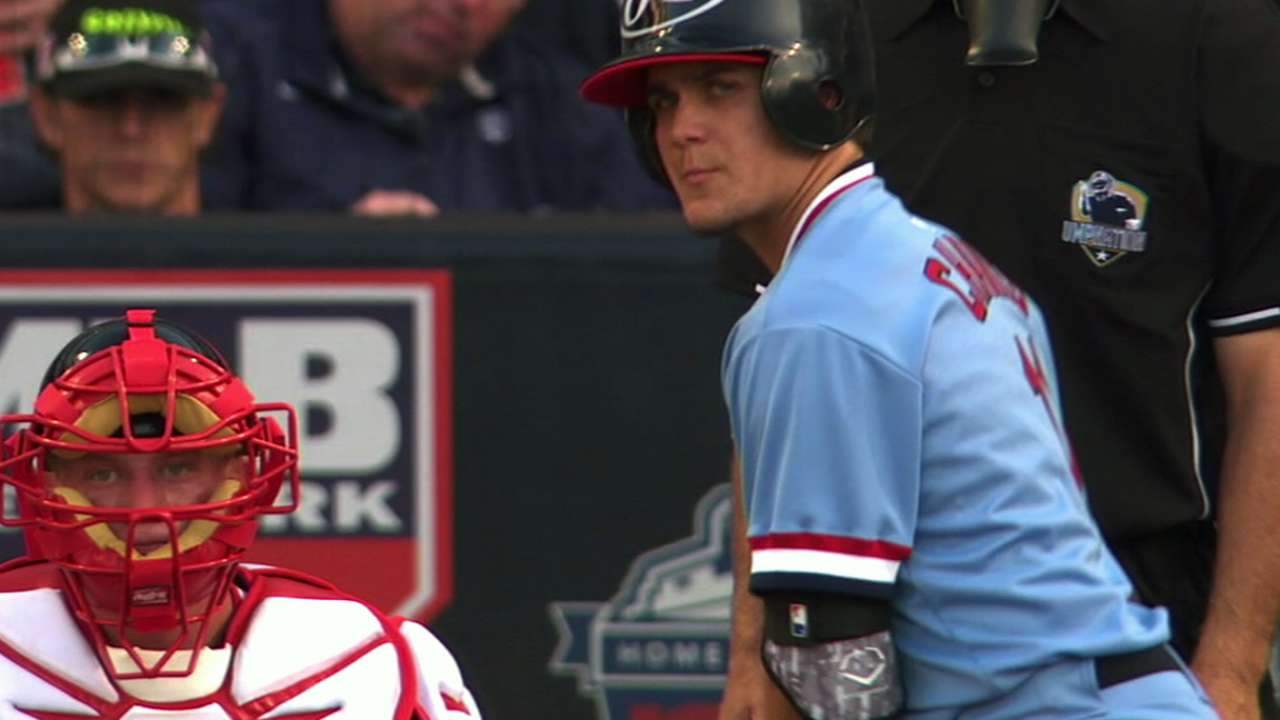 Shortstop Michael Chavis, out of Sprayberry High in Marietta, Ga., made a name for himself by winning the home run derby at the Perfect Game All-American Classic last August. He beat out an impressive field that included likely 2014 first-rounders Braxton Davidson, Michael Gettys and Alex Jackson.
Though scouts weren't ready to put Chavis in their class as a prospect then, that's changing now. Three different scouting directors cited him as a high schooler who has significantly improved his Draft status this year, with one saying the Clemson recruit could go as high as the early teens in the first round.
Chavis has gotten stronger, now carrying 205 pounds on his 6-foot frame, and he's off to a blazing start. Though high school stats carry little weight, it's hard not to admire his .682/.774/1.136 line through eight games, with as many homers as strikeouts (two) in 22 at-bats.
"He puts on a power display in batting practice," an area scout said. "Sprayberry is about 350 feet into the gap, and then there's a six-lane highway snug up against left field. He hits balls up and over the highway! You think you're watching a pro guy by the way he takes BP.
"When the game's on, any pitch mid-plate in, he hurts the ball. I saw one night where he hit two home runs, and it was eight or nine hundred feet of home runs. Like most high school power hitters, he has a hole away, and that's what people wondered about coming into this year. It's still there some, but last year he missed those pitches, and this year he drives them to the opposite field. If they're up, he'll hit them out."
Chavis has solid all-around tools. He's an average runner out of the batter's box but has an extra gear once he gets going. His strong arm allows him to play anywhere on the diamond, and the only real question now is where he'll wind up.
He'll definitely move from shortstop at the next level, and scouts are split on whether he can play second base or will have to move to third. The area scout compared him to Jedd Gyorko, offensively and defensively, though Chavis has more athleticism.
"You could put Michael at second base, and he'll give you 200 percent," the scout said. "I think he's a little too stiff in his hips and back to play second base, turn the double play. I think you move him to third base. He can throw, his hands are good, he has a live body. He just doesn't have the actions for shortstop or second base around the bag."
While Chavis would have more defensive value at second base, he still should provide more than enough offense if he winds up at the hot corner.
"He has very fast hands and wrists, and a strong lower body," the scout said. "He has good hitter's makeup. It wouldn't surprise me at all if he goes in the first round. Coming in, I thought we'd have a shot at him in the second or third round, but he's not going to get there."
Jim Callis is a reporter for MLB.com and writes a blog, Callis' Corner. Follow @jimcallisMLB on Twitter. This story was not subject to the approval of Major League Baseball or its clubs.