Scutaro frustrated by uncertainty of back pain
Second baseman not confident in being ready for Opening Day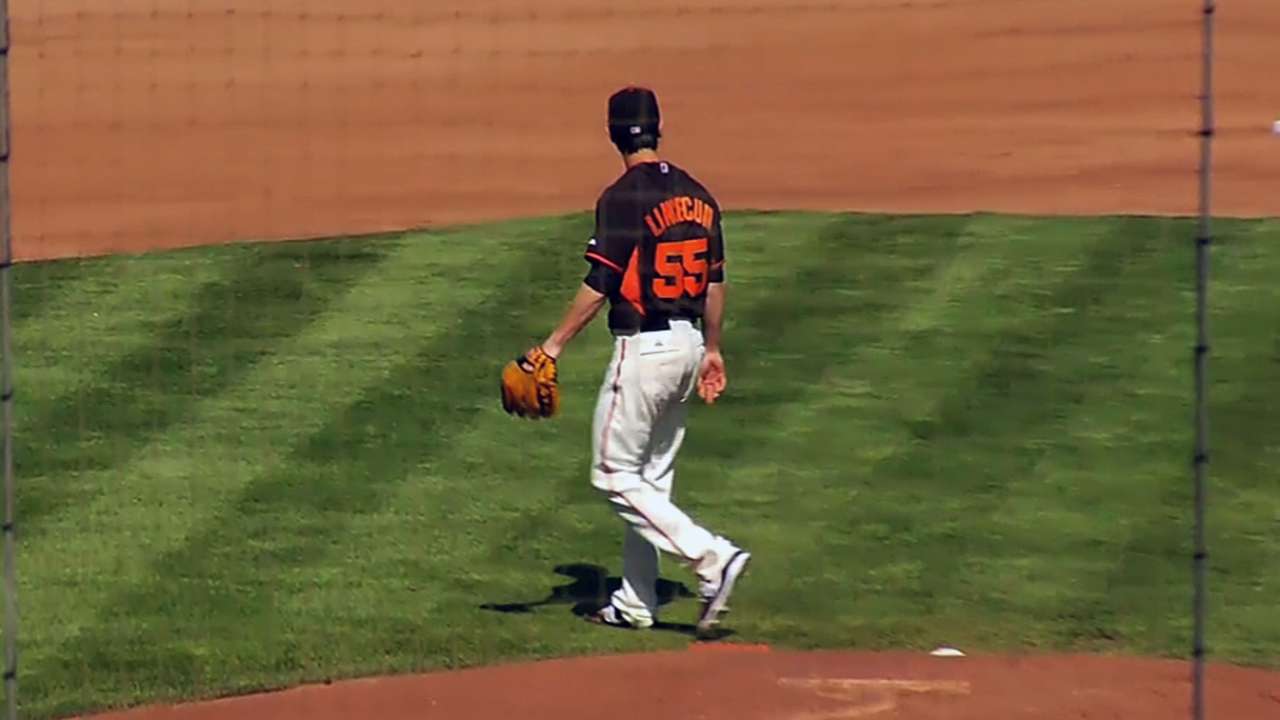 SCOTTSDALE, Ariz. -- Realistic about the questionable condition of his lower back, second baseman Marco Scutaro declined to speculate Wednesday whether he'd be physically able to perform in the Giants' March 31 season opener at Arizona.
Scutaro might have been expected to rejoice over Wednesday's events. He took live batting practice for the first time all spring and participated in fielding drills. But after completing his workout and his daily treatment, the 38-year-old assessed his playing status -- which defies assessment, given the wanton nature of back health.
"I don't want to say nothing right now," Scutaro replied when asked if he'd be ready to open the season with the Giants. "That's because backs are tricky. I can tell you right now I feel great and then wake up tomorrow and I can't even walk. I'm going to go day by day and see how things are going."
Giants manager Bruce Bochy appeared slightly shaken when told of Scutaro's cautious attitude.
"We certainly need him to be optimistic," Bochy said. "I know it's frustrating for him. You're hoping it comes around a little bit quicker than [anticipated]. Sometimes these things turn a corner real fast. We're still hopeful and optimistic that will happen. If not, we have to go to Plan B."
Scutaro's potential replacements include Joaquin Arias, Tony Abreu, Brandon Hicks and Nick Noonan. Arias has been a competent utility man for the Giants since 2012, when he hit .417 in August as injured third baseman Pablo Sandoval's fill-in. Abreu was hampered by knee issues last year and is batting .200 this spring. Hicks, hitting .368, is sustaining a strong bid for a utility role. Noonan, who made last year's Opening Day roster with an outstanding spring performance, doubled home the tying run and scored the winning run on Arias' single in Wednesday's 4-3 walkoff Cactus League victory over the Chicago White Sox.
But the Giants envision their utopia as one in which Scutaro's batting second, moving runners over and driving in key runs, as he did frequently in 2012, when he was named Most Valuable Player of the National League Championship Series.
To begin the season with the Giants, Scutaro must prove that he can appear in back-to-back games. That criterion is as elusive as it is obvious.
"I don't think we're at that point where we want to be," Scutaro said. "I want to feel like I can play today and show up tomorrow ready to go. ... I can play right now with pain. The next day is going to be worse."
With approximately two weeks remaining in Cactus League action, the discomfort in Scutaro's back apparently would have to subside dramatically for him to avoid beginning the season on the disabled list.
"It's hard to take a guy into the season if he doesn't know he could go back-to-back, and we don't know," Bochy said. "We'd have to check off that box probably before we close camp."
Swinging a bat is Scutaro's biggest challenge. A hitter needs a pain-free back to rotate his hips and generate the torque necessary for an effective swing.
"That's when I really have to use the muscles back there," he said.
Millions of people worldwide endure back pain. All of them should be able to relate to Scutaro's frustration.
"You go to bed feeling good, the next day, it's like, 'What happened? I can't walk,' " he said. "It's driving me crazy. I can't figure it out."
Chris Haft is a reporter for MLB.com. Read his blog, Haft-Baked Ideas, and follow him on Twitter at @sfgiantsbeat. This story was not subject to the approval of Major League Baseball or its clubs.