MLB.com Columnist
Jonathan Mayo
Lefty Medeiros makes scouts' Hawaii trips worthwhile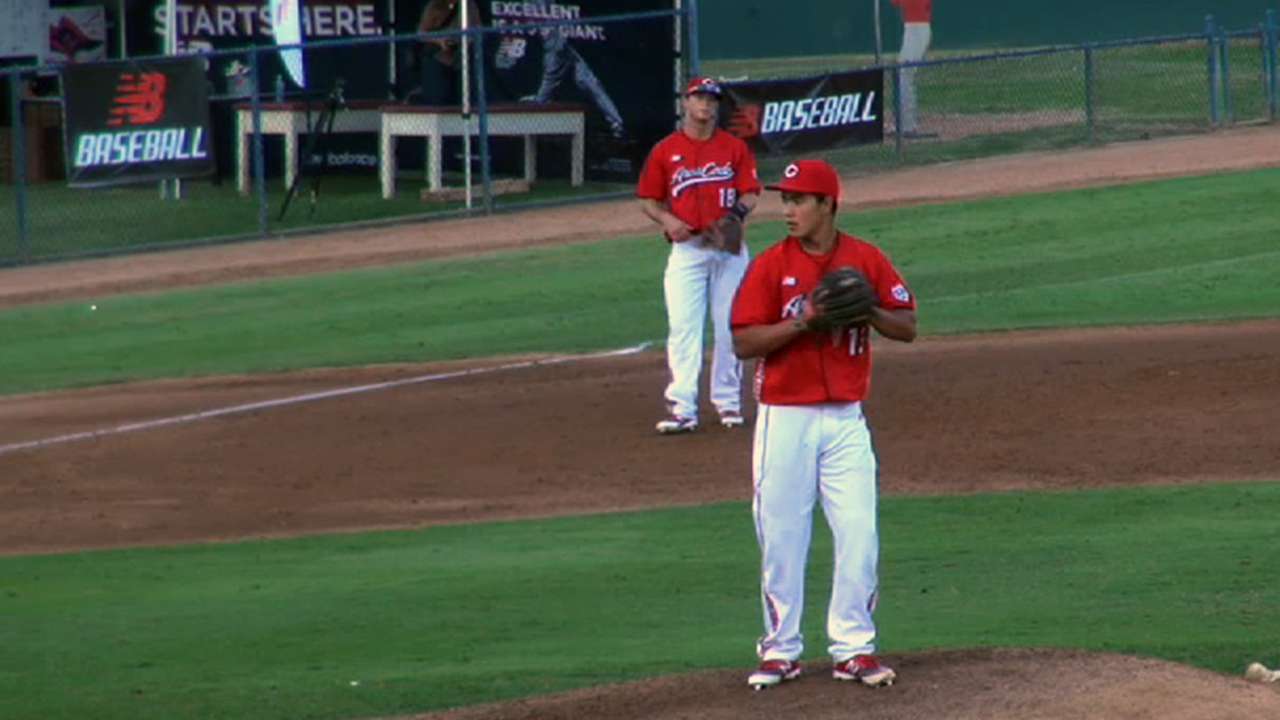 Getting to jet to Hawaii to watch baseball has to be one cushy assignment, right? It seems like a tremendous perk, if you're lucky enough to be an area scout in the region.
Maybe not so much. Anyone who thinks it's just fun in paradise should reconsider. Even for scouts who want to scour the islands for talent, it's a whole lot of work and no time for play. And this year, at least according to one who has The Aloha State in his area, there isn't much talent to see.
"It's a complete nuisance," said the area scout, who also patrols Southern California. "There's so much to do in SoCal, why would you stay there [in Hawaii]? The time is not worth it. You need to fly in and fly out and move on to the next guy."
The purpose of flying in, though, is to see left-hander Kodi Medeiros, currently sitting at No. 25 on the Top 50 Draft Prospects list MLB.com released in the fall. Medeiros put his name on the map last summer, pitching as well as any high schooler on the showcase circuit. The Pepperdine recruit was very good at the Area Code Games and was even better at the Perfect Game All-American Classic. He wasn't quite as electric in the fall at Perfect Game's World Wood Bat Association World Championship, but he still threw well. In other words, scouts couldn't wait for him to get going in Hawaii to see if he was the real deal.
Medeiros made that highly anticipated debut in early February at the Maui High School Invitational, and while he understandably wasn't quite as crisp as he was over the summer, he was plenty good enough.
"He came out of the chute sharp," the area scout said. "He was the same guy as at Area Codes and PG, but not quite as overpowering. But it was February. He's definitely that guy."
Medeiros has thrown well in his two starts since, getting his fastball as high as 93-94 mph, with it sitting at 91-92. He's shown a decent breaking ball, and as is often the case with high school pitchers, he hasn't really needed to use the changeup much.
One of the biggest problems in evaluating Medeiros early is the general lack of competition, particularly in his native Hilo, the same place Cardinals rookie second baseman Kolten Wong is from. The second issue has been his sporadic schedule. Medeiros had two weeks off between each of his first few starts.
Medeiros will start going more regularly beginning next week, though his regular season runs only until April 19, giving scouts just five starts, not counting the state playoffs, to see the southpaw in action. That won't keep the scouts away, even if it's not the fun-filled trip many think it would be. Medeiros' talent will make the nuisance worth it.
"His stuff is consistent; his body looks great," the area scout said. "I put him in the first round. He definitely has a high ceiling."
Jonathan Mayo is a reporter for MLB.com and writes a blog, B3. Follow Share This