MLB.com Columnist
Jonathan Mayo
Nola's stock rising as streak continues to grow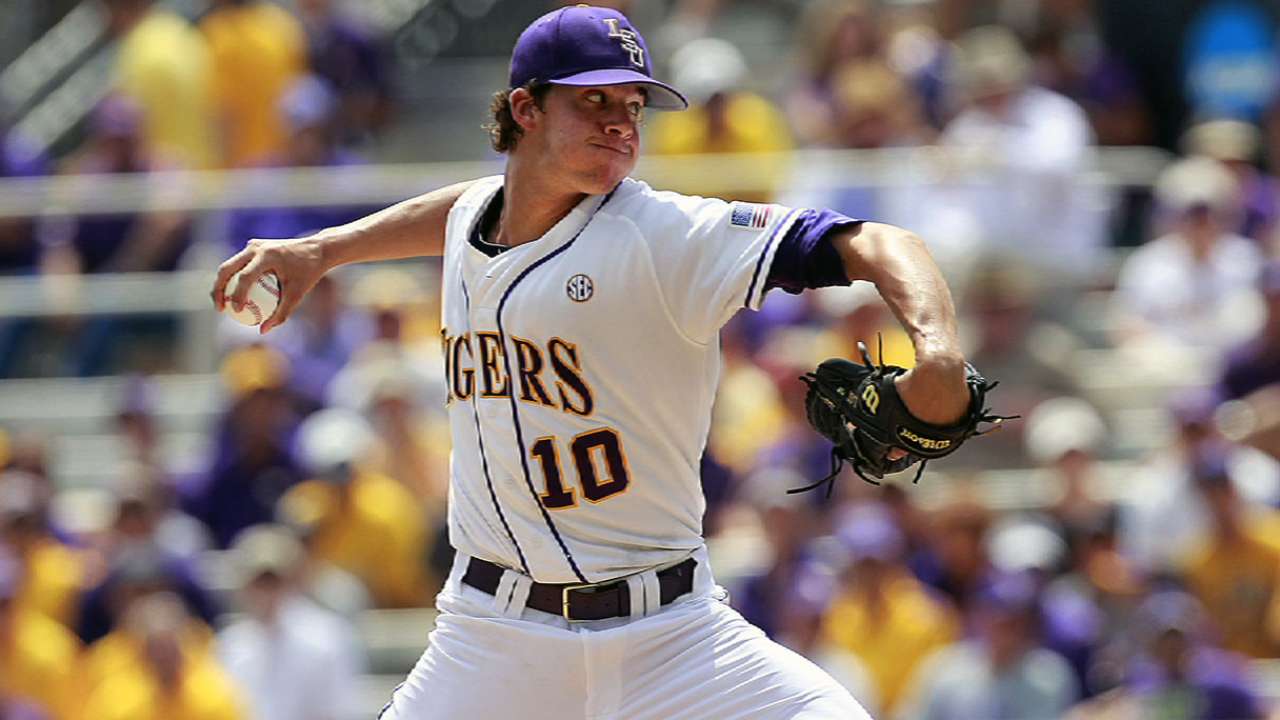 Jim Callis wrote a note last month about Louisiana State's Aaron Nola. At the time, the No. 10 Draft prospect had extended his streak of not allowing an earned run to 40 2/3 innings, a run that began last season.
Well, Nola is still at it. The right-hander pitched eight shutout frames against Purdue at home on Friday, striking out 12 while allowing just two hits. That ran his streak to 53 innings. And while some of his opponents this season haven't exactly been juggernauts, it's important to keep in mind that the streak ran through postseason play and included a shutout victory against Jon Gray and Oklahoma in the Super Regionals. Besides, the way he was throwing on Friday, it wouldn't have mattered who the opponent was.
"His command was outstanding; he commanded both sides of the plate with all three of the pitches," a national cross-checker said. "I don't think he broke a sweat. It was a very business-like, professional approach. You could see him setting up the hitters like he would in a big league game."
Nola's fastball was up to 94 mph, while sitting at 91-92, and it looked better because of how well he commanded it. He threw his breaking ball and changeup for strikes. The scout remembered maybe one three-ball count all game and recounted one sequence in which he hit a batter with a changeup, then struck out the next hitter on three perfectly painted pitches.
"It was like he felt bad for the scouts and wanted to give them some [velocity] from the stretch," the cross-checker said. "It's not just that he isn't giving up a run. They're not even getting to second base. You want the stuff to be a tick better, but at what point does Aaron Nola's pitchability overtake someone like Jeff Hoffman and his 95-mph plus fastball and his 3 1/3-inning, seven walk performance?"
Early on against Purdue, a fellow scout turned to the cross-checker and dropped a doozy of a comparison on Nola: Greg Maddux. The cross-checker cautioned against going too far. Maddux is a Hall of Famer, after all, and while Nola was good, he saw him more as a No. 7-15 pick.
"By about the fourth inning, I was chuckling, thinking this guy might be right," the cross-checker said. "It was like watching a guy paint a picture. It was fun to watch. It's hard to walk out of that place not liking him."
Jonathan Mayo is a reporter for MLB.com and writes a blog, B3. Follow Share This