Wolf saddened by passing of surgeon Jobe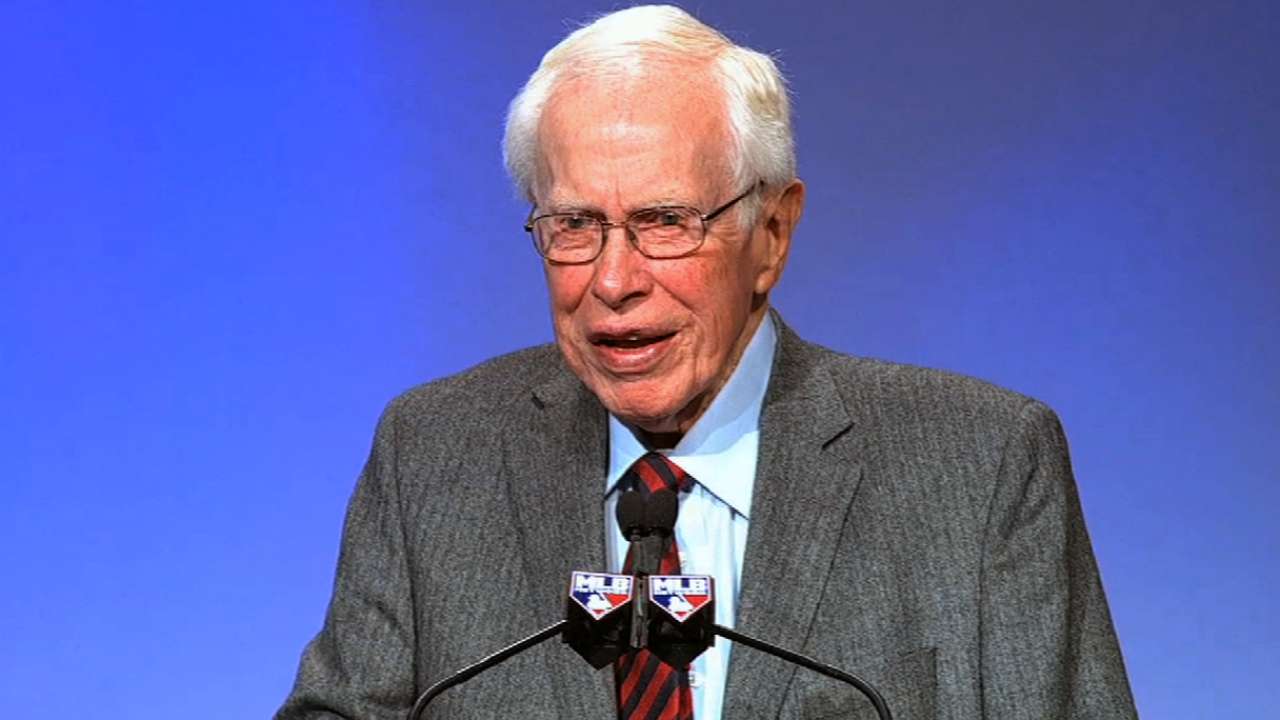 PEORIA, Ariz. -- As a veteran of two Tommy John surgeries that have extended his pitching career now into a 15th season in the Major Leagues, Mariners left-hander Randy Wolf believes he owes a debt of gratitude to Dr. Frank Jobe, the man who invented the procedure in which a torn ligament in the elbow is replaced with a tendon.
Jobe, 88, died on Thursday, and his passing was felt across baseball, particularly among pitching staffs filled with veterans who have benefited from Tommy John surgeries.
"I actually saw him three days a week for probably 11 or 12 months [during his most recent rehab last year]," said Wolf, who is trying to land a job with the Mariners this spring after sitting out all last season. "He'd come to the physical therapy area at the Kerlan-Jobe [Orthopaedic Clinic] in Los Angeles. He was just a great guy.
"It's really sad, because in the past year there are two very special people at the Kerlan-Jobe clinic that passed away with Dr. [Lewis] Yocum and Dr. Jobe. Both were just really kind people. Dr. Jobe always talked to me, and I remember he was talking about how well I was doing in therapy and he said he'd put in a good word for me with the Dodgers. He just seemed like a genuinely nice human being."
Wolf is one of a handful of Mariners pitchers coming back from Tommy John surgeries. Scott Baker, Joe Beimel and Zach Miner, all veterans of the procedure, sit side by side in the team's Spring Training clubhouse.
Wolf said Jobe and others deserve places in the National Baseball Hall of Fame for what they do.
"It's sad when somebody like that passes, but he lived a long, great life and left a mark on this game," said Wolf. "I think it's great they're starting to recognize the physicians part of this game. Dr. Jobe, Dr. Yocum, Dr. [James] Andrews, Dr. [Tim] Kremchek, all these doctors that keep guys like me in the game, they changed the game possibly more than anybody because you could go around these clubhouses and just check scars on elbows and see that guys are still pitching because of that.
"I've said for a few years I'd like to see these physicians that keep guys in the game get plaques. They deserve to have a place in the Hall of Fame where they get the recognition they deserve."
Baker said he never worked with Jobe, but he was well aware of his impact.
"I saw Dr. Andrews, and Dr. [David] Altchek did my surgery. But you know who he is, even going back to early on in baseball, you'd hear about the Jobe program, the [rotator] cuff weight exercises he was so famous for. He was definitely an innovator in a game that has always kind of been behind the other sports in preventative things. I think he was ahead of his time for sure."
"There are definitely guys that have blazed trails, and he was one of them," Baker said. "To a certain extent, we can all be thankful for a guy like Frank Jobe."
Greg Johns is a reporter for MLB.com. Follow him on Twitter @GregJohnsMLB as well as his Mariners Musings blog. This story was not subject to the approval of Major League Baseball or its clubs.