High numbers, hotels and ... martinis in a Thermos?
Former Phillies recall some of their favorite Spring Training memories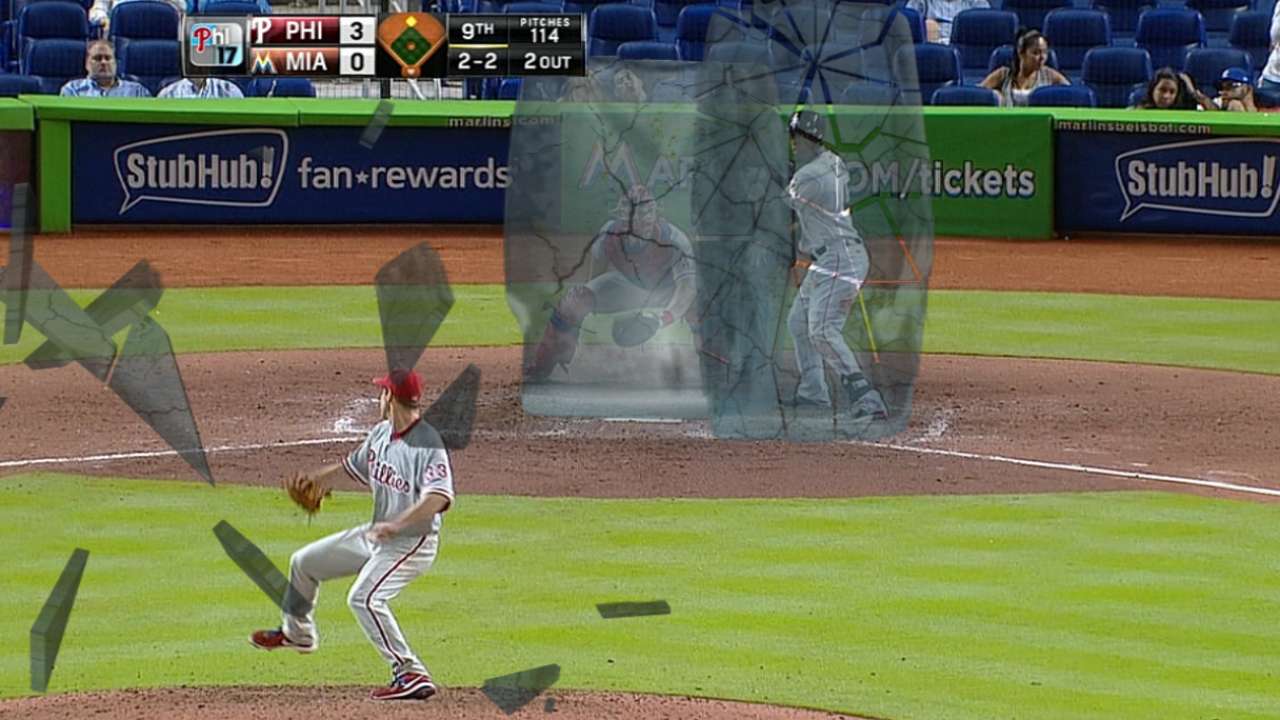 Here is a collection of interviews with some Alumni about Spring Training and their memories, good or bad.
Bob Boone (C, 1972-81)
"First Spring Training was a big league camp at Jack Russell Stadium in 1970. I don't have a clue as to my uniform number, but I do know it wasn't No. 8. Stayed at the Jack Tar Hotel. Barry Lersch was my roommate, but I roomed with his clothing more often than with him. I'll never forget that first day. [Manager] Frank Lucchesi said every job in camp is wide open. I came from Class A ball, but really thought I had a chance after hearing Frank. Rookies get to play in a lot of the early games and I crushed the ball, hit .400. When he first cut was made, I was on the list, headed for the complex. I was crushed."
Chris Coste (C, 2006-09)
"1999, Pirates Minor League Spring Training camp in Bradenton, Fla. Don't remember my uniform number. I'm sure it was a high number. Pirate City had dormitories, and that's where we lived. My roommate was from the Dominican and he spoke no English. I was nervous because I didn't know the daily routine. At first, I was unsure if I was good enough to be at that level, but after throwing to bases and taking batting practice, I quickly realized that I belonged. For the first time, baseball felt like a way of life, and for me, that was a good thing. I didn't like being treated like a child. With so many players in camp, they ran it like a boot camp, and it was odd for me because I was much older than most of the players who were at my level."
Chuck Essegian (OF, 1958)
"My first big league camp was 1958 in Clearwater. Believe we stayed at the Clearwater Hotel, but not sure. Tommy Qualters, a bonus baby, was my roommate. He was always chewing tobacco and I tried to talk him out of it. My number was 37. I had played four years of Minor League baseball, so I wasn't really nervous about being in a big league camp for the first time."
Pat Gillick (LHP, Minor Leagues, 1959-63)
"First Spring Training was with the Orioles' Triple-A team in Yuma, Ariz., 1959. I remember staying at the Starlight Motel. Didn't have a roommate and can't recall my uniform number. Did know a couple of the other players which made it easier the first few days. Always liked Spring Training, the camaraderie and the continuous learning process. Wasn't anything specific that I didn't like about Spring Training. One memory that stands out was with the Orioles training in Miami in 1962. My locker was between Marv Throneberry and Whitey Herzog. Whitey complained that he wanted something to drink other than orange juice. Next day, Thorneberry came in with a large thermos, saying it was filled with lemonade. Whitey took a sip and passed it on to me. I took a big gulp, but it wasn't lemonade. It was a martini. I had been duped."
Mike Grace (RHP, 1995-99)
"Minor League camp in Clearwater in 1992 was my first one. Believe I stayed at the Econ-O-Lodge or Howard Johnson's. Kevin Stocker was my roomie. Have no idea what was my uniform number. First day was a nervous experience. Heard all the stories what Spring Training was like. Just tried to figure everything out. Always enjoyed Spring Training, getting to see all my buddies again. And, Clearwater itself. How could you not like Clearwater? Seeing your buddies get cut was the only unpleasant part. Bruce Smallwood and I played college ball, were drafted and signed by the Phillies, played in A-ball together and the next spring he got cut. That was difficult. Overall, my nine years in the Phillies organization is the fondest part of my life."
Von Hayes (OF, 1983-92)
"I had a lot of Spring Training memories, but one stands out. I hit into triple plays in consecutive at-bats. I was in my first or second Spring Training with Cleveland. Being a young guy, I would play in morning 'B' games and then dress and sometimes play in the afternoon games. One day I came to bat with runners on first and second and no out in a 'B' game, hit a line drive to the second baseman, who started a triple play. That afternoon, I got in the game with the same situation, runners on first and second. This time I lined to the first baseman, who stepped on first and then threw to second to complete another triple play."
Mike Lieberthal (C, 1994-2006)
"My first camp was in 1993 and I wore No. 63. We stayed at a hotel on Route 19, either the Holiday Inn or Best Western. Got to face Nolan Ryan in my first game. Walked off Ryan and had two hits later. Ivan Rodriguez, my favorite player at the time, caught for the Rangers. Best part of Spring Training was getting out early and then playing golf. My least favorite was the early morning running and agility drills."
Art Mahaffey (RHP, 1960-65)
"My first Spring Training camp was in Clearwater in 1957. I played in Mattoon (Ill.) in 1956 right out of high school. I think my uniform number was 28, which was the same number I wore my entire career. I remember staying at the Fort Harrison Hotel, but the first year it could have been at a small hotel a few blocks north of the Fort Harrison. I don't remember the name of it. Chris Short was my first roommate. The memory of the first Spring Training day was walking into the clubhouse, putting on a Phillies uniform, meeting all the other players, and then walking out on the field and pretending to be a big leaguer. I liked everything about Spring Training. I was 18 years old and had never been to Florida. Clearwater was a beautiful little resort town, and it was a thrill to be there and to be wearing a uniform that said 'PHILLIES' on it. Every day was better than the day before. There wasn't anything I didn't like about Spring Training."
Jamie Moyer (LHP, 2006-2010)
"My first big league camp came with the Cubs in Mesa, Ariz., in 1987. I had been called up the previous season, so when I went to camp, I knew a lot of the guys. But I didn't know what to expect with the Spring Training program. I was anxious and nervous at the same time. We stayed at the Mezona Hotel. Don't remember my roommate; I had a lot of them in my career. Not sure what jersey number I had, probably 49. I always enjoyed Spring Training and really can't think of anything I didn't like. I know I had a lot to prove many years."
Ray Semproch (RHP, 1958-59)
"1951 in Laurinburg, N.C., with the Phillies' Minor Leaguers. We lived in private homes and did have a roommate. It was a little frightening, being away from home for the first time and not knowing anybody. Enjoyed Spring Training every year, getting to see you friends again and trying to improve. Even though I was a pitcher, I didn't like all the running we had to do."
Bill White (1B, 1966-68)
"1954, Giants Minor League camp at a former Air Force Base in Melbourne, Fla. We lived in the barracks. Don't remember my uniform number. We had a lot of great players in camp, Willie McCovey, Orlando Cepeda, Jose Pagan, Andre Rodgers. Juan Marichal may have also been there."
Larry Shenk is the vice president of alumni relations for the Phillies. This story was not subject to the approval of Major League Baseball or its clubs.