MLB.com Columnist
Jim Callis
Gettys has impressive tools, questions about bat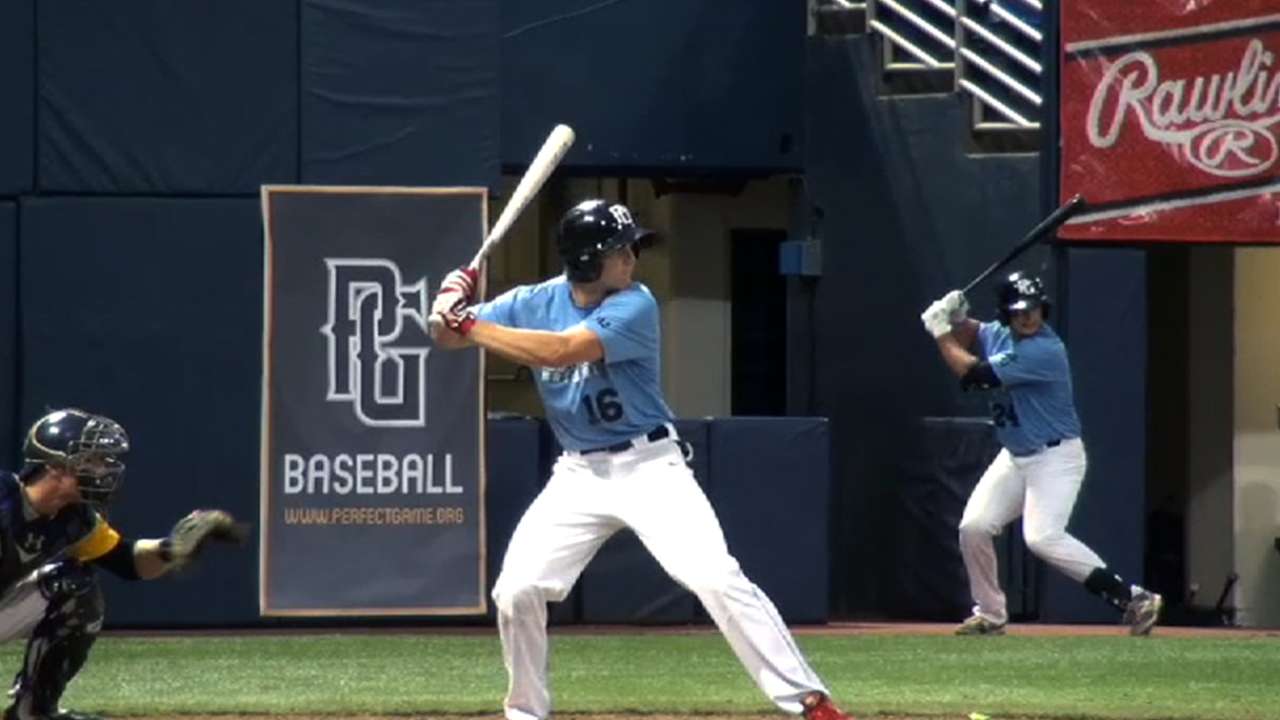 Michael Gettys may have better all-around tools than any prospect in the 2014 Draft. Ranked 10th on MLBPipeline.com's preseason Draft Top 50, the Gainesville (Ga.) High outfielder has bat speed and raw power, can run the 60-yard dash in 6.43 seconds and has been clocked at 100 mph on a throw from the outfield.
However, Gettys doesn't have a track record of hitting quality pitching. That made his Friday game worth attending, even if it meant scouts had to pass on watching college aces elsewhere.
Gettys matched up against North Gwinnett High (Suwanee, Ga.) left-hander Tucker Baca, who draws some Chris Sale comparisons and dominated at the World Wood Bat Association Championship in October. Baca might be the best pitcher Gettys faces outside of the National High School Invitational later this month, and as bonus, Gettys also took the mound.
Neither player distinguished himself in an 8-0 Gainesville win. Gettys went 2-for-3 and got hit by a pitch, but one hit was an infield trickler off the end of his bat and the other was a flare to the opposite field. Baca gave up four runs in five innings, striking out eight but yielding five hits and a walk while hitting three batters.
"Gettys is a head-scratcher," an area scout who attended the game said. "He has the best all-around tools in my area. He has extraordinary bat speed and he can stay in center field, unlike Clint Frazier last year, who I think will play his way onto a corner.
"Unfortunately, Gettys is developing a history of not making hard contact. I like the kid and he has good makeup and top-10-overall-pick tools. But I don't think he sniffs the first half of the first round without having more conviction in his bat."
The 6-foot-2, 205-pound Gettys didn't barrel the ball much last summer on the showcase circuit. He also didn't during a well-attended Presidents Day game when scouts flocked to see Milton (Ga.) High right-hander Dylan Cease in the afternoon and Gettys in the evening. The scout said there's nothing fundamentally wrong with Gettys' swing, but he just hasn't produced.
"I think he wants to do so well that instead of letting the game to him, he tries to overpower the baseball," the scout said. "There's a lot of effort and a lack of effort. In batting practice, it's better. The bat path is fine. To me, he's an anxious hitter, and anxious hitters tend not to perform."
Baca wasn't at his best, either. The 6-foot-3, 195-pounder opened the game with an 88-92 mph fastball from his traditional low three-quarters arm slot before settling at 85-90 in the middle innings. His changeup was OK, but not as confounding as it had been in the past, and he lacked shape on a slurvy mid-70s breaking ball.
"Baca has a lot of effort, but he's athletic and has a projectable body," the scout said. "There are a lot of things in his delivery you don't like, but he's left-handed and it leads to deception, so he can be effective. I think that plays into his success long term, but it also lends itself to inconsistency.
"It's early, so you've got to give this guy some time. When you look at his body and what you saw in the fall, there's still a lot of intangibles to make you want to come back."
Likewise, teams at the top of the Draft will have to continue to monitor Gettys. If he proves himself with the bat this spring, he could push himself into the first five selections. If he doesn't hit, the Georgia recruit could have a fallback option on the mound.
On Friday, Gettys sat at 90-92 mph with his fastball and ranged from 88-94. He also threw a better breaking ball than Baca, usually around 78-82 mph.
"There's a lot of effort, and he's probably a relief pitcher, but he really outpitched Baca in terms of throwing quality strikes," the scout said. "I'm not sure how high you'd take a high school pitcher you think is a relief pitcher, but I like him on the mound.
"I don't think he has any interest in pitching right now, though. He'll tell you that flat out."
Jim Callis is a reporter for MLB.com and writes a blog, Callis' Corner. Follow @jimcallisMLB on Twitter. This story was not subject to the approval of Major League Baseball or its clubs.