Reds 'optimistic' Latos will throw off mound this week
Right-hander working his way back from left knee, right elbow surgeries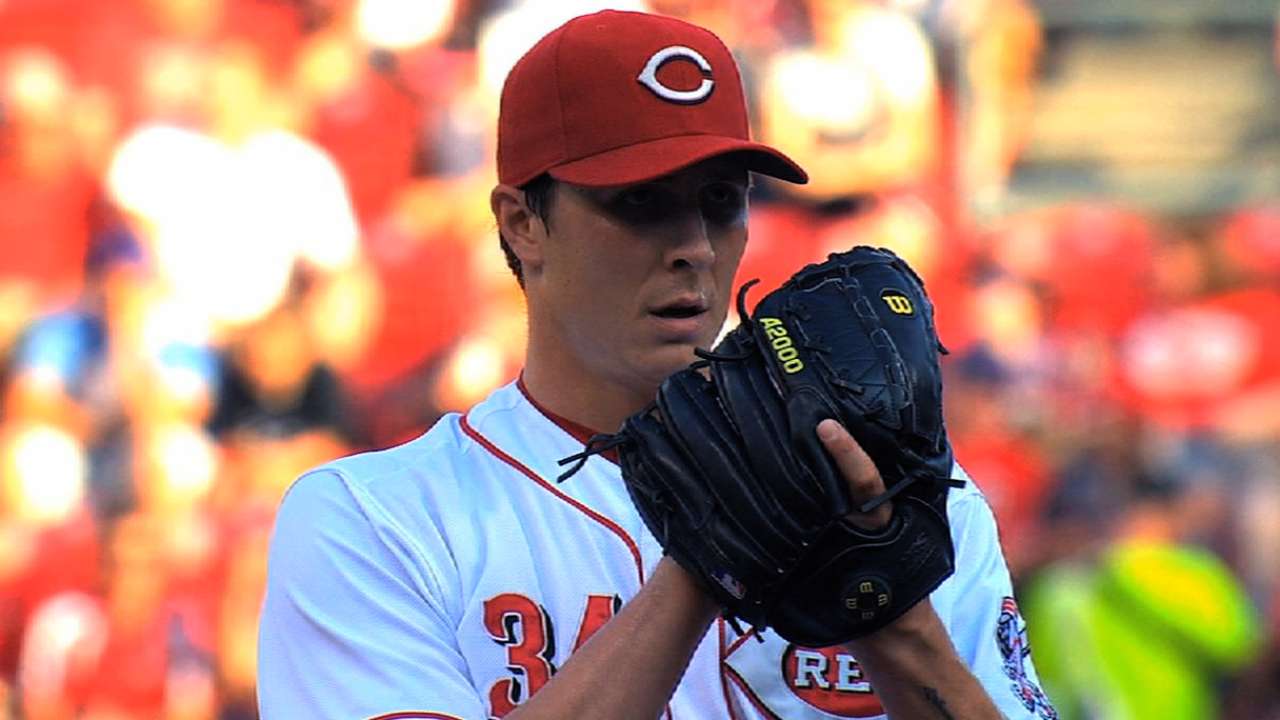 GOODYEAR, Ariz. -- The Reds were hopeful that injured starting pitcher Mat Latos could soon take the next step in his rehab from left knee surgery.
"I'm optimistic he'll be off the mound this week," manager Bryan Price said on Monday morning. "It's a matter of verifying there is no soreness issue and there is no lack of strength issue. I know he's throwing. He's champing at the bit to get off the mound. He's been playing long toss and his arm feels great. Those are all excellent things."
Latos tore meniscus cartilage in his knee shortly before Spring Training and had it repaired Feb. 14. He has been rehabilitating and throwing without issues since the procedure.
"What is lost a little bit with the knee issue is the fact that he's coming off of an elbow surgery [in October], albeit one that wasn't terribly invasive," Price said. "They did still go into his elbow and pull out some loose bodies and do that 30,000-mile checkup on him. He's actually recovering from two things. He's got to build up arm strength on the mound and continue to build up strength in his knees so he can support his body."
Latos is just one of four key Reds pitchers that have been behind in camp. Right-handed reliever Jonathan Broxton, who had forearm surgery in August, just returned to throwing from a mound in the bullpen last week. Lefty reliever Sean Marshall, who missed much of last season with shoulder issues, is sore again and hasn't gotten into a game yet. Starter Mike Leake was scratched from his start Sunday because of an abdominal strain.
"We'd like to be healthy to give us the best chance to get off to a good start," Price said. "We'd like to have them ready for Opening Day and if they're not, we'll play the hand that we're dealt. The expectations for me don't decrease because we feel we have enough depth to cover some short-term absences from some of our key players. That being said, our goal is certainly to have them ready for Opening Day. We're not going to risk exasperating a current injury or speed up a rehab process to make sure they're ready for Opening Day."
Mark Sheldon is a reporter for MLB.com. Read his blog, Mark My Word, and follow him on Twitter @m_sheldon. This story was not subject to the approval of Major League Baseball or its clubs.