Alvarez striving to build on stellar 2013 season
Third baseman driven to help Pirates reach their goal after exciting run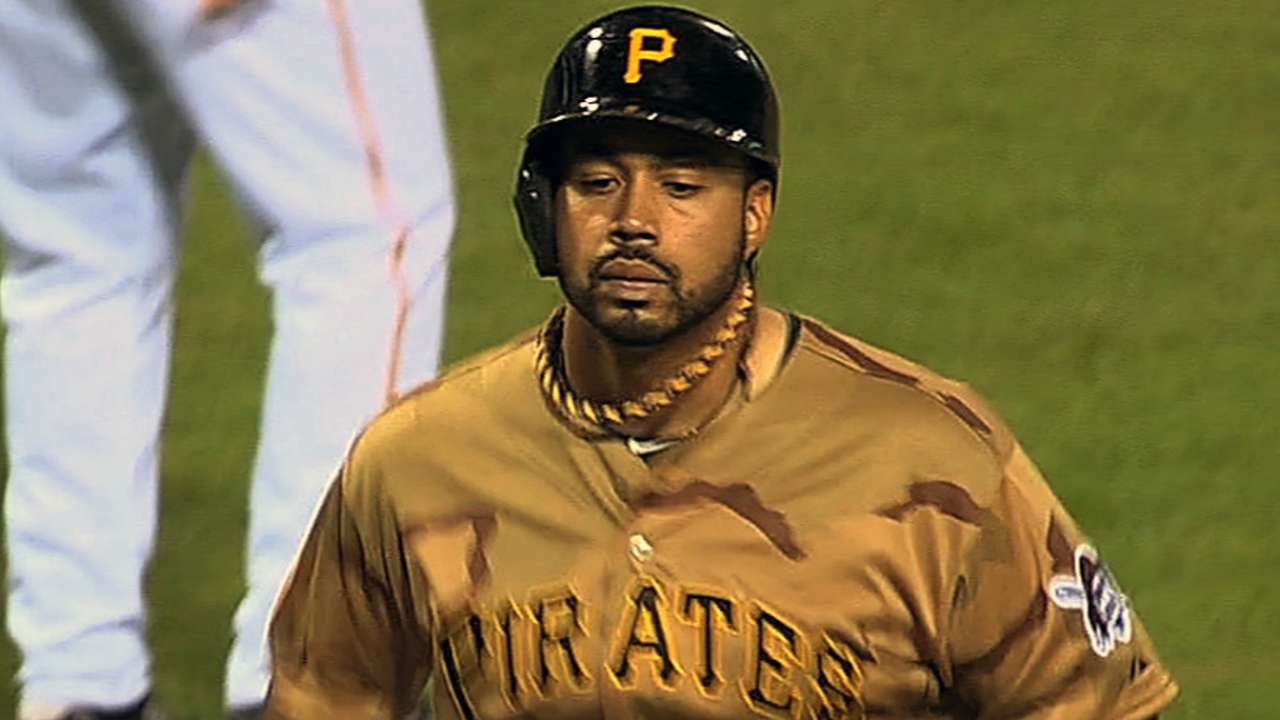 The 2013 campaign turned out to be quite a resume builder for Pedro Alvarez.
In his second full season in the big leagues, the Pirates' third baseman tied for the National League lead with 36 home runs, and he reached the 100-RBI mark. He was also named to the NL All-Star team and selected to participate in the Home Run Derby, plus he earned a Silver Slugger Award as the top offensive performer in the league at his position.
In addition, Alvarez came up big for Pittsburgh in October, batting .300 (6-for-20) with three homers and seven RBIs in six postseason games -- the NL Wild Card Game vs. Cincinnati and the NL Division Series against St. Louis.
That was all exciting stuff, but the best news for Pirates fans is that they probably haven't seen the best of Alvarez yet.
The 27-year-old former first-round Draft pick is still fine-tuning his game to become an even better player. Alvarez has that kind of drive inside him, and teammate Andrew McCutchen -- the reigning NL Most Valuable Player Award winner -- also provides inspiration.
"You look at Andrew, who wins an MVP. He's Mr. Everything right now, but he's still working to get better," Alvarez said. "He's not even close to being everything he's going to be. And if he's not close, then I'm sure as heck not close, either.
"We all have room for improvement and growth. I try to learn a little bit more every day I put a uniform on. The second you start to believe you can't learn any more, or you've got this all figured out, you need to hang it up."
Those comments echo something that Pirates skipper Clint Hurdle says often: "There are two kinds of people in the world -- those who are humble and those who are about to be."
Alvarez, who became the first Pittsburgh player to lead the NL in home runs since Willie Stargell in 1973, enjoyed the individual recognition he received last year. However, the fact that the Pirates won 94 games and qualified for the playoffs meant so much more to him.
"The accomplishments and the accolades, I'm going to welcome those with open arms, but to me they just mean that I was able to help my team out over the course of the year and we got a step closer to what we want to achieve," he said.
Like everyone associated with the Pirates, Alvarez considers the Wild Card victory over the Reds at PNC Park on Oct. 1 as the top highlight of 2013.
"If I had to pick one moment or one memory from last year, that would be it," he said. "The atmosphere that night was pretty special. I had never experienced anything like it. The support we got from the fans was unbelievable. They made that place hard to play at for the visiting team and we definitely fed off that energy. That experience -- with how the city embraced us and how the city was behind us -- was just nuts."
The triumph over Cincinnati that evening touched off the second wild celebration in a little more than a week for the Pirates. The first one took place when Pittsburgh clinched a playoff spot with a victory over the Cubs at Wrigley Field on Sept. 23. Sharing those moments with his teammates is also something that Alvarez will never forget.
"After all the hard work we put in collectively, the dedication, the resiliency throughout the year -- I think that's the most fitting and perfect kind of celebration," he said. "Everyone is acting like a kid. You have champagne in your eyes and it's burning your eyes, but you don't care because it's such a special moment to share with your teammates.
"The emotion in the room at those moments is beyond what I can describe. But I know it makes you want more of it. That's for sure. I'd like to do it more frequently because that will mean we're winning a lot of big games."
Jim Lachimia is a contributor to MLB.com. This story was not subject to the approval of Major League Baseball or its clubs.