It's official: Fernandez named Opening Day starter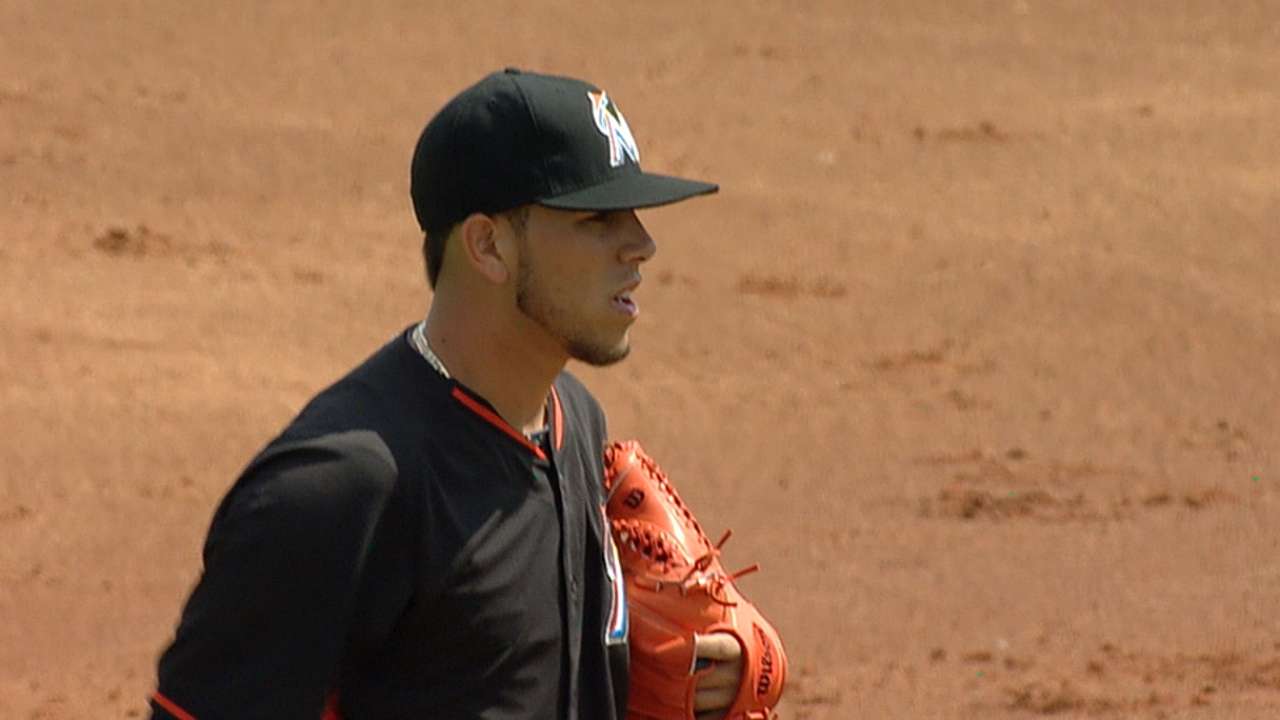 VIERA, Fla. -- Marlins right-hander Jose Fernandez, the reigning National League Rookie of the Year, will start the team's Opening Day game on March 31 against the Rockies in Miami. Manager Mike Redmond made the not-so-surprising announcement on Sunday, before the Marlins faced the Nationals in a Grapefruit League game at Space Coast Stadium.
The 21-year-old Fernandez will become the youngest Opening Day starter in team history. Josh Beckett was 22 when he took the mound for the 2003 opener. The last Major League pitcher younger than Fernandez to start on Opening Day was the Mariners' Felix Hernandez, who was 20 in '07.
"We're going to tell him this afternoon," Redmond said of Fernandez, who did not make the trip to Viera. "It was gonna happen, obviously, anyways. It's not like it's big news, but I know he's excited about it. It'll be great to see him out there on Opening Day, and I look forward to it."
The honor caps a whirlwind 12 months for the 21-year-old, who seemed ticketed for the Minors at this time a year ago, before injuries in the Marlins' rotation helped push him onto the club's Opening Day roster. He never looked back, going 12-6 with a 2.19 ERA in 28 starts and striking out 187 batters in 172 2/3 innings.
"I think every player remembers their first Opening Day start, whether you're a position player or a pitcher," Redmond said. "I think about how far he's come in the last year, from last year slated to maybe go to Double-A to pitching in the big leagues starting the season and winning Rookie of the Year. So that's a pretty amazing year. And he just keeps going. Opening Day starter, which is a day he'll remember for the rest of his life."
Fernandez made his Grapefruit League debut on Friday, tossing two scoreless innings with two strikeouts against the Cardinals.
"It felt like it was Opening Day," Fernandez said afterward. "It feels good to feel like that in the first Spring Training game. Obviously, I'm on the team, but I'm still going out there to do the best I can, to get better."
Fernandez is slated to take the ball again on Wednesday against the Mets in Port St. Lucie and will be on track to be ready for Opening Day from there. With the Marlins beginning at home, Fernandez will make the start at Marlins Park, where he posted a 1.19 ERA and held opponents to a .164 batting average in 15 starts last season.
"He's a fun guy to watch pitch. He's energetic," Redmond said. "He competes and pitches great at our ballpark. It's a big park, so he's able to be aggressive and he created a lot of excitement, and that's exactly what we needed last year."
Andrew Simon is a reporter for MLB.com. Follow him on Twitter @AndrewSimonMLB. This story was not subject to the approval of Major League Baseball or its clubs.