Williams pleased with Nats being aggressive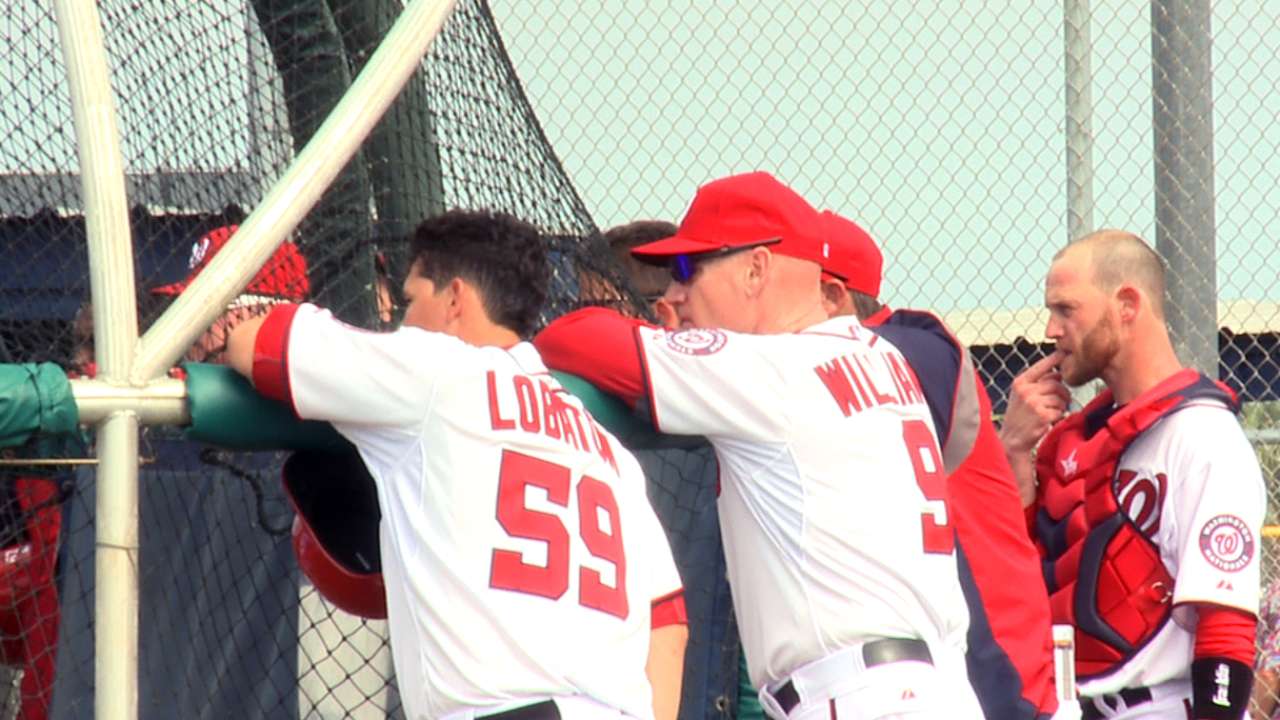 PORT ST. LUCIE, Fla. -- In their first Spring Training game under manager Matt Williams, the Nationals edged the Mets, 5-4, at Tradition Field on Friday afternoon. There wasn't any anxiety on Williams' part. He was relaxed and ready to work.
After having his pregame meeting with the local media, Williams watched his team go through infield drills, and then he threw batting practice.
As the game went on, Williams was standing in the dugout observing the action. He loved the fact that the team was aggressive on the bases.
Take the top of the fifth inning: After he reached on a force play, Ian Desmond stole second and then scored on a double by Wilson Ramos. In the ninth inning, after he hit a single, Jeff Kobernus advanced to second on a wild pitch and scored the winning run on a triple by Michael Taylor.
"It's gratifying to put into practice what we have talked about: Kobe is getting a good read in the dirt to get in scoring position. It's the way we want to play the game -- Ian stealing a base," Williams said. "That's the way we want to go about doing it."
Williams was also pleased by what he had seen from right-hander Taylor Jordan, who pitched two scoreless innings and struck out two batters. Jordan is competing for the fifth spot in the rotation.
"It's more of the same that we have seen so far in the spring," Williams said about Jordan. "He was aggressive within the strike zone and he went after them. He was great."
Jordan was pleased with the fact that he threw strikes in his two innings. Of the 21 pitches he threw, 16 went for strikes.
"All I was really trying to do was just throw the ball over the plate and get contact," Jordan said.
Taylor ended up being the player of the game. It was his baserunning that was impressive. He flew around the bases during his triple after he hit the ball over the head of center fielder Matt den Dekker. Taylor was then caught between third and home after Steven Souza hit a grounder to shortstop Omar Quintanilla. Taylor was in the rundown long enough to allow Souza to reach second base.
Once he reached the dugout, Taylor received high-fives from his teammates.
"[Williams] emphasized baserunning a lot," Taylor said. "If I was going to be out by a lot, just try to stretch it out and just give Souza a chance to get around. We were able to do that and had another chance to score a run."
There is a strong possibility that Taylor could be the Nationals' center fielder of the future. He said he wants to improve his game, and he is doing that by asking a lot of questions. Taylor will likely start the season with Double-A Harrisburg.
"I have a chance to be around a lot of great players," Taylor said. "I'm trying to pick up as much as I can. I enjoy being here.
"I like to ask a lot of questions. I've been able to talk to [Denard] Span, a lot of the guys that play this game and have been playing for a long time."
Bill Ladson is a reporter for MLB.com and writes an MLBlog, All Nats All the time. He also could be found on Twitter @WashingNats. This story was not subject to the approval of Major League Baseball or its clubs.