Carrasco learning to make adjustments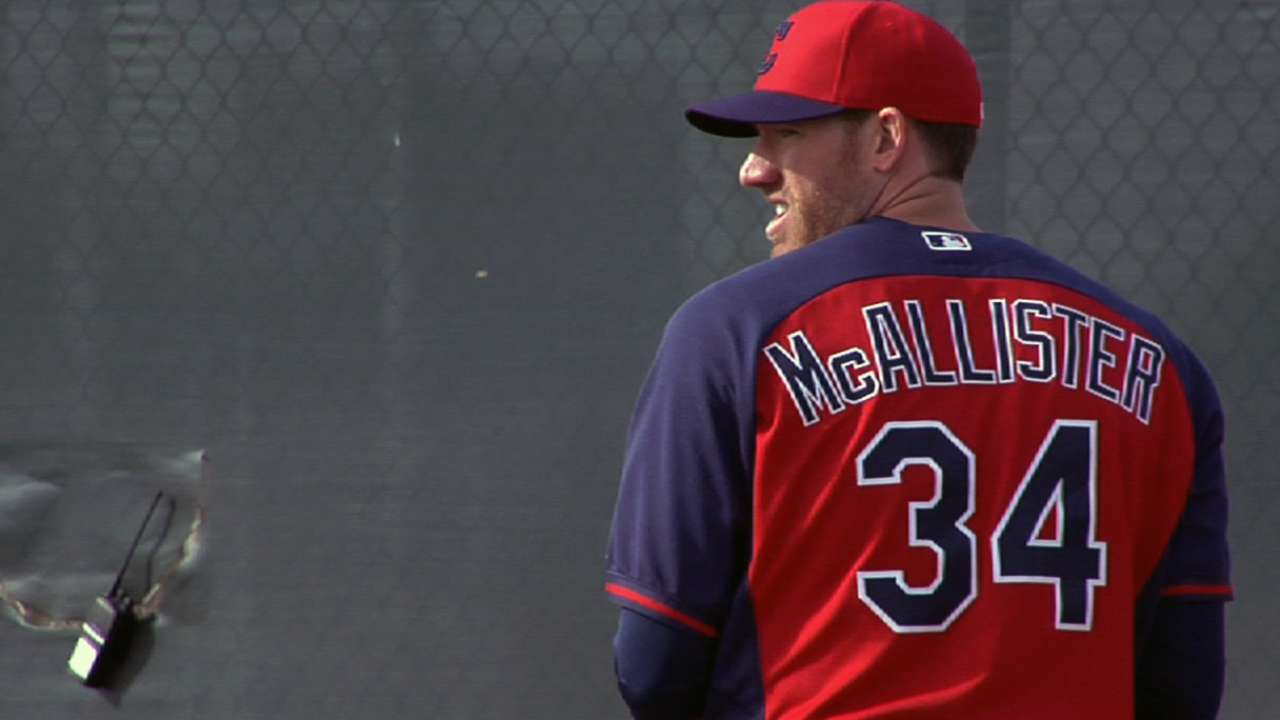 GOODYEAR, Ariz. -- After two or three pitches Thursday, Indians pitcher Carlos Carrasco knew his mechanics were off. The right-hander determined that his lead arm was slipping lower in his delivery, so he quickly made the adjustment and went to work.
It sounds like a simple process, but it was a big moment for Carrasco.
"The problem in the past is I never thought about making an adjustment," Carrasco said Friday morning. "I just threw the ball. But yesterday, I felt a big difference. That's the kind of mentality that I've worked on in the offseason."
The 26-year-old Carrasco is a leading candidate for the lone vacancy in Cleveland's rotation this spring. He is up against rostered pitchers Josh Tomlin and Trevor Bauer, as well as non-roster veterans Aaron Harang and Shaun Marcum. Being out of Minor League options, though, Carrasco is a near lock to begin the season on the Opening Day roster in some capacity.
Carrasco posted a 6.75 ERA in 15 games for Cleveland last season, but had a 3.14 ERA with a 1.12 WHIP in 71 2/3 innings with Triple-A Columbus. Over his career with the Indians, he has gone 11-19 with a 5.29 ERA in 238 1/3 innings and missed all of 2012 while recovering from Tommy John surgery on his right elbow. Carrasco had a stint in the bullpen last year, turning in a 1.32 ERA in 13 2/3 innings.
Right now, winning a rotation job is Carrasco's focus and he is hoping his mechanical tweaks over the winter will help his cause. At the suggestion of pitching coach Mickey Callaway, Carrasco worked on raising his lead arm higher in his throwing motion with the idea of creating more deception and pounding the lower half of the strike zone more consistently.
Carrasco logged only two innings in Thursday's 12-3 win over Cincinnati, but manager Terry Francona liked what he saw. The right-hander fired off 27 pitches -- mixing in his fastball, changeup, slider and curveball -- and ended with two strikeouts, two groundouts and two flyouts.
"He looks comfortable in it and I do think it's going to help," Francona said. "I do think there will be some deception there. His stuff is really good. Pitching is still locating and working ahead and things like that, but that should help him."
Francona was also pleased with how Carrasco made an adjustment on the fly in the first inning.
"It was very encouraging," Francona said. "To be hoenst with you, we're looking every day for reasons to be encouraged about everybody. I think that's part of our responsibility. He comes in and throws ball one, ball two, and they're up on the arm side. And then he reels it back in. Heck yeah it was [encouraging]."
Jordan Bastian is a reporter for MLB.com. Read his blog, Major League Bastian, and follow him on Twitter @MLBastian. This story was not subject to the approval of Major League Baseball or its clubs.