No damage, but Garcia to miss Opening Day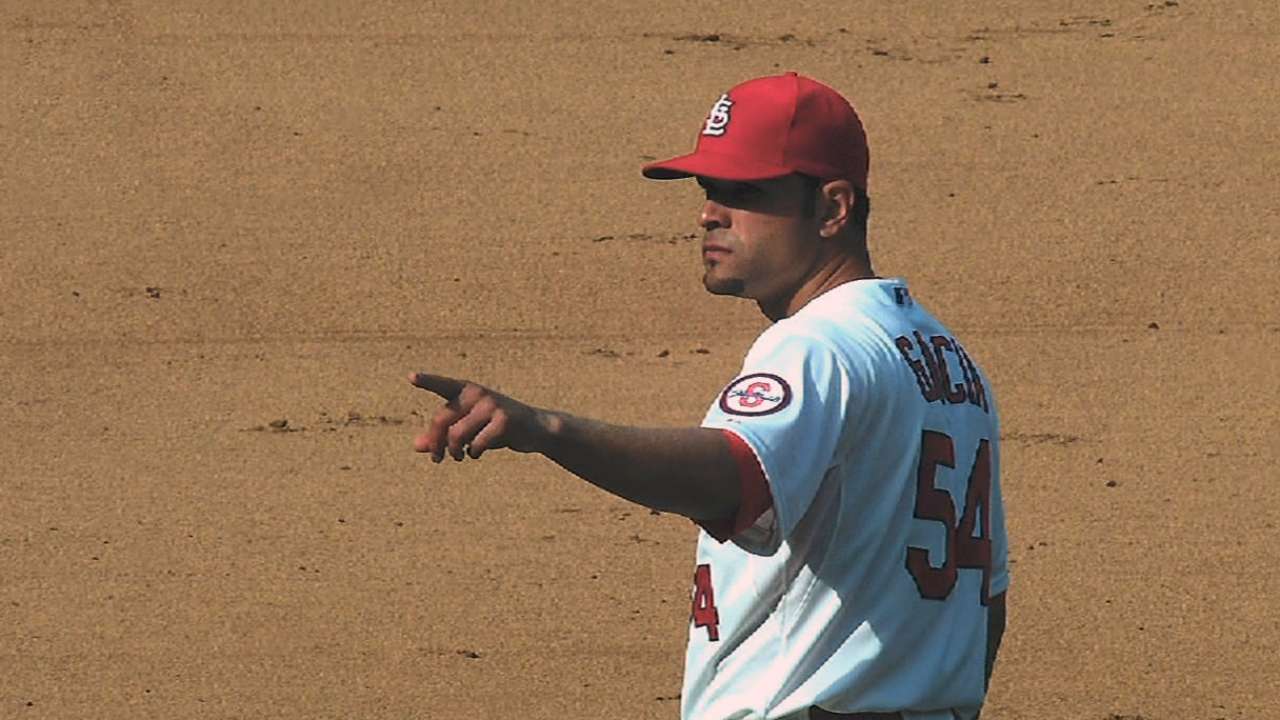 JUPITER, Fla. -- After seeking opinions on his ailing shoulder from a pair of physicians, Jaime Garcia returned to Cardinals camp on Friday relieved to know that no structural damage was found, but also willing to be patient in making a return to the mound.
Garcia said he plans to wait another 10-15 days before resuming a throwing program. That delay ensures that Garcia will not be ready to open the season on the active roster. With being ready for Opening Day no longer a possibility, Garcia simply hopes that this is the last hurdle he will have to clear in his return from shoulder surgery.
"The thing that I wanted to make sure was that there was no new structural damage to the arm since the injury," said Garcia, who underwent surgery in May 2013 to repair a torn labrum and rotator cuff in his left shoulder. "It's a big deal for me. If something did change, it would have been tough to deal with. That's good news, and now we figure out a plan to get this fixed and get back out there as quick as possible."
On Friday, Garcia revealed that he had been feeling some soreness and weakness in his shoulder late in his offseason program. It was the first time he publicly admitted to not having felt entirely healthy. The uncomfortable sensation continued during his first two bullpen sessions of the spring. After he threw his third, Garcia said his arm did not properly recover. That prompted him to shut down his throwing program.
Doctors have since diagnosed Garcia with bursitis, which is the swelling of the fluid-filled sac between the muscles, tendons and joints in his shoulder.
"It was something that was going downhill for the last few days," Garcia said. "That's the reason why I wanted to know what was going on. If it had been something that was just sore to start off, sore after you throw, that's OK. But when you're on the mound and it's not getting better, that's when you want to know what's going on."
General manager John Mozeliak has said that Garcia likely has to prepare for the possibility of pitching with soreness for the rest of his career. Garcia said he understands that reality, but added that he felt it necessary to ensure that this was not a more serious issue before continuing his spring program.
"I've always pitched with soreness," Garcia said. "If you ask me the issue right now, it's not pitching through soreness. There's a difference between soreness and weakness ... and just not being able to throw the ball and not being able to recover. There is a fine line where you have to be careful.
"I'm here to go out there and pitch and do my job. Every time you deal with stuff like that, you want to make sure that it's something you can fix quick. I don't have to do any kind of surgical procedure. It's never easy, but it's something that I'm willing to go through and do whatever it takes to get me back on the mound."
Jenifer Langosch is a reporter for MLB.com. Read her blog, By Gosh, It's Langosch, and follow her on Twitter @LangoschMLB. This story was not subject to the approval of Major League Baseball or its clubs.