Gray, Butler shake off nerves in intrasquad tilt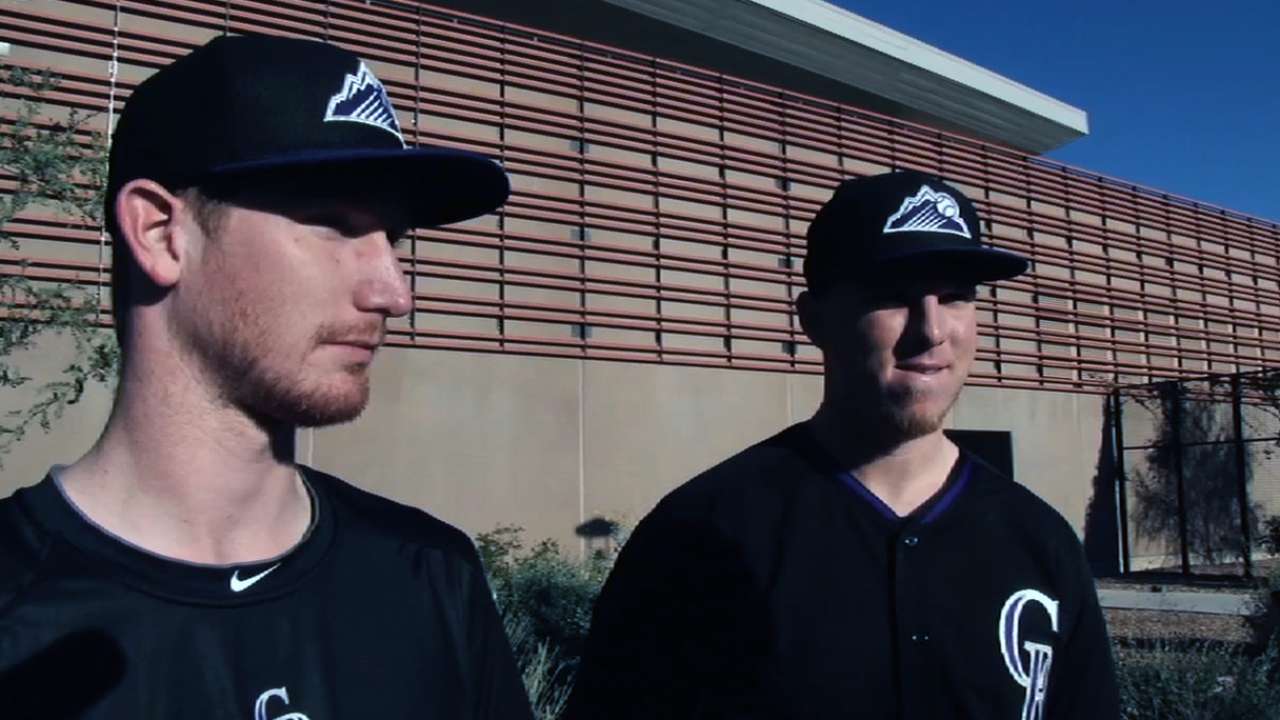 SCOTTSDALE, Ariz. -- Right-hander Jon Gray threw in high-stakes collegiate games in front of large and lively crowds for the University of Oklahoma. But pitching in front of dozens Thursday in the Rockies' intrasquad game -- his first competitive act of his first Spring Training -- brought out the jitters.
"I was confident because the bullpen went really good, but when I got out there, it seemed like [home plate] was 10 feet back," Gray, the club's top-ranked prospect in 2013 by MLB.com, said. "I was like, 'Wow, look how far away that is.'"
After giving up two hits and a walk, Gray harnessed his nerves, found his location and unleashed the pitches that made him the third overall pick in last summer's First-Year Player Draft. Gray, 22, worked prospect Rosell Herrera into a 1-2-3 double play, then forced Angelys Nina into an inning-inning grounder. He struck out two in the next inning, which was spotless.
Righty Eddie Butler, also 22 and an anticipated prospect (ranked No. 3 in the organization), pitched two innings and gave up one run on three hits, with one strikeout and a deft pickoff move.
Many of the details of the 4-4 intrasquad tie were forgotten as soon as they happened, but Gray and Butler made stunning impressions.
"I'm sure those young guys were amped up," Rockies manager Walt Weiss said. "Even though it was an intrasquad, they were going out there facing big league hitters for the first time. I thought they handled themselves real well."
Butler, the Rockies' supplemental first-round pick in 2012, struck out outfield/first base prospect Kyle Parker (ranked No. 9) with a runner at second in the third inning before giving up Kent Matthes' RBI single. But Butler ended that inning and his outing by picking Matthes off first. Butler said he turned off his nervous mind and let his arm do the work.
"I tried not even to pay attention to who was in the box, honestly," Butler said. "I told [catcher Mike McKenry] as soon as I went out there, 'I'm throwing whatever you call. I'm not shaking you. … I need to think as little as possible right here. Rock 'n fire. Let's go.'"
Gray said his first shaky inning isn't unusual.
"I'm usually that way in the first inning, but there was so much tension because it was the first time I'd seen a batter in a long time," said Gray, who went a combined 4-0 with a 1.93 ERA at Rookie-level Grand Junction and Class A Advanced Modesto. "Your body takes over your mind for a little bit, then you've got to find that rhythm."
In his second frame, Gray caught Corey Dickerson looking at a pitch on the outside corner, then threw with all his might to entice Brandon Barnes to swing under a high fastball.
Like the Gray pitch to Barnes, Butler reached for all he had for the strikeout pitch to Parker.
"It was supposed to be up and in, and I threw it down and away," Butler said. "It was just a four-seam fastball."
Gray will make his Cactus League debut against the Mariners on Monday at 1:05 p.m. MT in Peoria. Butler will debut that night at 7:10, against the D-backs. There will be more hype and noise, but in a way, it'll be a little more comfortable.
"You're used to pitching in front of a couple thousand at your home games, then you get out there [for the intrasquad game] and it's like crickets," Butler said. "It's a completely different feel. You hear everybody talking on the field."
Thomas Harding is a reporter for MLB.com. Follow him on Twitter @harding_at_mlb. This story was not subject to the approval of Major League Baseball or its clubs.